These Dogs Were Rescued From Kill Shelters & Are Now Saving Harvey Victims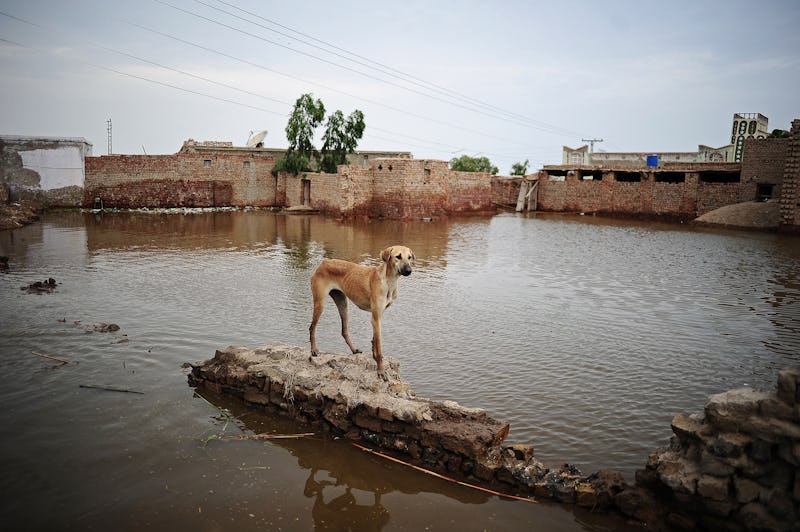 CARL DE SOUZA/AFP/Getty Images
The concept of heartwarming second chances may all too often be relegated to Hallmark movies, but luckily, second chances do exist. The most recent tear-jerking example of that takes shape in the reformed rescue dogs who are now Harvey Heroes.
Since Hurricane Harvey first made landfall in Texas on Friday, the effects have been devastating, for both humans and their pets. While several local animal shelters have taken in displaced dogs during the storm, the nonprofit organization called National Disaster Search Dog Foundation has elevated the concept of rescue dogs to another level.
Founded in 1996, the National Disaster Search Dog Foundation is dedicated to rescuing kill-list dogs and training them to be search and rescue dogs and partnering them with firefighters or other emergency first responders. For many of the dogs, the very energy that got them in past trouble makes them keen rescue dogs.
On Sunday, 14 dogs were deployed to Texas as part of an urban canine disaster search team. "To them it's a big game," Denise Sanders, the communication officer for the Search Dog Foundation told Mashable.
Before they can be adopted into the program, dogs are still required to pass a rescue test. Sadly, not all of the dogs make it that far. Rocket, one of the dogs currently on the scene helping hurricane survivors, failed the test back in 2012. Luckily, a kind fireman named Mike Stornetta adopted him in the meantime, and Rocket was able to pass on the second try. The sweet pair went on a rescue mission together in 2016, following a plane crash.
Another dog out helping Hurricane victims is named Jester. As a puppy he was put on a kill-list by his owners for jumping the fence too many times. Luckily, Jester was taken in by the nonprofit High Sierra Animal Rescue in Portola, California, before the National Disaster Search Dog Foundation caught wind of him. Now Jester is now a FEMA-certified search dog in Orange County, California, and helped a team find a missing man in back in 2009.
You don't have to be a firefighter or emergency first responder to take part in the figurative rebirth of these pups. If you have the means, you can sponsor a search dog and help pay for a dog's housing and extensive training process. Also, the SDF volunteer opportunities run the gamut from PR and creative writing to fundraising and linking dogs with vets. So really, anyone interested can find a way to take part in warming the cockle's of people's hearts, while giving pups another chance to live it up.