The Number Of Americans Who Want Trump Impeached Doesn't Matter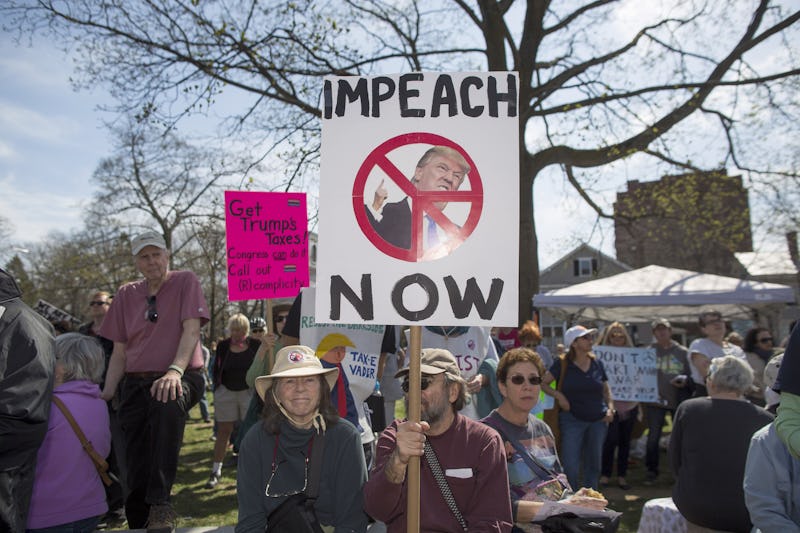 Scott Eisen/Getty Images News/Getty Images
Donald Trump's unpopularity is hardly breaking news, but the American public may be hitting its limit. According to a recent Politico/Morning Consult poll, an increasing share of Americans want Trump to be impeached: 43 percent are in favor, rising from 38 percent just last week.
After only a few short months in office, Trump already has historically low approval ratings, perhaps the result of his executive order travel ban —which was derailed by the courts not once but twice —or the passage of Trumpcare, which may leave millions of Americans' health care in peril. However, tnpopular or even bad policies are not enough to impeach a president.
"Obstruction of justice," though, might be.
Some of the most recent criticism of the president has centered around his firing of FBI Director James Comey, who was investigating Trump's campaign for possible collusion with Russia in interfering with the 2016 election. Before the firing, Trump reportedly "pressured" Comey to end an FBI investigation into former Trump adviser Michael Flynn, who resigned amid allegations that he had misled Vice President Mike Pence about his contact with the Russian ambassador. The White House has denied Trump made the request. This chain of reports has led to speculation that the president could face serious consequences, including — potentially — impeachment.
While Congress must be the one to initiate impeachment proceedings, the uptick in public support for impeachment is still bad news forTrump.
Although a plurality of voters still oppose impeachment, the UK publication The Independent noted that the percentage of Americans who favor impeachment (43 percent) is higher than the percentage of those who approve of Trump's presidency (41 percent).
But although public support for impeachment may be required to begin the process, it is not the only thing necessary.
"It would be very hard for Congress to pursue an impeachment if the general public was not supportive of that effort, so public opinion is probably a necessary condition to a successful impeachment effort," Princeton University professor Keith Whittington tells Bustle. "Unfavorable public opinion would not be sufficient to drive an impeachment."
Geography matters, too. Anti-Trump fervor in, let's say, liberal coastal cities, like New York City and Los Angeles, is unlikely to motivate a Republican from Tennessee to call for impeachment. "Right now, you'd need something like 25 Republican congressmen and 19 Republican senators to vote to impeach and remove Trump—and it's hard to come up with more than one or two in either category who might do so," Rutgers University history and journalism professor David Greenberg tells Bustle. "What really matters is public opinion in these Republicans' home states and districts—not public opinion in the nation overall."
Even if the FBI investigation reveals unflattering information about Trump, it is likely that Congress would seek alternative remedies before moving forward with impeachment. "The members of Congress have an independent constitutional responsibility to evaluate the evidence of a possible impeachable offense and to assess whether there are less drastic means available for addressing the problem at hand," Whittington says, "and they are unlikely to want to open the door to presidential removal just because a president has become unpopular."
For the Americans calling for Trump's impeachment, growing public support is a step forward. But they certainly shouldn't pop the champagne yet.