'The Office' Stars Angela Kinsey & Brian Baumgartner Break Down 6 Iconic Scenes From The Show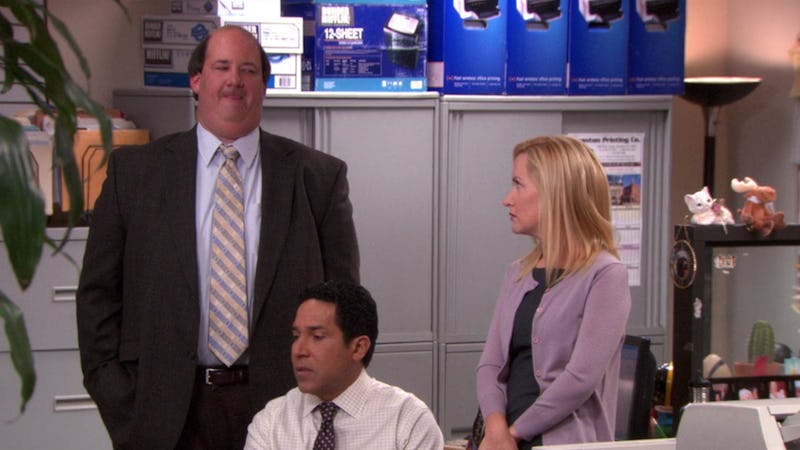 NBC
Five minutes into speaking with The Office's Angela Kinsey and Brian Baumgartner, it's obvious they're much more than co-workers — they're practically family. They've been friends for 14 years now — or, as Kinsey puts it, "since day one of The Office" — so it's not unusual for these two to finish each other's sentences or frequently pause to crack up over shared memories. After so many years in the accountant's corner at Dunder Mifflin, they created a bond that rival's that between Angela and her cats.
"We were fast friends over in our corner," Kinsey, who played Angela, tells Bustle.
Baumgartner, who played fellow accountant Kevin, nods. "We spent a lot of time together. And thankfully got along," he says.
Despite the show ending in 2013, their friendship transcended beyond their corner of the TV world into each other's real lives. While the two are obviously busy being IRL friends cooking chili dinners and sipping Prosecco in Kinsey's backyard together (they're even working together again on Heineken 0.0's Bring Your Beer To Work Day), they took the time to break down some of their favorite moments from their Office days, including Baumgartner knocking over a cameraman, Oscar Nunez drawing Kinsey as a dominatrix, and all of the tears that came during the emotional finale.