The One Amazing Kelly Clarkson Performance You Forgot About On 'American Idol'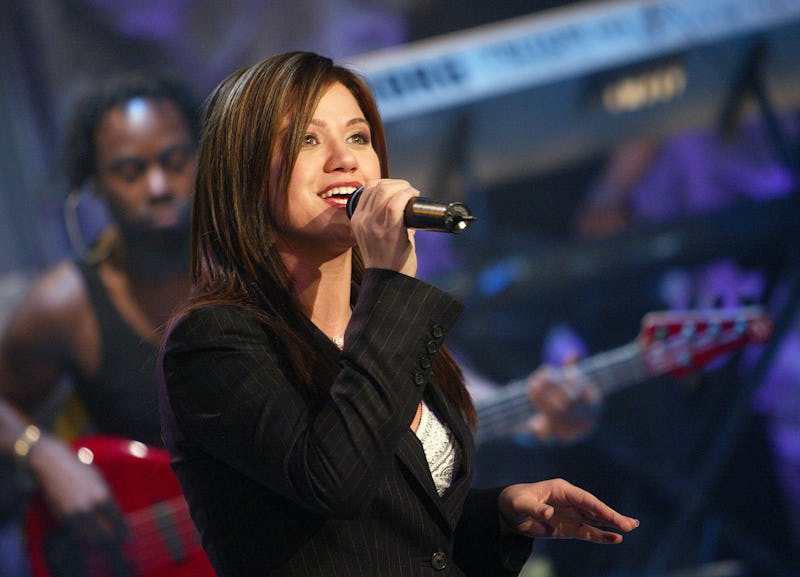 Kevin Winter/Getty Images Entertainment/Getty Images
Kelly Clarkson is one of the great talent show success stories. As winner of the first season of American Idol on Sept. 4, 2002, Clarkson proved it's possible to forge a successful and varied career following a talent show. It's hard to believe that it was 15 years ago that the singer appeared on our screens and captured the nation's imagination. But looking back at her performances on the show, it's easy to see why Clarkson won — her talent was evident right from the start. To celebrate, let's revisit the one amazing Kelly Clarkson performance on American Idol that you might have forgotten about — her performance of "At Last."
Clarkson performed two songs during her audition: Madonna's "Express Yourself" and Glenn Miller's "At Last," which was made famous by Etta James. Covering a song that has so much history attached to it is never easy, but Clarkson's rendition of "At Last" showcases her effortless vocals, and her ability to sing acapella in front of judges. With Simon Cowell, Paula Abdul, and Randy Jackson in front of her, Clarkson doesn't even waver. Instead, she proves she can handle the song's challenging range, while remaining calm on national television. As if that wasn't enough, Clarkson lets her personality shine through from her first performance, which is one of the reasons the public fell in love with her so quickly.
Since American Idol, Clarkson's career has gone from good to great. She's released seven albums so far, and is showing no signs of stopping yet. Judging by her very first performance on the talent show that launched her career, Clarkson's skill as a performer is innate, and there's no other role she's better at. Few singers can pull off such serene and professional performance in such a high stakes situation.
Now that the series is being rebooted, 15 years after it began, it's exciting to return to Season 1 and remember all of the amazing singers that have already been found by American Idol. But even all these years later, Clarkson's talent is hard to beat.