The One Chrissy Teigen Tweet To Read Right Now When Everything Is Garbage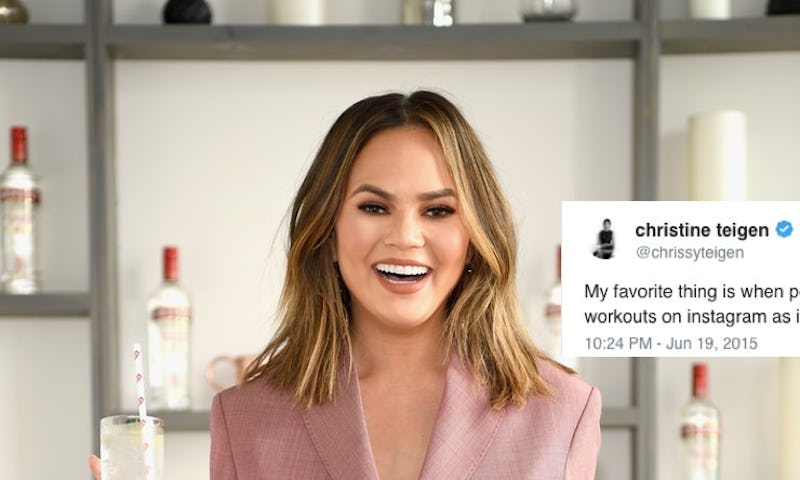 Dave Kotinsky/Getty Images Entertainment/Getty Images; Chrissy Teigen/Twitter
While she's made a name for herself as a model, TV host, and cooking expert, Chrissy Teigen may shine brightest in her observations on Twitter, where she's hilariously brilliant about everything from Donald Trump to her family. As such, if you're feeling down, please proceed to the one Teigen tweet to keep in mind when everything else feels like too much. While the Lip Sync Battle cohost has penned roughly a gajillion hilarious 140-character messages to the world and there are many to choose from, a certain post from 2015 feels like a particularly underrated message on the platform. At the time, she wrote,
"My favorite thing is when people give @therock advice about his workouts on [I]nstagram as if it's just not working for him." this feels like a particularly underrated post on the platform"
After all, Teigen is particularly acute about two subjects: celebrity (especially other people's celebrity) and humans being dumb on the internet. As such, it's a beautiful firework of a tweet, combining those two subjects in one deft stroke, while simultaneously reminding you to not take your haters too seriously, because your haters are probably unbelievably dumb.
Who are these people giving The Rock advice about his workouts, anyway? To hazard a guess, presumably the same (or at the very least, eerily similar) people who give Teigen feedback about her showing up to events with her husband John Legend and taking issue with Teigen's politics, vomit. But this tweet isn't just a witty return to common sense, i.e. ignoring those who talk down to you while not being in any way as awesome as you are. It also raises the question of whether Teigen and the Rock are friends and if they kick back, laughing about the internet trolls, during their local happy hour.
A little Twitter research suggests they totally are. After a user tweeted, "I just want to be friends with @theRock" in March 2015, the mother was quick to jump in, saying, "he truly is one of the kindest, coolest humans on the planet. Consistently," suggesting she has real world experience with The Fate Of The Furious star. Dwayne Johnson tweeted the virtual equivalent of blushing and giggling, retorting, "Stop that Chrissy. I am dark and evil. x"
But the social media post isn't just sweet because it unearths a showbiz friendship the world needs to know about. No, it's freaking great because it provides a coherent how-to guide for how to deal with those days that social media is bugging you. It suggests that if the haters come for you, you're well within your rights to just laugh at how absurdly people behave online. If modern day Hercules equivalent Johnson gets tips on how to work out better, then nobody can avoid the condescending tone that's so common to social networks. The only solution? To laugh at it, like Teigen does.
But she doesn't just laugh because chortling over silly internet users is fun. In October, Teigen explained she was funny on Twitter as a form of self defense, telling InStyle in her cover story, "It stops people from coming at me. If you share everything and make fun of yourself, then other people won't make the joke, because you've already made it."
The 31-year-old is still fighting the good fight against online stupidity in her latest tweets. Late on Thurdsay, Oct. 12, she announced she would be staying off the platform for a day as part of #WomenBoycottTwitter on Oct. 13, a 24-hour boycott prompted by Twitter temporarily suspending actor Rose McGowan's account. (In response to the boycott, Twitter released the following statement to Bustle: "Twitter is proud to empower and support the voices on our platform, especially those that speak truth to power. We stand with the brave women and men who use Twitter to share their stories, and will work hard every day to improve our processes to protect those voices.)
Teigen composed an elegant summary of why she would be swerving the platform for a day, stating, "Ladies. Let's do this. #WomenBoycottTwitter. Not because of hate but because I love this platform and know it can be better." However, the responses Teigen got within three minutes of posting just proved how vital the boycott was in terms of what a hostile place social media can be for women, with one user describing her as one of "you easily offended feminist b*tches," while another asking her if she was "a fan of a good butt spanking."
But thank goodness we get her tweets when she's not busy advocating for change on the platform. Ultimately, the tweet above, much like most of her tweets drive a few comforting facts home that can be soothing on a stressful day. Namely, this proves people are just as condescending and critical of celebrities as they may be of you — which doubly proves there's absolutely nothing wrong with you. So laugh it up. It's not you, it's them.