The One Reason You Should Watch 'RHONJ' This Season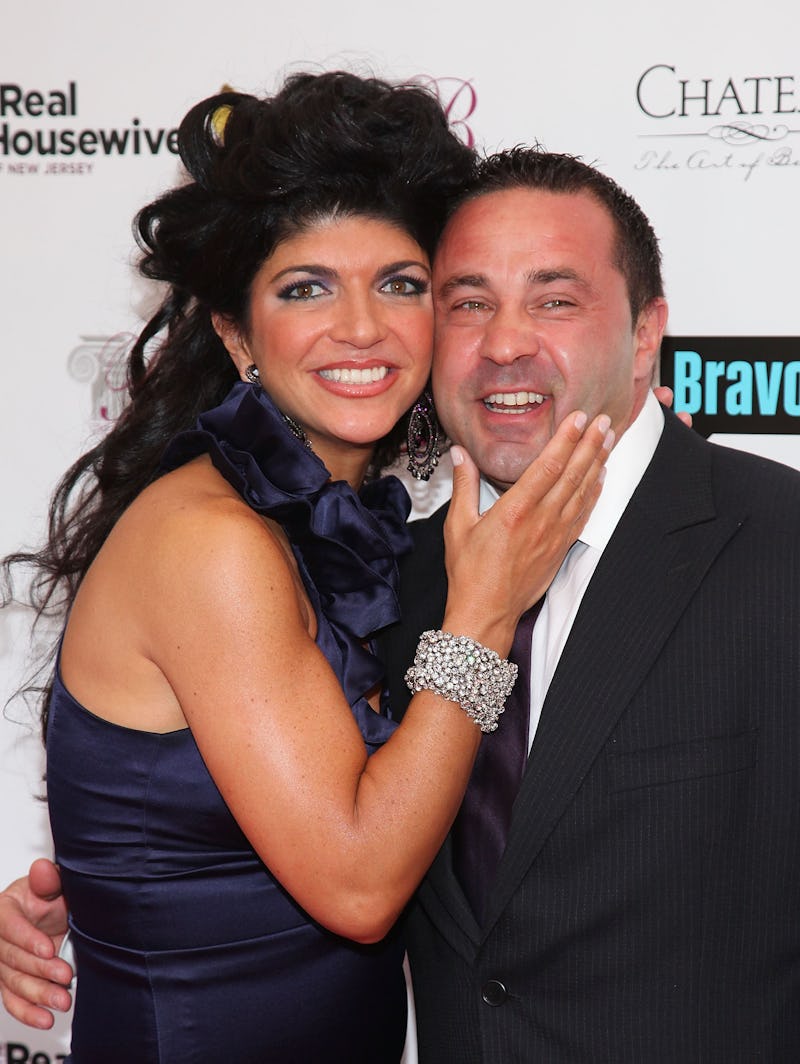 Mike Coppola/Getty Images Entertainment/Getty Images
As fans continue to reel from the emotional Season 8 premiere, it seems clearly evident that there's one major reason you should watch Real Housewives of New Jersey this season. There's no doubt that the highs and lows of the first episode were a bit of a doozy (to say the least). It may have been surprising to see Season 1 villain Danielle Staub return to the franchise after spending six seasons out of the RHONJ spotlight, and perhaps, even more shocked to watch Delores Catania's ex-husband Frank move back into her home after being divorced for several years. Despite the drama, things would become increasingly somber as viewers empathically looked on as Teresa Guidice suffered the heart-wrenching loss of her mother as she continued to deal with the absence of her husband Joe Guidice, who is currently serving a 41-month prison sentence for bank and tax fraud. However, recently sparked rumors alleging that Teresa and Joe's marriage is on the rocks have become the central focus for many fans of the popular reality saga. And it's safe to say their relationship is the number one reason you should tune in to this season.
The chatter appears to stem from an Us Weekly report that surfaced at the end of this past summer which indicated that "the marriage may be over" amidst Joe's time away from the family. Excerpts from Teresa's memoir, Standing Strong, in which she details her relationship with Joe amid his nearly three-and-a-half jail term seemed to have added fuel to the fire as she divulges intricate details of her feeling for her incarcerated hubby.
It's worth noting that Teresa also spent 12 months behind bars for her part in the fraud allegations lodged against the couple. During a recent interview, the reality star opened up about the resentment she holds for her 45-year-old husband following her mother's sad passing. She told E!,
"I did get upset [with Joe] after my mother passed away and I got angry that I lost those 11.5 months ... I could have had that time with my mom."
Teresa went on to reveal that Joe has not yet had the opportunity to read the book, but says that he will receive a copy of the memoir in the near future. As far as what she anticipates from the marriage when Joe is scheduled to return home in 2019, The 45-year-old mother of four explains,
"Obviously there is a lot of guilt and I know he's going to make things better when he comes home and I can't wait for that. It's going to be like we're falling in love all over again."
Preparing to celebrate their 18th wedding anniversary this month, Teresa and Joe's relationship has managed to withstand an insurmountable amount of drama, both on and off screen. The couple has recently been forced to remain apart to serve their respective prison sentences, leaving each party to single-handedly raise and provide for their four daughters, Gia, Gabriella, Milania, and Audriana.
In an effort to shoot down rumors that she and Joe are on the brink of divorce, Teresa told the Daily Dish,
"I am not getting divorced. The truth is I miss my husband and cannot wait for him to come home. We talk every day on the phone and I go and see him a few times per month. My daughters miss their daddy just as much as I do. We all love him very much."
It's immediately unclear what portion of Teresa and Joe's relationship will play out in front of Bravo cameras. However, it's almost guaranteed that fans will get a least a glimpse into the struggles Teresa faces in light of Joe's absence. That, coupled with the inevitable drama between her and Danielle, will certainly make Teresa's Season 8 storyline one to watch.