The One Skin Care Hack I Use To Calm My Anxiety During The Day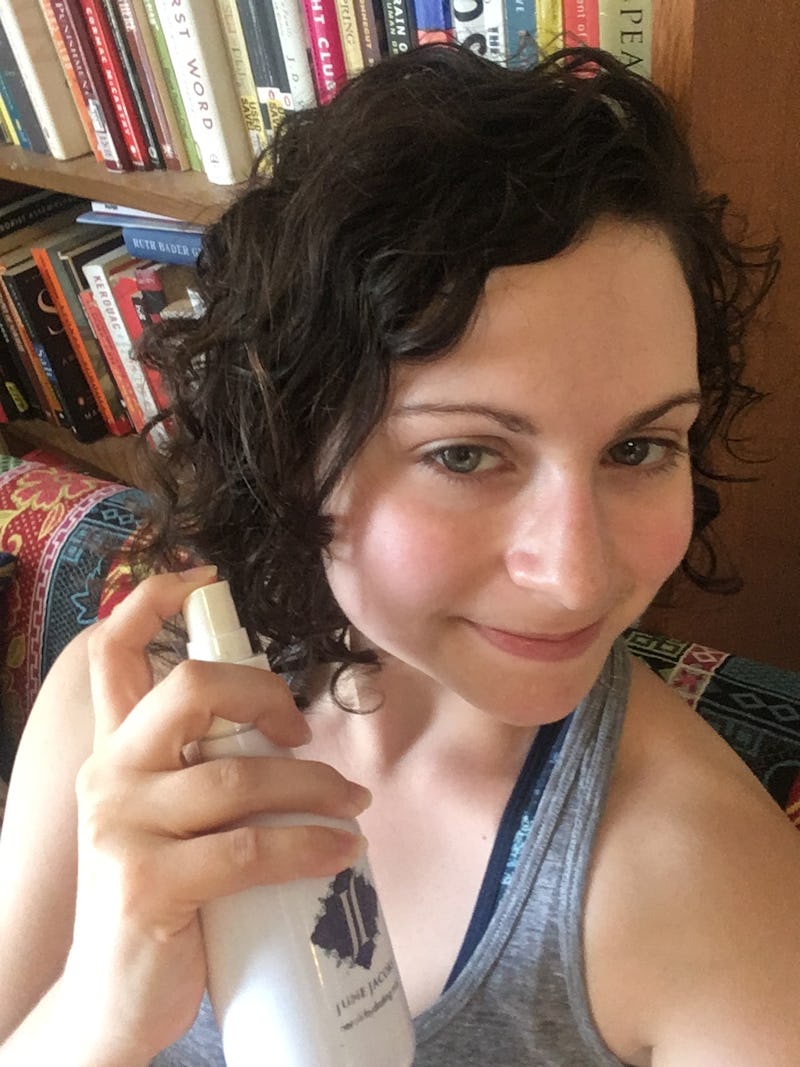 Erin Mayer/Bustle
I sometimes wonder if aspects of my fairly extensive skin care routine are a little pointless. Does toner really do anything? What about essence? But there's one item you can pry from my cold, dead hands — face mist. I would use it even if it turned out to be just overpriced water, because face mist helps me relax.
I have the kind of anxiety that leaves me with an elevated base-level of stress and tension, even on the good days. I'm basically a guitar string, always ready to be plucked. Although I'm not well-versed in traditional methods of anxiety management, I find that the most helpful way for me to break the cycle is to shock myself out of it — even standing up and getting a glass of water can help calm me down. But my favorite way to re-direct? Dousing myself in fancy mist.
Something about using a face mist settles me down, even when I'm buzzing with nervous energy, or wakes me up when my eyes feel heavy at 3 p.m. and my stomach just can't take another cup of coffee. It's kind of like a gentle slap in the face, only, you know, not violent.
Anxiety sometimes makes me feel like I am spiraling out of control, and the sharp jolt of cold liquid to the face brings me swiftly back to reality, even if just for a moment or two. Surprisingly, my affinity for misting has some psychological backing.
"There are a few reasons that a face mist might work to decrease your anxiety," psychologist Nicole Martinez tells me. "Just as if you put a cold washcloth at the back of the neck [...] you are stimulating reactions in what is called the Hippocampal region. This area is thought to control emotion, memory and the autonomic nervous system. So, by cooling off, we are actually hitting two of those areas that regulate mood and temperature."
Face mists may seem equivalent to pouring Poland Spring into a spray bottle, but the best ones really do have skin care benefits as well as mental ones. Alicia Yoon, founder of Peach & Lily, told Glamour, "[w]hile pretty much all of them hydrate skin, 'there are mists that tone skin, set makeup, act as a serum to nourish skin throughout the day, or even cool skin down,'"
There you have it: Face mists really could be the answer to a sound body and mind. Pick up a few of my favorites and prepare to be the human equivalent of the head massage emoji for the rest of your days.
1. June Jacobs Hydrating Mist
Neroli Hydrating Mist, $38, June Jacobs
This is the one that started it all for me. I kept this at my desk when I worked in an office and spritzed it at least three or four times a day, whenever I was feeling exhausted or panicked. A few of my former co-workers commented that it smells like vacation, so if smelling like you're at the beach appeals to you, give it a try.
2. Elemis Soothing Apricot Toner
Elemis Soothing Apricot Toner, $36, Nordstrom
It's all right there in the name. I use this one mostly as a toner during my morning and evening skin care routines, but there's no reason why you couldn't mist yourself with it throughout the day, especially considering that it doesn't contain any alcohol or similarly harsh, drying ingredients.
3. ColourPop Aventurine Crystal Setting Spray
Aventurine Crystal Setting Spray, $6, ColourPop
The cucumber scent of this setting spray will make you want to eat a salad, which is no minor feat. This one is dual purpose — it refreshes, hydrates, and protects the skin from free radicals (it contains skin care power ingredient Vitamin C) and locks makeup in place. Oh, and did I mention that it's $6?
4. Skin Inc Pure Serum Mist
Skin Inc Pure Serum Mist, $68, Sephora
Skin Inc is known for unique and innovative formulas (the Pure Revival Peel is another stand-out from the range) and this mist is no exception. Per the product description, it's a "healing serum mist that soothes redness or irritation, strengthens the skin's barrier, and locks in deep hydration while refining and minimizing the look of pores."
5. Mario Badescu Facial Spray With Aloe, Herbs, and Rosewater
Mario Badescu Facial Spray With Aloe, Herbs, and Rosewater, $7, Ulta
Admittedly, I've only used this when stopping in to Urban Outfitters or Ulta for a quick mist break, but I can attest to its refreshing AF properties. This is an OG classic when it comes to face mists, and with good reason.
6. Pixi Sun Mist
Pixi Sun Mist with Chamomile & Bamboo Extract, $18, Target
If you don't wear SPF daily, stop reading this article, shut your laptop, and go buy some immediately. If you do, you may want to take your relationship to the next level and start actually reapplying throughout the day (every two hours is the official rec from the Skin Cancer Foundation) and a mist containing SPF 30 will help you do it.
7. Glossier Soothing Face Mist
Soothing Face Mist Rosewater Spray, $18, Glossier
This is another rosewater-based powerhouse that soothes, hydrates, and makes you feel like you're at a spa, even if you're on a crowded subway instead.
Face mists may not actually cure my anxiety, or stand-in for the many hours of therapy I probably need in order to help manage it, but they do make me feel a little better throughout the day, and that in and of itself is worth one-thousand spritzes.