These Photos From Corinne & DeMario's Halloween Party Appearance Will Give You Serious FOMO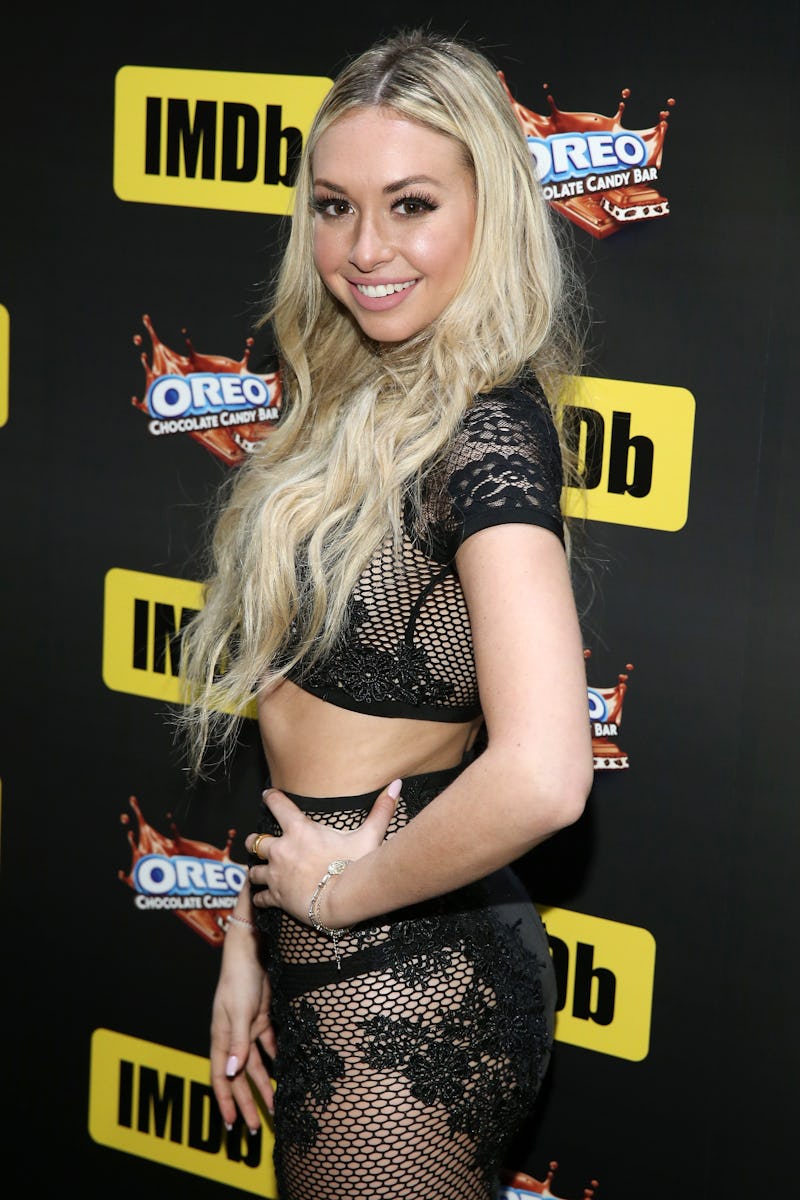 Joe Scarnici/Getty Images Entertainment/Getty Images
It's been a crazy, rollercoaster of a year for Bachelor in Paradise fans. But anyone who's still stressed about the last season should take a look at these photos of Corinne Olympios and DeMario Jackson at a Halloween party. The duo has really been through the ringer in the past few months, so it's nice to see them forging a real bond of friendship and just having fun.
The two cropped up at Maxim's Halloween party last Saturday, and they looked relaxed and carefree in front of the cameras. Corinne went as a be-feathered fembot, and DeMario was a bandana-ed biker boy. You know, that classic duo from pop culture, the biker boy and the fembot. Uh, sure. But even though the two costumes don't intuitively fit together, the reality TV alums did make a striking pair.
On the red carpet, they posed together happily, with DeMario's arm snug around Corinne's shoulder. In another shot, the executive recruiter even stuck out his tongue while picking up his blond companion, who has her arms wrapped around his neck and is laughing unselfconsciously. The camaraderie between the two is clear, and the amount of fun they seem to be having will really make you wish you'd landed an invite.
The two also snapped a photo of their own, presumably from inside the party, and both posted it to their respective Instagrams. Corinne captioned the photo, "Fembot - Biker Boy take Halloween," with a jack-o-lantern emoji, while DeMario went with, "This fembot captured me tonight!" with the rose emoji.
Captions like these are just more fuel for the fire when it comes to the dating rumors. They've been cropping up periodically after the show and have only strengthened as of late — like in September when the pair was spotted holding hands at Disneyland. And while these photos are far from an official dating announcement, it's easy to read them as evidence that things are heading in that direction.
That said, it's also fair to read them as evidence that these two are just friends, and that they're building a platonic relationship where they feel ultra comfortable around each other. It would certainly make sense, after the media storm they weathered — both together and separately — after the allegations of sexual misconduct surfaced on the BIP set. The catalyst was a drunken encounter between DeMario and Corinne that raised issues of consent and launched endless rumors about what actually happened. An investigation later found no evidence of wrongdoing.
Since no one but Corinne and DeMario knows what it was like to be at the center of all that, it makes sense to see them growing closer in the wake of the controversy. No matter the nature of their friendship, these two deserve the chance to move on from the incident, and whether that's separately or as a unit is their own choice.
All we know in the moment is that they look cute together and that they're having a ton of fun, which is all you can ask for. But the inclusion of a little rose in DeMario's caption harkens back to these former contestants' days on The Bachelor and The Bachelorette and hints at a search for love, so keep your eye on both these two for potential further developments.
It's an assignment that should be pretty easy for Corinne, as she has not one but two TV shows in development as of the end of August. So, she'll likely be cropping up on your TV even more, potentially with DeMario by her side, and we'll all have plenty more opportunities to speculate and wish we were friends with them.