Lady Bird Johnson Paved The Way For Every First Lady After Her In A Boss Way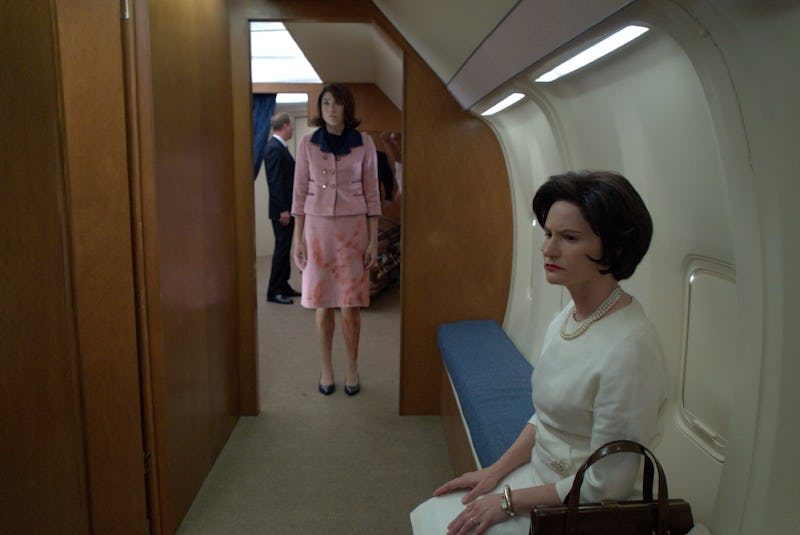 Acacia Filmed Entertainment
In the new film LBJ, starring Woody Harrelson as the titular character and Jennifer Jason Leigh as his wife, Lady Bird Johnson, it's evident that the presidential pair have a special, close bond. We see them in the moments after President Kennedy is shot. We see them alone in their bedroom, as Lyndon expresses his insecurities about becoming president. And in every intimate moment, we see Lady Bird being his rock — a supportive, reassuring, and loving wife. But what is less obvious on screen, is the fact that the First Lady was so much more than her husband's support system. Lady Bird Johnson actually paved the way for the First Ladies who came after her.
"Her contribution is significant," says Jason Leigh, sitting inside a hotel room at the Four Seasons in Los Angeles during the film's press day. "She made it into a real job," the actor explains, churning a spoon through a cup of tea. "She was the first First Lady to have a Chief of Staff — her own Chief of Staff. She also went on her own tour. She went to every state in the country on her own [to campaign] for her husband. She did the Highway Beautification Act. She was a real environmentalist."
But her achievements were not accomplished easily. As Jason Leigh depicts in the film, out Nov. 3, Lady Bird was a woman who was incredibly educated but immensely shy. The role of First Lady — giving speeches and meeting with the masses — did not come naturally to her. But her passion for politics and the betterment of the United States made these unpleasantries endurable. "It wasn't easy for her, but she did it," Jason Leigh says. "She took being First Lady very seriously. She really cared about America."
And not only did she make tangible changes to what it means to be a First Lady, she also helped get her husband into the White House. When Lyndon was in the Navy, she ran his entire campaign. And not only that, "she financed it. She invested her own money," Jason Leigh explains. "She bought a small radio station, then bought a TV station that ended up being worth $100 million. It was her money, and that's what she did with it. She was really very, very savvy."
Jason Leigh attributes her savviness to a father who believed in her. "He expected a lot from her. He instilled in her, even though she was shy and meek in her ways, that she was bright and that she had something to say and something worth saying. That's a great thing to give a child."
Since Lady Bird's turn in the White House, First Ladies have been given the chance to do tremendous work with their positions, and using their First Lady title for the betterment of the nation has become standard. Most recently, Michelle Obama tackled America's health, specifically childhood obesity and child hunger, with initiatives like Let's Move! and The School Lunch program.
While it's been over 50 years since LBJ and Lady Bird were in office, the work they achieved can still be felt today. Jason Leigh rambles off some of these tangible accomplishments Americans can thank the Johnsons for: "The War on Poverty, Head Start, Voting Rights, Medicare, Medicaid, The Clean Water Act... You can't believe what [they] got accomplished in such a short amount of time," she says. "We're still benefiting from them today."
Lady Bird Johnson's legacy may not be celebrated in history books as often as her husband's, but through her quiet smarts and shy ambition, this First Lady became one powerful player in American politics. From hiring her own Chief of Staff to helping to enact legislation, Lady Bird made it acceptable for every First Lady after her to own her power in whichever way they saw fit.