The Creators Of The Women's March Just Launched "Resistance Revival" & It Starts Right Now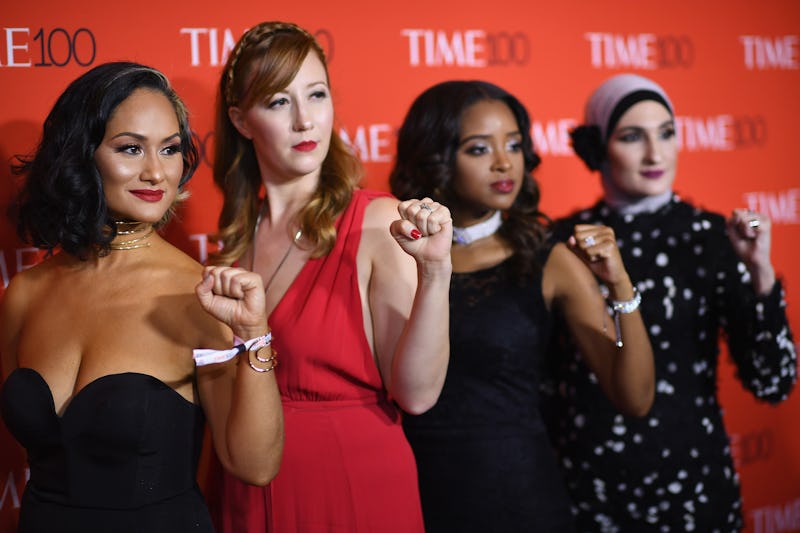 Dimitrios Kambouris/Getty Images Entertainment/Getty Images
Six months ago, an estimated 2.6 million people took part in 673 marches across the world to support women, and protest the first full day of the Trump presidency. While the symbolic value of so many bodies taking to the streets cannot be overestimated, the organizers behind the Women's March urged the Resistance not to become complacent, to stay angry, to continue protesting. In February, they organized a nationwide women's strike called "A Day Without a Woman." Now, they are introducing a new event series called Resistance Revival: A Restoration of Force.
According to their event page: "The Resistance Revival is a regular series of musical events where we bring song to life in the spirit of collective joy and resistance. We aim to bring together, in community, a group of diverse artists to join in songs of resistance and protest with the foundation that JOY is an act of resistance!"
The first event will take place on July 24th, at the City Winery in New York City, and moving forward, the Women's March will host monthly song nights and pop-up protests to lift up and inspire the Resistance, as well as honor the rich tradition of protest songs in the Civil Rights movement.
On Friday, July 21st, the Resistance Revival Chorus commemorated the six-month energy of the Women's March by staging a flashmob in Manhattan's Times Square. Dressed all in white, the group of 32 women sang "Rich Man's House", with the last stanzas altered to address the current president.
"Well I / Went down to the White House and I / Took back what they stole from me (Took it back) / Took back my dignity (Took it back) / Took back my humanity / Now he's under my feet, under my feet, under my feet, under my feet / Ain't gonna let the system walk all over me"
According to Paola Mendoza, co-organizer of the flashmob, the idea for the Resistance Revival came in part from Harry Belafonte, a Women's March honorary co-chair, who said: ""When the movement is strong, the music is strong."
"Clearly the resistance movement at this moment is very strong, and what we wanted to do specifically was bring ... protest songs into the resistance for a variety of reasons: To give us strength to inspire us to heal us to gather community around," Mendoza told Mic.
Indeed, music has long reflected, strengthened and inspired social movements. Billie Holiday's 'Strange Fruit' came to symbolize the horror and brutality of lynchings in the American South. NWA's 'Fuck Tha Police' put into words an anger and frustration about racism and profiling that had been brewing for decades (and has not dissipated.) Bob Dylan's entire croaky catalogue was an anthem for the anti-war movement in the '60's.
Although the Women's March is not without its flaws, and music alone won't solve the avalanche of potentially disastrous policies rolling our way, anything that brings beauty, joy, and unity into our protests is certainly worth supporting and celebrating.