The 'RHOC' Season 12 Trip To Iceland Can't Come Fast Enough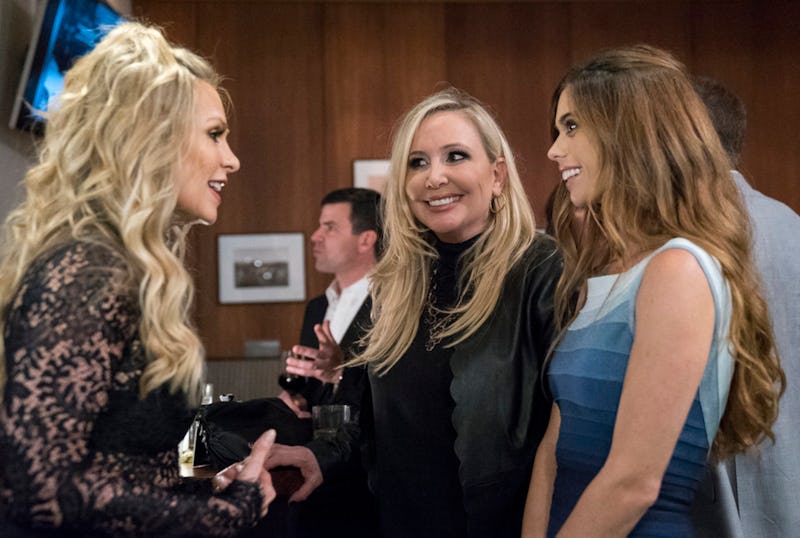 Nicole Weingart/Bravo
Season 12 of The Real Housewives of Orange County has been weird. Not bad, not unwatchable. Just weird. No one wants to film together, the drama is gridlocked, and the whole vibe is tense. However, judging from what some of the OC Housewives teased to E! News at a recent party for Nobleman magazine, their upcoming excursion to Iceland will be just the thing RHOC Season 12 needs. The slow burn of a season is about to, as Vicki Gunvalson would say, whoop it up.
The odds have been stacked against Season 12: It lives in the shadow of Seasons 10 and 11, arguably two of the most thrilling seasons of TV the Real Housewives franchise has ever seen; Heather Dubrow, one of the show's biggest players, left after Season 11; the cast is now almost splintered beyond repair. That's not to say this season is totally devoid of iconic moments: the battle at the Quiet Woman, for example, is an instant classic that will surely go down in Real Housewives history. It's just been a relatively chill season so far.
Thankfully, RHOC has reached into the reality show bag of tricks and retrieved a surefire way to bring everyone together and get things going: a cast trip. Like the ladies of The Real Housewives of New York City know all too well, when the cast is plopped in the same vacation cabin/beachfront resort/Berkshires manse, they have to spend lots of time together. And when they have to spend lots of time together, they inevitably get schnockered, confront each other, and metaphorically topple over into some bushes. (And sometimes, they even literally topple over into some bushes.) A Real Housewives vacation traditionally makes for fantastic television, and by all accounts, it seems like the OC Housewives' Iceland will follow suit.
At the Nobleman anniversary party, some of the OC Housewives talked to E! News about their journey to Iceland, a trip that truly sounds like the amino acids this season has been craving. As Lydia McLaughlin put it, "What everybody's been waiting for starts to happen." And yes, Lydia and Doug McLaughlin's magazine is already a year old. They grow up so fast, don't they?
Lydia explained,
"I feel like this season finally really picks up and everybody is together and we leave the country together so there's nowhere to hide, conversations have to happen. People have to talk or express how they're feeling about one another."
Thank goodness.
Co-star Meghan King Edmonds added,
"The unexpected happens the entire trip. Iceland is seriously cuckoo. I seriously think they could make 10 episodes out of it. I swear they could do an entire season out of Iceland."
Whoa, this is a huge promise. However, if Season 10 taught viewers anything, it's that Meghan's word is as golden as the flame burning from one of her and Jim Edmonds' candles.
RHOC newbie Peggy Sulahian also seemed pretty jazzed up for the Iceland episodes. She told E!,
"Let's just say there are a couple of battles. A couple of cries. A couple of yellings and it's crazy. You're going to have to see it to believe it. All I can say is it's a roller coaster."
This trip sounds perfect.
This Nobleman event was a fount of RHOC details, an embarrassment of RHOC teaser riches — and not just about the Iceland vacation. There was a nod to the reunion, too. As E! points out, the O.G. of the O.C. posted a picture she took with Lydia, Peggy, and Kelly at the party and capped it off with a not-so-vague caption: "For the #RHOC reunion I know which couch I'm sitting on."
Huh. You mean it's best to not get too emotionally attached to that scene from the season trailer where Vicki and Tamra Judge appear to reconcile in Iceland? You mean the former best friends don't remain in each other's good graces for long? What a twist, what a surprise.
According to E!, RHOC's Iceland extravaganza will air "later this month." Can't wait to let this trip wash over you like a bucket of water from the Blue Lagoon? Right there with you.