The 'Drag Race' Season 10 Stars Did 5-Minute Makeup Looks & They Are BEYOND Fierce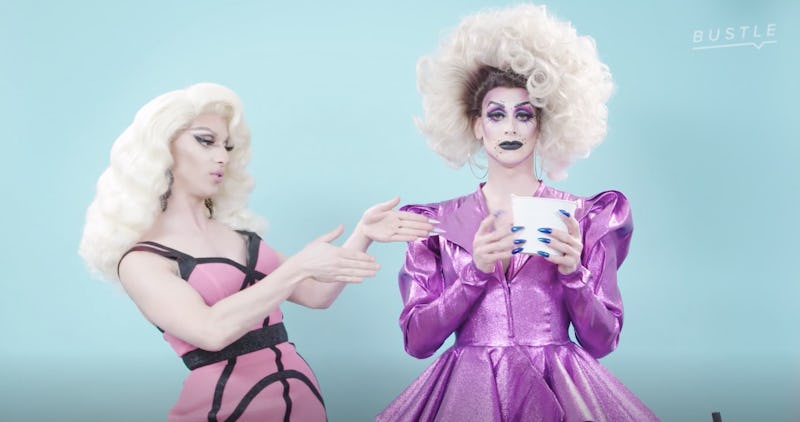 RuPaul's Drag Race is continuing to slay. Now in its 10th season, there is no show quite like it on TV. That is why it was such a blast when the RuPaul's Drag Race Season 10 cast tried the five-minute makeup challenge at Bustle HQ. After all, what makes Drag Race and the queens that appear on it so interesting is that they're all so confident and unafraid of a challenge. Bustle was excited to have them drop in for a visit... and give them another task that would rival any mini or maxi-challenge Ru could muster.
This season, the newest stars of Drag Race have already proven they have the skills to do some quick-drag. During Season 10's second episode, the queens had just 20 minutes to get themselves in quick-drag with hair, makeup, and outfits all done. Their theme during the episode was Western drag. Inspired by the likes of Dolly Parton, Reba McEntire, and Wynonna Judd, the queens were as quick as they could be in coming up with various country-style head-to-toe looks.
However, the challenge of being a queen on the show was nothing compared to what Bustle had in store for them. When some of the Drag Race Season 10 cast arrived at Bustle's offices in New York City, they had to perform in a new challenge, an even speedier version of the quick-drag seen on the show. This challenge tasked them to transform Bustle staff members into drag queens of their own, in five lightning-fast minutes. While they didn't have to come up with outfits, shoes, or hair for these transformations, they certainly did rise to the challenge and offer up some pretty out-of-this-world makeup looks.
Five minutes obviously isn't much time for such a dramatic drag transformation on one's own though, so Bustle paired them up in teams of two. Teamwork makes the dream work as they say. Aquaria and Asia O'Hara were one team, while the other pairs were made up of Mayhem Miller and Kameron Michaels, Dusty Ray Bottoms and Miz Cracker, Monique Heart and The Vixen, and Kalorie Karbdashian-Williams and Vanessa Vanjie Mateo. Bustle supplied the materials, and the teams got down to the business of transformations. In other words, they got to werk!
Of course, what challenge is complete without a theme? Bustle filled a bucket filled with example theme looks that the queens picked from at random. Some of themes had both queens and staff gagging. You'll have to watch the full video to see how everything played out, but you'll love what Dusty Ray Bottoms and Miz Cracker did with "sexy zombie" and what The Vixen and Monique Heart came up with when they picked "glam extraterrestrial."
All the queens seemed to keep their cool through the first few minutes. But, when the two-minute warning sounded, a bit of panic set in among a the teams. So, if you want to see what bizarre, high-fashion combos came up, or witness the freakout moments with only 30 seconds left, watch the video below:
And, if you're a fan of these drag queens, you will be happy to know that there is plenty more drag where that came from. RuPaul's Drag Race Season 10 is only two episodes deep (airing Thursdays at 8 p.m. ET on VH1), and there are so many more challenges in store. While Kalorie Karbdashian-Williams and Vanessa Vanjie Mateo may have already sashayed away, there are plenty more lip-syncs, tongue pops, and spilled tea to come. Here's hoping the queens took their skills from the Bustle set and onto the show. You best be ready, henny!