The WNBA Finals Were Monumental For These Two Champions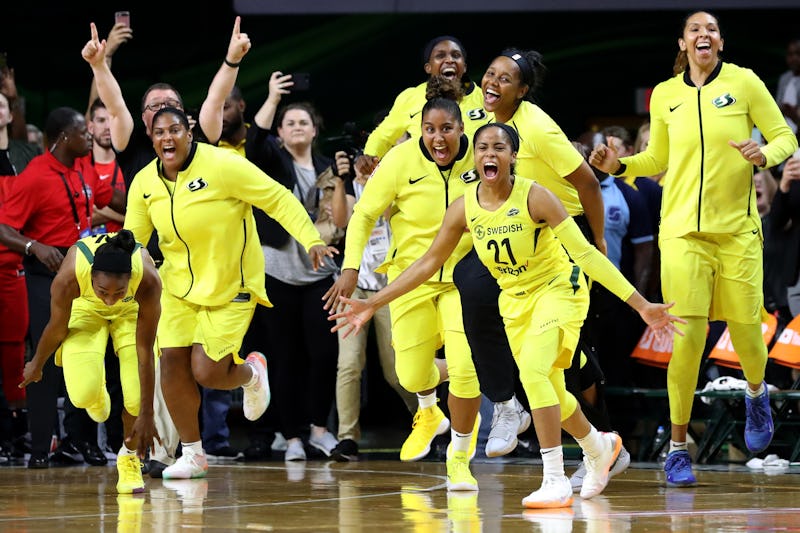 Rob Carr/Getty Images Sport/Getty Images
Basketball is a game that requires a lot of heart and, sometimes, protective nose gear. The Seattle Storm women's basketball team invoked both on their journey to winning their third Women's National Basketball Association (WNBA) title. The Seattle Storm's WNBA championship win was the third for Sue Bird, a superstar veteran point guard. Many fans also speculated the winning title would be the first of many for Breanna Stewart, now the youngest finals MVP in the WNBA.
Wednesday's win against the Washington Mystics seemed to be a bookmark of sorts in the two Seattle Storm players' careers. For Stewart, it was, as Benjamin Hoffman at The New York Times put it, "the first of what could be a long string of titles." But for Bird, it was more of a "career capper."
Bird is the oldest active player in the women's league — she'd already won two other championships with the Storm back in 2004 and 2010. She told The Times the latest win was one of the "defining moments" of her career. Although she hasn't announced any plans for retiring, she wrote an essay for The Players' Tribune called "So I Broke My F*cking Nose," in which she touched on her dream to retire as a Seattle lifetime player.
"I mean, you know when kids talk about their 'white picket fence' dream?" Bird wrote. "For me that dream has always been becoming a Seattle lifer. I'm talking play out my career here … and then retire here … and then buy courtside seats for the Storm (and Sonics!) here."
She was even more reminiscent in an interview with The Times.
To have played however many years I've been playing, to have won in all these places, but then to do it at the end in such a way that was different from all the others, it's really incredible.
Bird is a beloved player, and not just because of her tenure — she has a winning personality as well. In the Players' Tribune article, she light-heartedly discussed her various nose breaks while playing basketball — and the protective gear she wears to stop it from happening again — proving you can be an all-star basketball hero and keep your sense of humor.
Contrary to reports, I don't actually own a protective face-mask. Like, I don't just….… "own a mask" that I "have ready" in the "unlikely event" that I "break my nose." I own three.
But on the topic of Wednesday's win, Bird was more serious. In a postgame interview with ESPN, Bird noted she didn't know if she'd win another playoff, but she was glad she could play the mother hen role and lead her team to victory as point guard. When ESPN anchor Holly Rowe asked what it was like to win one more championship after eight years, Bird responded, "You just never know when you're gonna be back… I didn't think I'd be back."
Bird and Stewart aren't the only ones who had a good season. WNBA ratings in general were up this season. ESPN2's airing of a WNBA game in which the Storm played the Los Angeles Sparks in late June was the highest-rated, regular-season game for ESPN2 since 2011, the WNBA said in a press release.
These numbers could be rising because of long-talented players like Bird and the rising star power of excellent players like Stewart, who became the youngest finals MVP in WNBA history on Wednesday night, as ESPN noted. In an interview with ESPN anchor Rowe after the game, she said the win didn't "feel real" yet, but she expressed her gratitude for the chance to play with and learn from Bird.
"Sue's done everything for me," Stewart said. "If there was one person on this team that I wanted to win it with, it was her. And I hope that we can do it many, many more times."
Stewart and Bird are making sports history one jump shot and face mask at a time, and the public seems to be taking notice of their immense skills.