Christine Ford Would Be Questioned By A Committee That's Never Had A Female GOP Member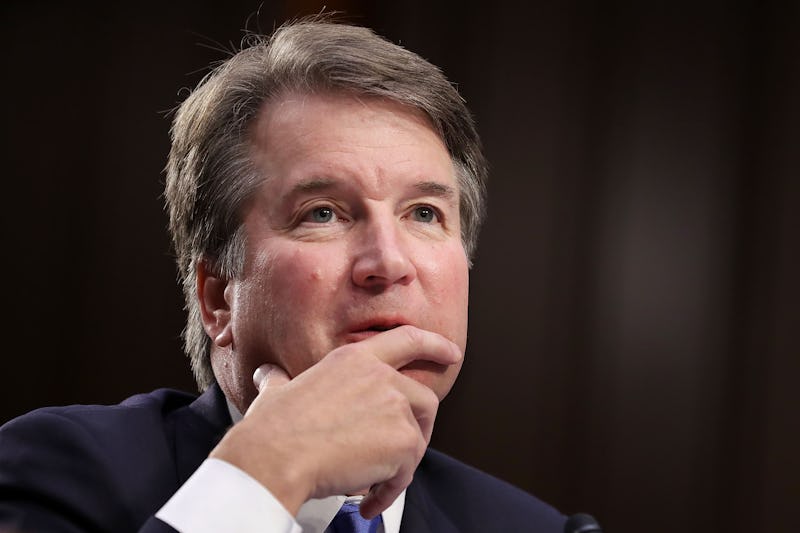 Chip Somodevilla/Getty Images News/Getty Images
Brett Kavanaugh's Supreme Court appointment may come down to whether Congress believes Christine Ford's attempted sexual assault allegations against him, which he denies. His confirmation will be voted on by a Senate that's overwhelmingly male, and the gender imbalance is even starker among those who are examining him, because the Senate Judiciary Committee questioning Ford and Kavanaugh — should Ford agree to testify — has only men on the GOP side.
The 21-person Senate Judiciary Committee questions Supreme Court nominees on their knowledge and record before they're given a confirmation vote by the entire Senate. They interrogated Kavanaugh over several days earlier this month. Only four of the committee's members — 19 percent — are women (all of whom are Democrats), which is slightly lower than in the Senate at large, where only 23 out of 100 of the members — 23 percent — are women (18 of whom are Democrats).
There's never been a Republican woman appointed to the Senate Judiciary Committee, which is all the more remarkable given that the committee has existed for 202 years, according to Yahoo News, and that women have been in the Senate for nearly 100 years. Of course, women have always been a minority in the chamber, especially among Republicans, but many are worried about how this imbalance will play out during the upcoming hearings over Ford's allegations, when the California professor could discuss her attempted rape allegations against the nominee, although she hasn't yet confirmed she will attend and publicly testify.
HuffPost reports that the GOP is considering ways to mitigate the problem, including possibly having their female staffers question Ford. It's unclear whether this would be in addition to or instead of the senators' inquiries. The committee's chairman, Sen. Chuck Grassley (R-Iowa), did not comment on the rumor, but Sen. John Cornyn (R-Texas) did confirm to HuffPost that Republicans are considering bringing in third-parties questioners for the hearing.
"We've discussed various options, including hiring outside lawyers and supplementing that with senators asking questions," he said. "So, any senator who wants to ask questions remains free to do so. But I don't want want to get in front of the chairman."
The Kavanaugh situation has drawn inevitable comparisons to the 1991 confirmation of Justice Clarence Thomas, who was accused by his attorney-adviser Anita Hill of sexual harassment (Thomas, like Kavanaugh, denied the allegations). The optics were even worse then, as not a single member of the committee was female when they interrogated Hill with sexist lines of questioning, including asking whether she was "a scorned woman" or had "a martyr complex."
Many people — especially women — were outraged by the Thomas hearings at the time, and the national conversation turned steadily more in Hill's favor as time went on, as Victoria M. Massie at Vox notes. Much of the anger focused on the all-male committee.
"They are men, they can't possibly know what it's like to receive verbal harassment, harassment that is fleeting to the man and lasting and demeaning to the woman," Rep. Nancy Pelosi (D-California), who then had been serving in Congress for only four years, said at the time, per The New York Times. There were only two female senators when the chamber voted on Thomas, and Sen. Paul Simon (D-Illinois) suggested "if there were 20 women who were members of the Senate, we could delay the vote right now."
Today, the optics of Kavanaugh's case don't look much better. Time will tell whether Congress treats Ford like Hill or whether male senators have learned some lessons in the intervening decades.