The Senate Judiciary Committee Just Voted For Kavanaugh — Here's What Happens Now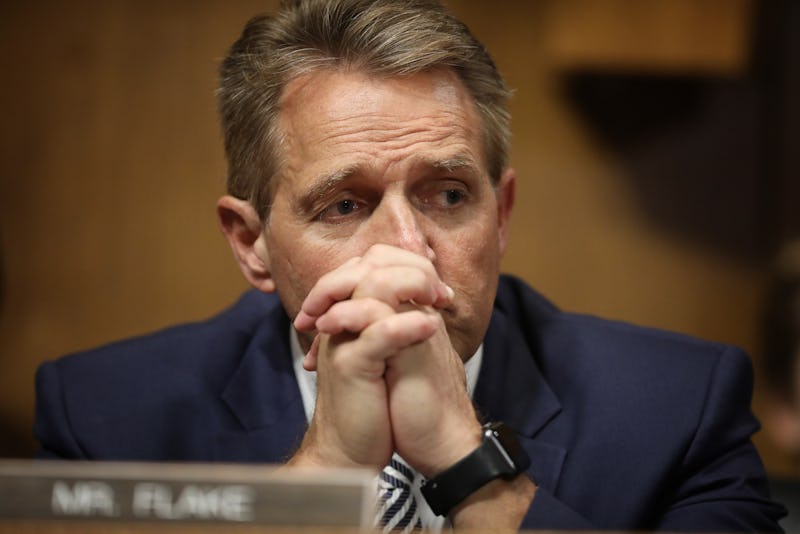 Chip Somodevilla/Getty Images News/Getty Images
Despite Republican Sen. Chuck Grassley telling reporters on Thursday that "we ought to be thinking about it a lot and not making hasty comments," he didn't postpone a committee vote on President Donald Trump's Supreme Court pick, a vote that was scheduled for the day after a woman testified about her allegation against him before the nation. The Senate Judiciary Committee voted to push Brett Kavanaugh's nomination forward on Friday morning, meaning the full Senate will soon convene for a confirmation vote.
However, the committee vote did not come without drama and a request for a delay on the full Senate floor vote. Right before the vote was set to happen, Sen. Jeff Flake (R-Arizona), requested time to speak. Flake, who had been confronted by survivors hours earlier, then made a request for a delay in the floor vote up to one week, so that there would be time for an FBI investigation into Christine Blasey Ford's allegation that Kavanaugh attempted to sexually assault her in the '80s, which Kavanaugh denies.
Immediately after Flake made his request, Grassley began a vote on moving Kavanaugh's nomination to the Senate floor — a vote that happened so quickly, senators were trying to clarify what, exactly, they were voting on. Confusion then increased when Flake voted in support of Kavanaugh's confirmation, despite his call for a delay in the full Senate floor vote. The confusion did not end there. Several senators asked for clarification on what was happening, and then Grassley abruptly ended the meeting, saying that their time was up — prompting ranking Democrat Sen. Dianne Feinstein to ask why he was shutting the meeting down.
Flake, who has been a critic of President Trump and who is retiring, had been seen as the only senator who might vote against party lines, and during the meeting before the committee vote, he was in and out of the room meeting with a variety of senators from both parties. In his request for an FBI investigation, he indicated that he would not be comfortable voting to confirm Kavanaugh in the final full Senate floor vote if there were not an FBI investigation first. With 51 Republican senators, it would take all Democrats and at least two Republicans to vote against Kavanaugh's nomination to keep him from the Supreme Court. However, it has not yet been confirmed if the vote will be delayed and if an FBI investigation will actually happen, or if the vote will move forward as planned.
Less than 24 hours before the committee's vote, Christine Blasey Ford testified under oath that Kavanaugh allegedly attempted to assault her in high school. She told the committee that she's "100 percent" certain the person who attacked her in the 1980s was a young Kavanaugh. The judge vehemently denied her allegation in his own testimony on Thursday, calling Ford's story a "character assassination" that has "destroyed my family and my good name."
The committee's senators stayed within their party ranks during Thursday's hearing, with Republicans yielding their time to a female prosecutor hired to question Ford about the specifics of her allegation and Democrats praising Ford for coming forward. Republican Sen. Lindsey Graham accused Democrats of wanting to "destroy" Kavanaugh's life and told the nominee that the Supreme Court bench is "exactly where you should be."
Ford refuted Republicans' claims that her allegation was part of a partisan plan to block Trump's nominee during her opening statement. "Those who say that do not know me," she said. "I am a fiercely independent person and I am no one's pawn."
Democrats on the committee told her that "history will show you are a true profile in courage" and called her willingness to testify "nothing short of heroic," while Democrats not present at the hearing tweeted their support for Kavanaugh's accuser.
Kavanaugh said in his opening statement that his family doesn't wish Ford any ill will, but he believes she was assaulted by someone else. He repeatedly denied ever committing sexual assault and questioned why Ford's allegations never came up in his decades of government work.
"A lifetime of public service and a lifetime of high-profile public service at the highest levels of American government, and never a hint of anything of this kind, and that's because nothing of this kind ever happened," he told the committee on Thursday.
The hearing was emotional for everyone involved. Kavanaugh and Ford both teared up while giving their opening statements and defending their stories. While Kavanaugh came across as angry, Ford came across to many as trying to accommodate the committee. "I wish that I could be more helpful and that others could be more helpful and that we could collaborate in a way that would get at more information," she said in her one public critique of how she wished the hearing process had been different.
After Friday's vote, the fate of Kavanaugh's Supreme Court nomination lies in the hands of the full Senate, which is expected to vote next week — with exact timing now dependent on if Flake's request is honored.
If you or someone you know has been sexually assaulted, call the National Sexual Assault Telephone Hotline at 800-656-HOPE (4673) or visit online.rainn.org.