Where To Follow & Support All Of The Artists Featured In 'She's Gotta Have It' Season 2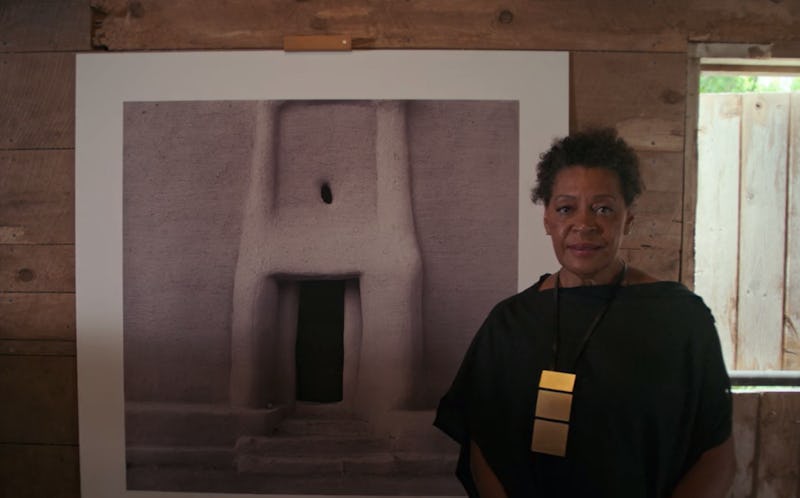 Screenshot via Netflix
Spoilers ahead for She's Gotta Have It Season 2, Episode 4. In an unexpected turn of events, Nola Darling (DeWanda Wise) gets invited to a prestigious black artist retreat in the second season of Spike Lee's She's Gotta Have It. During this week-long getaway on the picturesque Martha's Vineyard, the painter is able to rub shoulders with other creatives in her field, who are portrayed in the Netflix show by real-life artists. And many of the She's Gotta Have It artist Instagrams reveal both their talented work and the stories behind them.
Nola Darling may still be trying to figure herself out, but she's created some impressive work, including her My Name Isn't... series from Season 1. But before audiences see the painter's controversial art show later in Season 2, audiences meet some of her peers during Episode 4, #NationTime, who are real-life artists.
About halfway through the episode, these creatives are all able to introduce themselves and the piece they've chosen to present at the retreat. Nola is starstruck by one creator in particular — a photographer named Carrie Mae Weems. And while the protagonist knows that her self-portrait isn't representative of her best, Weems is firmly in her corner, telling Nola that she was on the Creative Capital board and vouched for her.
Fortunately, audiences can follow Weems and many of the other artists depicted in this episode on Instagram, where they often document their artistic processes.