2 Indiana Sisters Are Donating Millions To Help Democrats Fight Trump — And Mike Pence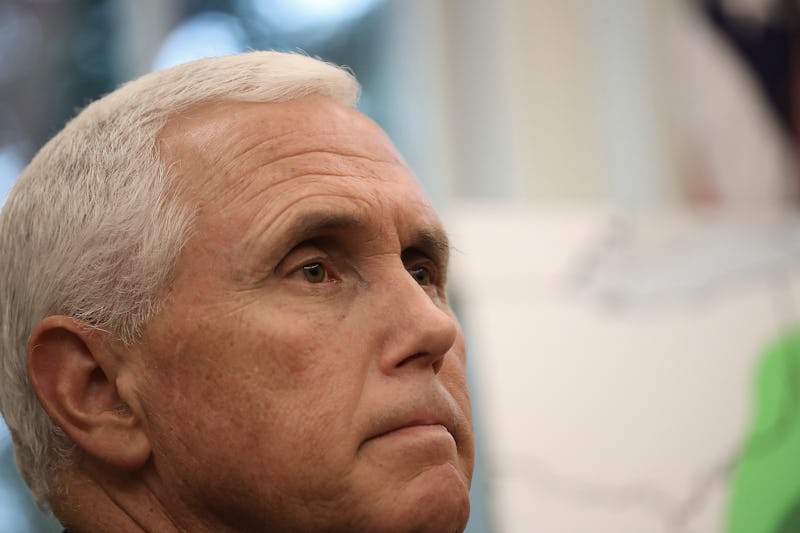 Win McNamee/Getty Images News/Getty Images
A pair of shopping mall scions from the Hoosier State are shaping up to be two of the most formidable players in Democratic politics this cycle. Meet the Simon sisters from Indiana: Foes of Mike Pence, staunch supporters of reproductive freedom, and according to Politico, million-dollar donors to the Democratic Party.
Deborah Simon and Cynthia Simon-Skjodt come from the Simon family, which owns the largest shopping mall operator in the United States. Forbes pegged the family's net worth at $6.8 billion in 2014.
The sisters have been politically active in Indiana for years. According to Politico, they gave almost $100,000 to federal and state candidates during the 2014 midterms and over $382,000 during the 2016 election. But sources told Politico that they were significantly shaken by the election of Trump and Pence in 2016, and as such, they've ramped up their political donations dramatically this cycle.
The sisters have spent $12 million on Democrat-aligned groups since Trump and Pence's election, according to Politico, placing them among the top 10 donors to either party this cycle. In the first year of Trump's presidency, they each gave $1 million to Senate Majority PAC, which aims to tip Senate control to the Democrats in the 2018 midterms; since then, they've donated a total of $5.5 million to the group.
But that's just the tip of the iceberg. They Simon sisters have also reportedly donated millions to the Planned Parenthood Action Fund, the Democratic National Committee, American Bridge 21st Century and the Democratic Senatorial Campaign Committee — all of which are devoted to electing progressive politicians at the state and national levels.
According to Politico, this is largely due to their passionate support for reproductive rights — and, likewise, their fervent opposition to Pence, who led the charge to defund Planned Parenthood as a congressman and Indiana's governor before being plucked by Trump to run for vice president.
A longtime donor to Planned Parenthood, Simon joined the board of the organization's Indiana branch in 2004 and became its chair five years later. Sources told Politico that it was Pence's high-profile 2011 effort to defund the organization that caught the Simons' attention.
"Debbie often refers to the two red letter days in her life – when she first exercised her right to vote and the day the Roe v. Wade ruling was issued," Planned Parenthood of Indiana President and CEO Betty Cockrum wrote in 2011. "Her commitment to, and passion for Planned Parenthood's mission is unrelenting."
According to Politico, the Simon sisters' opposition to Pence grew in intensity in 2015 when, as Indiana governor, he signed a bill that made it legal for state businesses to discriminate against LGBTQ people. That law caused an enormous backlash, costing the state an estimated $60 million in lost revenue, according to Forbes. That move was denounced by, among many others, the Indiana Pacers — which, it just so happens, is owned by Simon and Simon-Skjodt's uncle Herb.
Pence's ascension to the vice presidency inspired the sisters to donate even more to Democratic politicians, Politico reports. According to the Indianapolis Business Journal, they've donated to Democratic parties in every state in the country except for Kentucky and Ohio.
"They've found they can help philanthropically, whether it's supporting a domestic violence center, Planned Parenthood, or women survivors of assault," former Indiana Rep Christina Hale, to whom the Simons have given in the past, told Politico. "But in terms of long-term need, and to set people up for success, they have to get involved politically."