'SNL's Donald Trump Presser Missed An Opportunity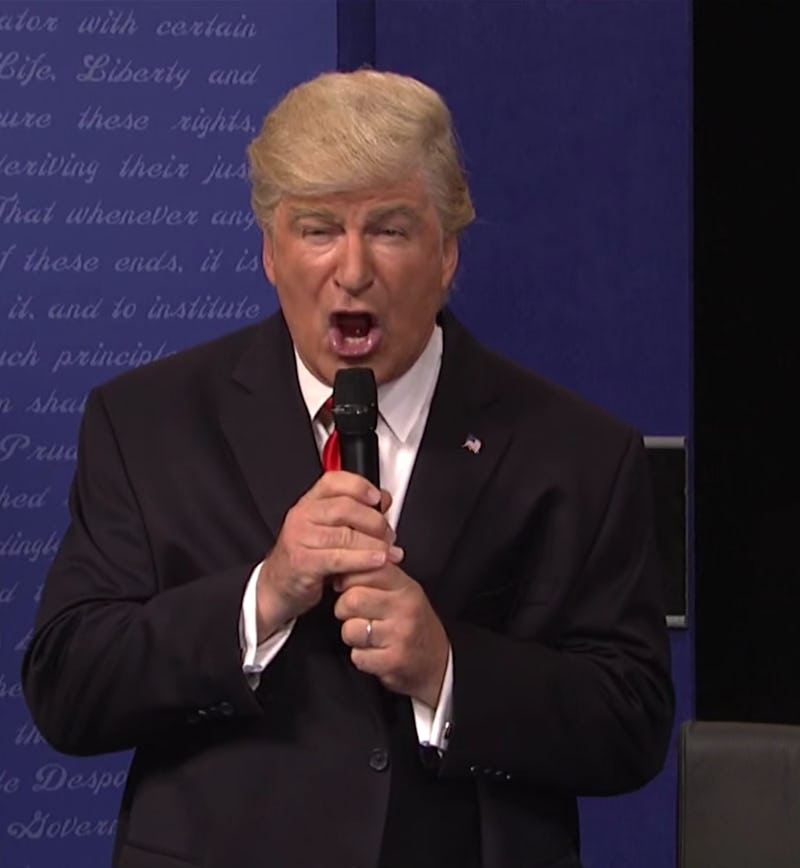 Saturday Night Live's first new episode of 2017 got off to a promising start, but soon succumbed to the same problem that affected the actual event it was based on. The SNL Donald Trump press conference made the same mistake reporters did by focusing on Trump's most recent scandals instead of digger deeper on the ultimately more substantive issues surrounding his looming presidency. By just focusing on the most salient issues of the week, SNL missed out on the best angle on the sketch, as well as the chance to establish itself as a leading source for political comedy in 2017.
To be 100 percent fair to the show, the whole Golden Showers scandal is objectively hilarious, and the writers had a once-in-a-lifetime chance to exploit there. Those jokes were strong, and they vaguely hinted at the real reporters' somewhat excessive interest in Trump's potential pee proclivities, but the jokes were too shallow to have any deep impact. The most affective version of the sketch would have focused more on what wasn't discussed at the presser, such as his take on how Republicans should replace Obamacare, his terrifying proposed nuclear policy, his potential family leave plan, and whether or not the American people can believe anything he says.
SNL has a rare opportunity to create a comedic niche in 2017, in large part thanks to Alec Baldwin's fantastic performances as the president-elect. Since the end of The Colbert Report and Jon Stewart's reign over The Daily Show, there's a space, particularly within the millennial generation, for obsessively rewatched and shared comedic political content, and SNL is one of the most qualified shows out there to fill it. The show's platform, which has remained largely unchanged throughout its 40-year run, does limit that ability somewhat, but the show's found some much needed success recently with its more politically focused content. Switching up the tradition just a little to support longer form sketches that really dig in to Trump the way he deserves could bounce the show both critically and commercially.
SNL has a remarkable chance to influence comedy in the Trump era, but sketches like this cold open aren't quite going to cut it. The show is fully capable of the kind of insightful writing needed to meaningfully critique Trump through a comedic lens, but it has to commit to making that happen. The country will need some high quality laughs throughout this year, and SNL can do its part to hold Trump truly accountable at the same time.