All The Songs In 'Grey's Anatomy' Season 14 That Will Probably Make You Cry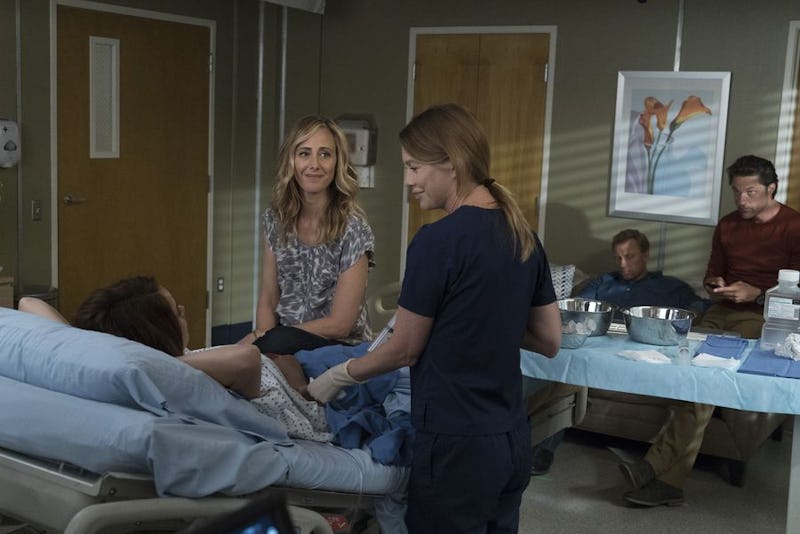 Richard Cartwright/ABC
If there is one show that has the lock on great music, it's Grey's Anatomy. It's always been Grey's Anatomy, mostly because of Alex Patsavas. She and her company, Chop Shop Music Supervision, are responsible for some of the best-scored shows of all time, including The O.C., Gossip Girl, Roswell, Rescue Me, Riverdale, How To Get Away With Murder, and Chuck, not to mention films like the whole Twilight series and Perks of Being A Wallflower. Chop Shop Music have introduced the world to bands like Death Cab For Cutie, and we are all the better of it. That's why I'm so excited about the soundtrack for Grey's Anatomy Season 14.
So much of the mood of Grey's Anatomy comes from its music, whether it's irreverent and silly ("I Hate Everyone" by Get Set Go from Season 1 comes to mind) or especially poignant ("Chasing Cars" by Snow Patrol during the Denny's death episodes). If you're an early Grey's Anatomy fan, you can't tell me that you weren't buying the soundtracks with your after school job money, because I was, too. Season 14 of Grey's Anatomy has the show in a Renaissance of sorts, with ratings way up and storylines better than ever. That means that the music should be as good. Let's see what they've been playing this season so far — and check back, because each week this article will be updated with magical musical goodness throughout the season. Spoilers follow.
Season 14, Episode 1
"War Face" — Lowell
This song is a great one for getting picked up at a bar (and Arizona does!). It also scores a montage of Megan's surgery and Jo watching Alex at Joe's (that's confusing) and then talking to that weird intern. As a note, this song is not available to embed in this article, so please enjoy another Lowell song above instead.
"Feel It Still" — Portugal. The Man
Arizona doesn't know how dating works in 2017, so she and April discuss "ghosting." Teddy shows up, Maggie and Jackson have an awkward moment, and Webber has to deal with the Sub-Ins and their inept skill set. This song scores all of that perfectly.
"Now I See" — Claire Guerreso
Meredith has a big plan (like usual), and here, Maggie and Webber talk it over to see if it will work. Meredith also tells the Sub-Ins to find her an abdomen to stitch onto Megan Hunt, and there are hilarious results because they are so bad at their jobs.
"My Rules" — Jadagrace
Another montage! Meredith is exasperated with how bad the Sub-Interns are. The women of Grey Sloan are in a tizzy with Carina's female sexuality study, and Bailey, Maggie, and Amelia come to check it out.
Episode 2
"Ready" — Hael
Megan starts her transplant surgery, and DeLuca and Amelia start their surgery, too. Webber and Maggie also have a delightful conversation comparing Meredith to Ellis and Ellis to Maggie.
"Look After You" — Aron Wright
Megan wakes up from surgery and gets to see her new abs. Then she asks for a minute alone with Riggs, where she tells him to beat it.
"Mad Behaviour" — Izzy Bizu
Alex finally admits to finding Jo's husband and not beating him up (which is a plus for Alex), and Jo finally admits that she's in love with Alex and they get it on. Nathan and Meredith have a conversation (he got dumped), and DeLuca gets the news of his career when Amelia has a tumor in her brain.
Episode 3
"Footprints" — Molly Kate Kestner
Amelia is freaking out because of her brain tumor, and she's tearing apart all of her case files with Webber. Webber sees that she's losing it and tries to calm her down. This song sets the somber tone.
"Free" — Francesca Blanchard
Jo finally asks Alex to come home, and Owen figures out that Amelia has a tumor. Maggie tells Meredith everything about Amelia, and Meredith goes to sit with Amelia and Owen when Amelia is admitted to the hospital. Just try to watch the touching scene between sisters and not cry. (This song is not yet available online, so enjoy another song by the artist above.)
Another season of amazing music is in the works for Grey's Anatomy, with so much more to come.
Episode 4
"Chevaliers de Sangreal" — Hans Zimmer & Richard Harvey
Amelia is about to go into surgery, and she wants her whole medical team to do the Superman power pose in order to convey confidence. Luckily, they go along with it.
"Fun, Fun, Fun" — The Beach Boys
Koracick loves this song when he's operating, and he loves it while he's operating on Amelia's tumor. The group watches it all happening from the pit.
"Leave The Lights On" — Overcoats
Meredith helps Riggs scam Farouk back into the country by telling a DHS officer that he has liver problems and Farouk is very sick. It works, because Meredith never takes no for an answer.
"Silence" — Grace Carter
Amelia's surgery goes well, and Owen is all, "You have to come home!" Bailey and Ben have a moment, Arizona finds out that Sofia wants to come home, and Meredith gives up Riggs to Megan.
Episode 5
"Push It" — Salt-N-Pepa
Megan and Owen are on their road trip, rocking out in the car, like all good siblings. Owen wants cheese puffs, Megan won't let him, and it was a very nice montage."
"The Gambler" — Kenny Rogers
Another song that Megan and Owen listen to on their road trip to Los Angeles. This time, though, they're fighting.
"Heartbeats" — Aron Wright
Megan makes it to Riggs and Farouk in California (finally, one big happy family!), and Riggs texts Meredith to thank her for everything. Owen finally goes home to his house with Amelia and asks for a divorce.
Episode 6
"Standout" — Kid Dean
Meredith is on the cover of JSA magazine, and everyone is kissing her butt about it (I would, too!). Amelia is approved to go back to work (but she is hesitant), and Jackson decides to buy a boat because he is mega rich now after his grandfather died. There's no video for the song, but you can hear it here.
"Looking Back" — Claire Guerreso
After realizing that they're going to be in deep doo-doo if they don't get back, all of the guys rush back from Jackson's brand-new boat to make the intern mixer.
"Surround Me" — LÉON
Deluca watches Owen make out with Deluca's sister, Jo decides to file for divorce from her abusive husband, and the new interns are super psyched to be at Grey Sloan. Little do they know they work at the hospital formerly known as Seattle Grace Mercy Death.
Episode 7
"They" - Jem
A callback to the very first episode of the show, this was played during a trauma scene in Season 14.
"Young Folks" — The Wind and the Wave
Another song from the past! This one was in the opening of Episode 7 as a cover by The Wind and The Wave. Here's the original.
"Keep Breathing" — Congratulationz
This played as Robbins recounted her days wth Mark Sloan. It was also played in the Season 3 finale of Grey's Anatomy, when Burke left Cristina at the altar. Here's the original version by Ingrid Michaelson.
"Such Great Heights" — Madi Diaz & K.S. Rhoads
A cover of the Postal Service classic, played when Meredith won her Harper Avery. There's no video for this acoustic version, but here's the original.
"Portions For Foxes" — Rilo Kiley
The very first song ever played on Grey's Anatomy, it was the last song played in the 300th episode.