The Spice Girls Joined Forces For This New Video & You'll Want A Real Reunion ASAP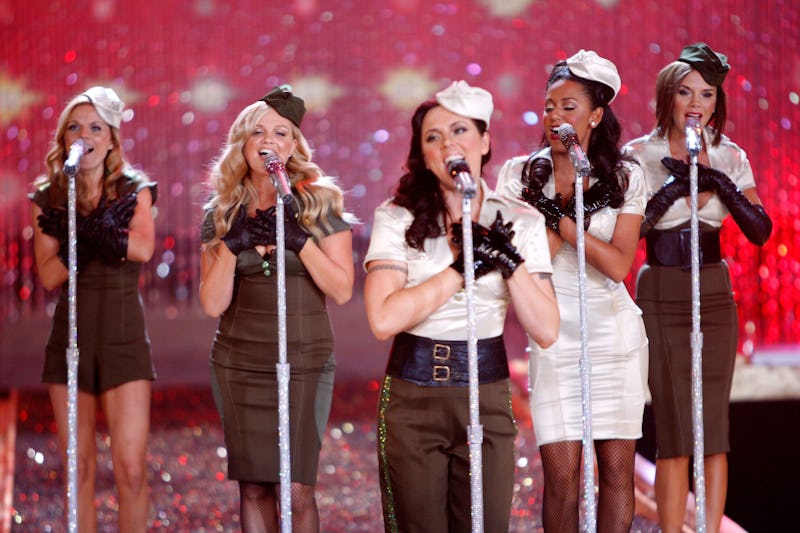 Mark Mainz/Getty Images Entertainment/Getty Images
If you fancy yourself a die-hard Spice Girls devotee, then you will not want to miss the music video for Melanie Chisholm's "Room For Love." Mel C's new video is sort of a mini Spice Girls reunion, a piece of content that's sure to delight any and all fans of the best-selling female group of all time. The clip, which hit the internet on Friday, features footage of the former Spice Girl performing the song at a concert, plus a whole bunch of people lip syncing along with track No. 7 off of 2016's Version of Me. And among all of the fans mouthing the lyrics are three individuals who really spice up the video's life: Emma Bunton, Geri Horner, and Victoria Beckham are in it.
Now, if the words "mini Spice Girls reunion" conjure up images of the four Spices taking the same stage, joining hands, and dancing around together, awesome. But uh, that's.... not what happens in "Room for Love." While they all are indeed in the same music video, Beckham, Horner, and Bunton all recorded quick segments for the visual by themselves. And yes, everything about it is divine. You can watch the video (and check out the cameos) below.
No, your eyes don't deceive you: Natalie Imbruglia and KT Tunstall are in it, too. Multiple Spice Girls plus two other successful recording artists? Whew, that "Room for Love" video sure isn't messing around.
As you've probably deduced by now, Melanie Brown is not part of the video, but given everything she's gone through over the last year or so, this isn't terribly shocking. Yes, she's one of the three Spice Girls who's been pushing for all five members of the group to reunite, but understandably, her focus has adjusted in recent months: Her father passed away in March, and she's also currently in the thick of a brutal legal battle with her ex, Stephen Belafonte. If she was not up for recording a lighthearted video, who can fault her?
Regarding Scary Spice's absence, Mel C told the Press Association (per E! News):
I don't want it to look negative because it's not, it's not a big deal. I reached out to lots of other people and everyone's busy. She didn't get round to doing it and obviously it does concern me. … I think people will pick up on that but I don't want anything to be made of it.
Of course, it's a bummer that Mel B isn't in the "Room For Love" video, but if it didn't work out, it didn't work out. Furthermore, if Mel C says there aren't any hard feelings, let's take her word for it.
Mel C continued:
Having four of the Spice Girls in it is really special. Geri's in there briefly, Emma's done a really lovely one and last but not least, Victoria Beckham found time to do a little one for me.
It is really special. Not unlike that one time Mel C performed at Vicky Becks' New Year's Eve party in the Maldives, seeing some of the Spice Girls band together for a music video a decade after their reunion tour took the world by storm is like swaddling your heart in one of those plush robes the group wore during that tent scene in Spice World.
So go ahead and make room for "Room for Love." Let the music video fill you up. Open your heart, the music video will leave you breathless.
Also? It doesn't hurt that the song is fire, too. But hey, that should not come as a surprise: Mel C's been putting out a constant stream of bangers for nearly two decades now. Her post-Spice Girls pop career has been a wonderful thing, and "Room For Love" is further proof of that.