The 'Stranger Things' Season 2 Soundtrack Is A Spooky '80s Dream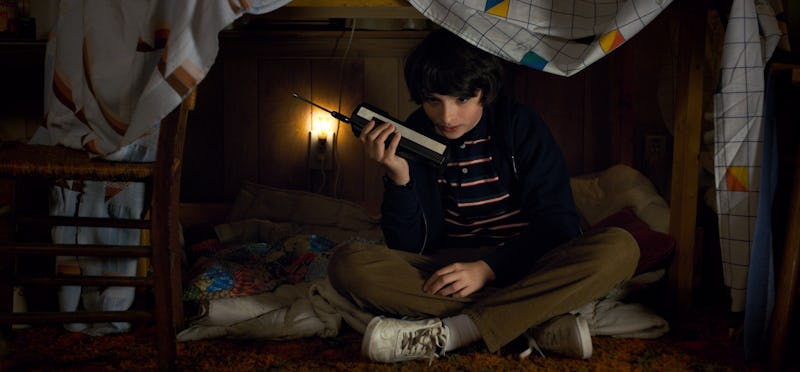 Netflix
The wait is over: Netflix's Stranger Things Season 2 is now streaming, so cue the catchy ominous '80s synth music. Season 1 featured many spooky happenings and a unique soundtrack score by two members of the Austin, Texas-based band Survive. And now, the Stranger Things Season 2 soundtrack has more intense synth jams — 34 songs to be exact — and it's already been officially released. You can listen to the haunting tunes from the score right now on your favorite streaming platform, such as Spotify or Apple Music. A soundtrack of the classic '80s pop songs used in the series (which is set in 1984) for Season 2 may not be officially released, though.
There hasn't been any official word if an official release of the second season's '80s pop lineup is on the way, but we can hope, right? For the first season, Netflix compiled all the '80s hits used in the show in a Stranger Things Season 1 Spotify playlist, so if that's any indication, fans should be on the lookout for a Season 2 playlist to bow on the music streaming service soon. Stranger Things Season 2 features more nostalgic '80s tunes such as "Whip It" by Devo, Oingo Boingo's "Just Another Day," "Shout at the Devil" by Motley Crüe, and of course the Ghostbusters theme song (we created a partial Season 2 playlist for now, below). In Season 1, the show used beloved tunes like "Toto," by Africa, "White Rabbit," by Jefferson Airplane, and "Should I Stay Or Should I Go?" by The Clash, among many others.
As for the original score, Survive band members Kyle Dixon and Michael Stein composed the score of Stranger Things Season 1, and they're back with more tunes for Season 2, which takes place in 1984. "We're introducing new styles of composition, while still revisiting old themes when appropriate," Dixon and Stein said in a statement to Esquire. "We've created new elements that are necessary to support the story, but still want to remain true to the sound of Season 1." The result is more catchy and unique synth tracks that create the tension and fully express the mystery of Hawkins, Indiana. The songs range in length from under a minute to four minutes long, but each track has its own unique sound. If you decide to listen to the score on Spotify, there's also a nifty Easter Egg that'll turn your player into the Upside Down (hint: just let the soundtrack play for a bit in your web browser and you'll see).
If you look closely at the song titles, you may even be able to spot some clues about the upcoming season — that is, if they were named to reflect the emotions and scenes of Season 2. Titles like "I Can Save Them" and "Descent Into The Rift" definitely sound like they belong in the world of Stranger Things. Of course, there could be some red herrings, but it's still fun to try to decipher. Does "Chicago" mean the gang will head to the city at some point? Does "Eggo In The Snow" indicate that Eleven might have a waffle-related adventure in the Winter? And could "Eulogy" mean that Season 2 contains a funeral for someone?
The Stranger Things Season 1 soundtrack released as two volumes — and both were nominated for the 2017 Grammy Award for Best Score Soundtrack. Dixon and Stein did win a 2017 Emmy Award for the Stranger Things theme song in the Outstanding Original Main Title Theme Music category. For Dixon and Stein, Stranger Things Season 1's music was all about balancing the innocence of childhood with fear. "At the beginning, in the first episode you have to set up this is a perfect little town, everybody's having a great time, so you play up this childish wonder," Stein told Esquire last year. "Then everything goes to sh*t and it gets scary, so they kind of play off of each other."
Stranger Things creators Matt and Ross Duffer (AKA The Duffer Brothers) were fans of Survive, so they asked Dixon and Stein to score the series. "They're fans of Survive somehow and it's kind of a mystery ... like, they don't really know how they found us," Dixon told Rolling Stone. "But they did, and then they emailed us and asked if we were available." According to the same Rolling Stone interview, Dixon and Stein were hired before the characters were cast and the scripts were even written, so the composers had to use their imaginations.
"We were just writing ... just trying to, you know, imagine who these characters were. And we'd seen a little bit of the aesthetic they were going for," Stein told Rolling Stone last year. "And to make scenes based on those ideas, you just had to ... kind of imagine what that was and feel it out and send it over. And some of those things actually just locked in and like stayed very early on."
And now those fully-formed characters are exploring a whole new season. Even after you're done marathoning Stranger Things Season 2, the soundtrack will be there for you to enjoy on repeat until Season 3 comes along.