Here's Tropical Storm Florence's Slow Trajectory Across The Carolinas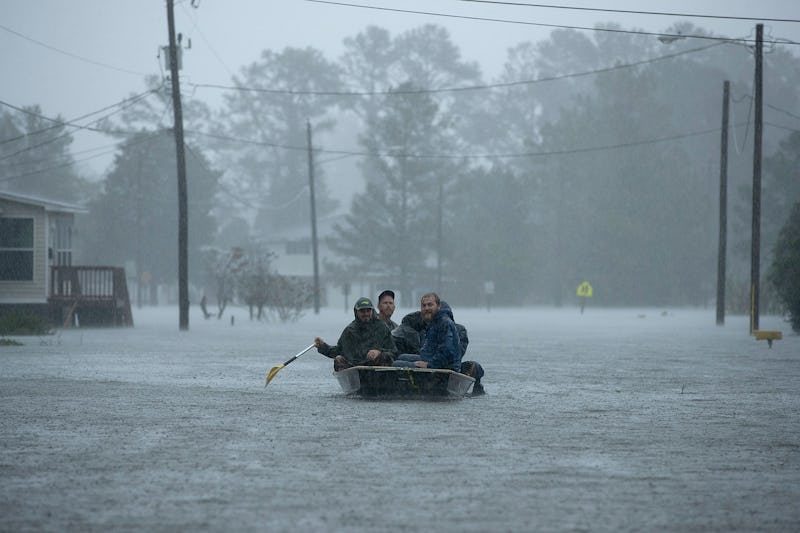 Chip Somodevilla/Getty Images News/Getty Images
After a week of waiting, the historic storm arrived Friday. The trajectory of Hurricane Florence has slowed to a crawl since making landfall in North Carolina on Friday.
The National Hurricane Center said Florence, which was downgraded to a tropical storm on Friday, is "moving slowly" west at about 2 mph. The New York Times reported predictions of up to 40 inches of rainfall, with even more expected in certain parts of the Carolinas.
Two parts of North Carolina are expected to beat the area's rainfall record of 24.06 inches from Hurricane Floyd in 1999, according to the Weather Channel. Newport reported 23.75 inches while Morehead City just passed 23 inches — and rain is still falling.
Even greater amounts of rain have been measured in Swansboro, North Carolina. As of Saturday Morning, the Weather Channel reported 30.59 inches of rain in the area.
As of Saturday morning, at least five people have died because of Tropical Storm Florence, according to CNN. Another two deaths were reported, but officials have not confirmed if they were storm related, The New York Times reported.
Other effects of the storm have been massive power outages. BuzzFeed News reported that more than 880,000 power outages have been recorded across North and South Carolina.