The UK's Anti-Trump Petition Is Officially Massive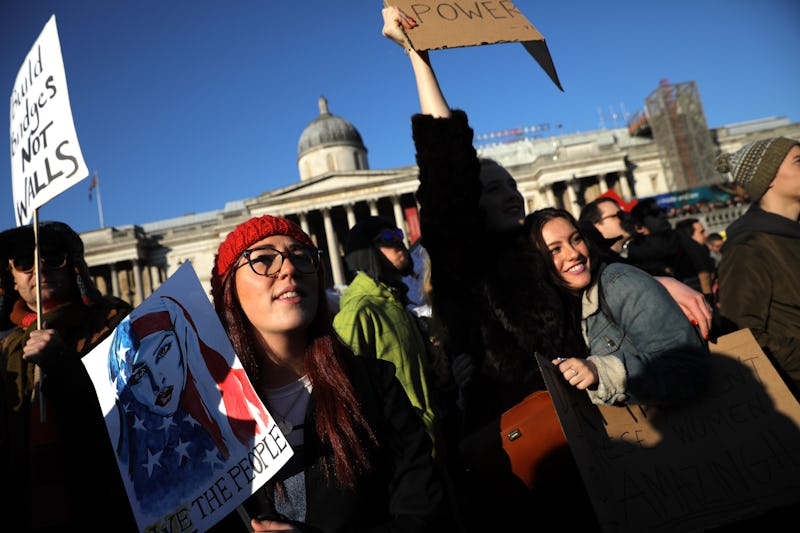 Dan Kitwood/Getty Images News/Getty Images
Following Donald Trump's executive order on Friday banning refugees and travelers from seven Muslim-majority countries, protests have broken out across the United States and worldwide. In the UK, more than a million people say that Trump shouldn't be allowed to meet the Queen. A UK anti-Trump petition, declaring that the U.S. president should not be allowed a state visit to the UK, has garnered more than 1.4 million signatures, as of Monday. Parliamentary petitions that gain more than 100,00 signatures must be considered for debate in Parliament. This petition now has more than 14 times that amount, and the number is still growing.
The petition was first posted on the UK Parliament petition website by British lawyer Graham Guest at the end of November. The petition reads,
Donald Trump should be allowed to enter the UK in his capacity as head of the US Government, but he should not be invited to make an official State Visit because it would cause embarrassment to Her Majesty the Queen.
Donald Trump's well documented misogyny and vulgarity disqualifies him from being received by Her Majesty the Queen or the Prince of Wales. Therefore during the term of his presidency Donald Trump should not be invited to the United Kingdom for an official State Visit.
The petition didn't gain much traction at first, getting less than 400 signatures in its first two months, according to CNN. Guest told CNN that he did not post the petition in protest of a specific policy position; rather, it was a response to Trump himself. However, public outrage about Trump's travel ban has sent the petition's number of signatures skyrocketing; on Monday, that total was up to over 1.4 million and counting.
UK Prime Minister Theresa May extended an invitation for a state visit to President Trump during her own visit to Washington D.C. last week, and the state visit is slated to take place at some point later this year. According to Reuters, a state visit would "involve lavish displays of royal pageantry and a banquet hosted by [Queen Elizabeth]."
Despite the petition to prevent the Trump's state visit, a spokesman for the Prime Minister's office has denied that the visit will be cancelled, telling The Independent, "An invitation has been extended and accepted." The Guardian reports that Downing Street as further deemed the state visit "substantially in the national interest."
Nevertheless, key members of the UK government have expressed reservations about Trump's travel ban for refugees and travelers from certain Muslim-majority nations. Though May has not rescinded the invitation, a spokesperson for May said of the travel ban on Sunday, "we do not agree with this kind of approach," according to CNN. UK Foreign Secretary Boris Johnson tweeted, "Divisive and wrong to stigmatise because of nationality." Members of both the Conservative and Labour parties have criticized Trump's executive order.
It remains to be seen whether Parliament will choose to debate Trump's state visit, though they must at least consider it, given the petition's million-plus signatures. If they did go forward with the debate, it wouldn't be the first time that a petition has sparked a parliamentary debate about Donald Trump. In January of 2016, when Trump was still running for office, Parliament debated whether or not to ban Trump from entry the UK, in response to a petition that garnered more than 574,000 signatures. Though the group did not choose to ban Trump from Britain, lawmakers criticized Trump strongly for his proposed policies, especially his then-proposal to ban Muslims from entering the United States. During the debate, Trump was dubbed "poisonous," a "buffoon," and a "wazzock" (British slang for a "stupid or annoying person").
If Trump's state visit to the UK goes forward as planned, there's a good chance that he will be met with intense protesting. The organization Stand Up to Racism, with the backing of Stop the War, the People's Assembly Against Austerity, and the Campaign for Nuclear Disarmament, has already set up a Facebook page to organize a protest for Trump's visit, the date of which has yet to be decided. This protest would follow in the (literal) footsteps of the Women's March on London, which brought thousands to the streets of the UK's capital on January 21.