Don't Go Without The Ultimate Women's March Kit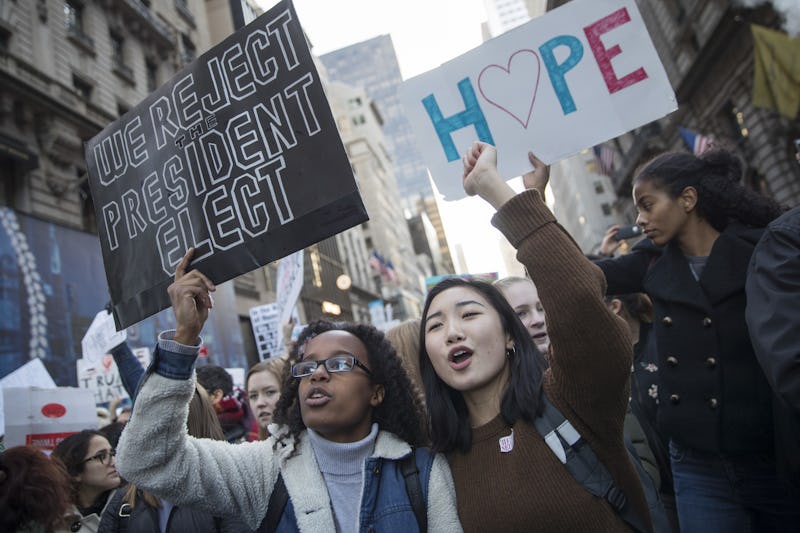 Altaffer/AP/REX/Shutterstock
The day following Donald Trump's inauguration, thousands of Americans will gather in Washington D.C. to make history in a much different way. The Women's March on Washington is about women's rights, promoting diversity in this tense political climate, and displaying unity in spite of the challenges ahead. So, get excited about this incredible event, because it's going to make an impression the nation can't forget. And before you walk out the door on Jan. 21 to join fellow Women's March participants, there are some key items you shouldn't forget either.
Preparing for the Women's March may seem like a simple task you can put off until Saturday morning, but it takes some serious planning. First off, Inauguration weekend isn't just any old weekend in the District. Since it's going to be absolutely packed — hundreds of thousands of people are expected to show — you won't want a reason to run back home because you forgot something. Along the same lines, hoards of people make accessing food and water significantly more difficult. And after all that walking and chanting, you know you'll be too hungry to even begin deciding on a place to grab a quick snack anyway. Or maybe that's just me.
On top of that, the weather is not anyone's friend right now. Layers, on the other hand, are your bestie. Though Saturday is forecasted to see temperatures in the mid-50s, the dampness from the day before will make it chilly. In other words, this isn't the time to say, "oh, I'll tough it out" while wearing a t-shirt.
In light of these considerations, here's everything you need to put together the ultimate Women's March Kit.
Assuming your pockets aren't nearly large enough to hold all of these things, you'll probably be carrying some type of purse, backpack, or, my personal favorite, a fanny pack. Be aware that any of these could be searched by security and that if you decide to bring a backpack, it must be made of transparent material. It must also be no larger than 17'' x 12'' x 6''. If you go with a different option, your bag cannot exceed 8'' x 6'' x 4''.
Additionally, don't plan on attaching any type of support — like a piece of wood or metal pole — to your protest sign. It will not be allowed. And when you pack your water bottle, keep in mind that glass and thermal containers aren't permitted either. To ensure you are able to enter the march after making that arduous trek downtown D.C., check this FAQ page on the Women's March's official website.
Now that you're all good to go, show the nation — and the incoming administration — the activist spirit that made America great long before Trump was elected to office.