The Best #GoldenShowerGate Tweets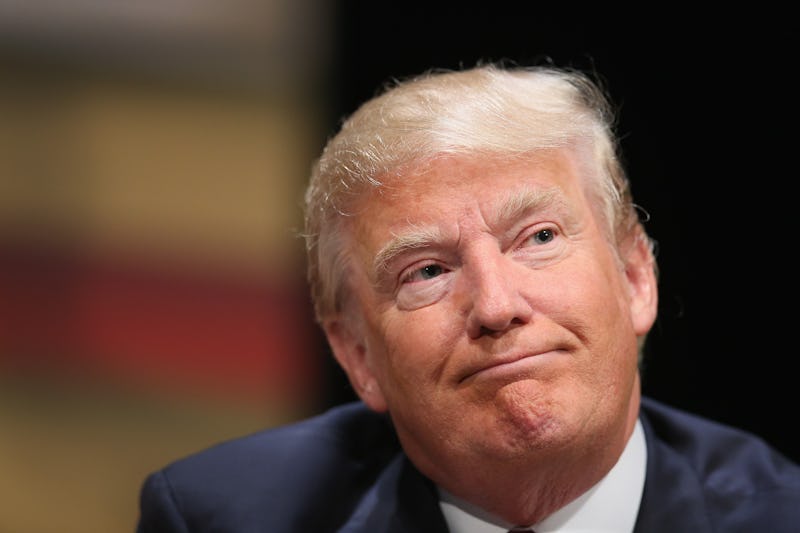 Scott Olson/Getty Images News/Getty Images
It's fair to say the entire world was caught off guard by Tuesday night's breaking news. No, not Barack Obama's heartwarming, tear-jerking farewell address from McCormick Place in Chicago. But rather reports from CNN and later BuzzFeed News of unverified intelligence documents detailing a wealth of compromising personal and financial information about president-elect Donald Trump in the possession of Russian operatives. Trump denied the allegations in a tweet, saying, "FAKE NEWS — A TOTAL POLITICAL WITCH HUNT!" While there are several discrediting allegations about Trump in the 35-page report, the one that seems to have drawn the most attention is a claim that Russian state police have video of the president-elect "employing a number of prostitutes to perform a 'golden showers' (urination) show in front of him" in the presidential suite of the Ritz Carlton Hotel in Moscow. And as it always does, Twitter took the news and ran with it, making #GoldenShowers a trending hashtag by the end of the night. Today, #GoldenShowers has morphed into #GoldenShowerGate, and the accompanying tweets are going in a number of different directions.
Trump probably wants to squash this embarrassing news as quickly as he can, but that won't happen while #GoldenShowerGate tweets continue to draw likes and retweets. This is one of the more X-rated headlines to take the country by storm in this new year. And until the allegations are disproven (or proven) once and for all, Trump will keep seeing #GoldenShowerGate tweets in his mentions. Here are different categories the tweets are falling into.
Jokes At Trump's Expense
Last night and today are busy times for anti-Trump jokesters.
Chiding Liberals
Liberals and the media are catching a good share of criticism, as well.
General Puns
Some people are just letting the puns run wild.
General Disbelief At The State Of Politics Today
Others just can't believe it has come to this.
As with anything on Twitter, #GoldenShowersGate has its fair share of vitriolic and hateful tweets using it to draw views. Though, for the most part, the hashtag seems to be trending for not only its potential for humor, but also just because of how bizarre, unexpected, and nationally consequential this news is.
Meanwhile, the report itself is bringing up valuable conversations on when unverified documents should and should not be published, the role of journalism in 2017, and the purpose released tax returns serve in presidential elections among so many other issues.
Will the words "golden shower" fade away from the headlines any time soon? Indeed, only uncertainty is for sure in the political and media worlds of today. In the meantime, #GoldenShowerGate is still taking Twitter by storm, with millions of people watching and participating.