The Best Reproductive Rights Signs At The March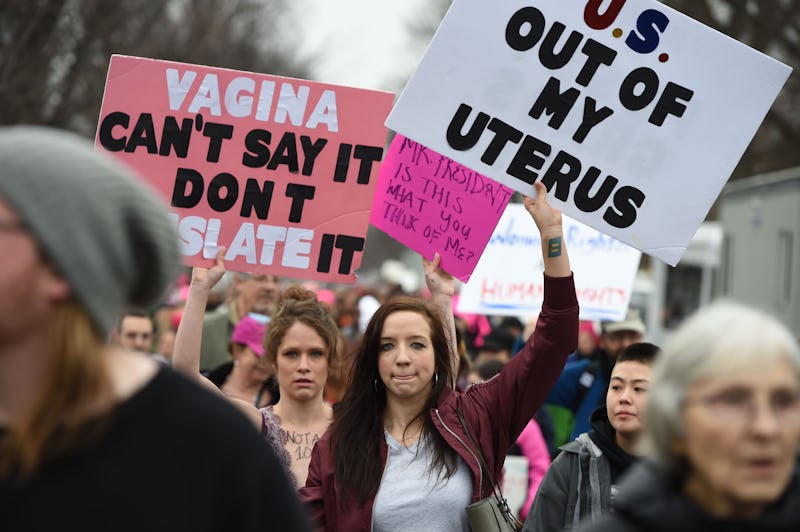 ROBYN BECK/AFP/Getty Images
The Women's March on Washington saw hundreds of thousands of people flooding the streets of Washington, D.C. on Saturday, Jan. 21, to affirm the rights for all women in America and beyond. Demonstrators took to the streets to show support for a slew of issues; as some protest signs put it, "too many issues for one sign." With Planned Parenthood and NARAL Pro-Choice America sponsoring the march (along with dozens of other organizations), reproductive rights signs at the women's march were proudly on display.
Although reproductive health care is hardly the only "women's issue" to care about, it's no surprise many marchers attended Saturday's event with signs supporting the right to choose, low-cost birth control, affordable maternity care, paid paternity leave and non-discriminatory health care for trans and non-binary people. What could be more feminist than affirming that all women and trans people have the right to decide what happens to their bodies and their families, as well as fair and equal access to reproductive health care?
"My pledge today is, our doors stay open," said Planned Parenthood President Cecile Richards during her speech at the march. Richards then paraphrased Hillary Clinton's famous 1995 "women's rights" speech, saying: ""Reproductive Rights Are Human Rights." It's definitely hard to argue with that.
Here's some of the best reproductive rights signs at the Women's March on Washington and beyond.
1. Vaginas & Uteri Everywhere
2. Endless Support For Planned Parenthood
3. Protecting Reproductive Rights
4. Affordable Birth Control & Health Care For All
URGE Executive Director perhaps made one of the biggest reproductive rights statements on Saturday when she appeared on stage at the women's march in Washington, D.C. with an "abortion" dress. This dress was made famous by the Shout Your Abortion campaign last year.
If that's not a "statement piece," then I don't know what is.
Johnson reminded the huge crowd that women have the right to control their destinies. She was not alone in that sentiment. Speakers from Richards to NARAL Pro-Choice America President Ilyse Hogue and actress Scarlett Johansson reminded everyone what's at stake under the Trump administration: abortion rights, the termination of no-copay birth control, the repeal of the Affordable Care Act and the defunding of Planned Parenthood.
"We deserve a country with equal pay, affordable health care, and access to safe and legal abortion," declared Sen. Kamala Harris, the newly elected senator from California.
With crowds this big — and powerful — it's impossible that President Donald Trump didn't hear these demands.