This Video Of Survivors Confronting A Senator Who's Voting For Kavanaugh Is Crushing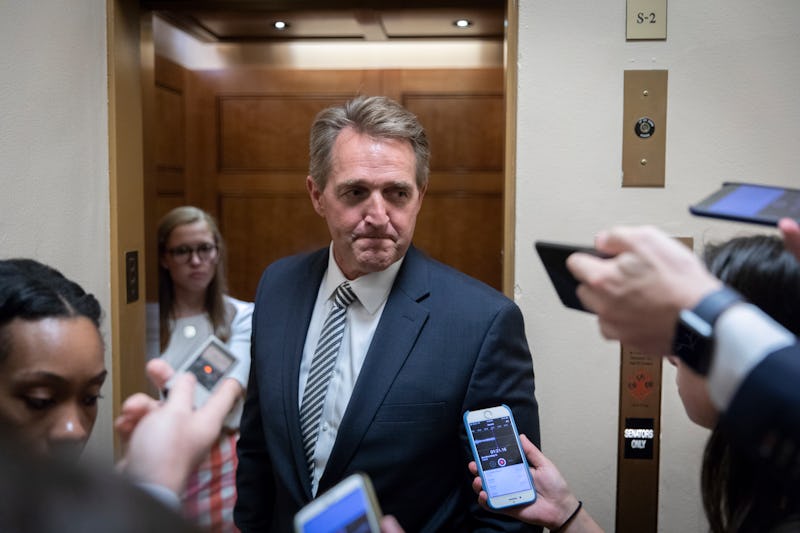 Alex Edelman/Getty Images News/Getty Images
After news broke that the Republican senator from Arizona would vote in favor of confirming Brett Kavanaugh to the Supreme Court, sexual assault survivors confronted Sen. Jeff Flake about his decision as he got into an elevator on Capitol Hill. The Senate Judiciary Committee was set to vote on President Donald Trump's Supreme Court pick that morning, and Flake's "yes" vote was expected to push the nomination through to the full Senate.
"You're telling me that my assault doesn't matter — that what happened to me doesn't matter — and that you're going to let people who do these things into power. That's what you're telling me when you vote for him," one woman told Flake on Friday morning, per a video posted by BuzzFeed News' David Mack.
The Judiciary Committee planned to vote on Kavanaugh's possible lifetime appointment to the bench the day after the judge and one of his accusers testified in an open hearing. Christine Blasey Ford told the committee Thursday morning that there's no doubt in her mind that Kavanaugh attempted to sexually assault her in the 1980s. Kavanaugh repeatedly denied Ford's allegation, calling it a "character assassination" that has "destroyed my family and my good name."
Flake was the only GOP member of the committee still undecided about Kavanaugh, as CNBC reports. He confirmed Friday morning that he would vote to confirm the judge in a statement to CNBC:
Yesterday, we heard compelling testimony from Dr. Ford, as well as a persuasive response from Judge Kavanaugh. I wish that I could express the confidence that some of my colleagues have conveyed about what either did or did not happen in the early 1980s, but I left the hearing yesterday with as much doubt as certainty.
He added that he believes a presumption of innocence absent corroborating evidence applies to Supreme Court nominees. The survivors who cornered him an elevator said his vote would send a much different message.
"That's what you're telling all women in America, that they don't matter and they should just keep it to themselves because if they have told the truth, you're just going to help that man to power any way," a survivor told Flake on Friday, per a video posted by BuzzFeed News' Tasneem Nashrulla. "That's what you're telling all of these women. That's what you're telling me right now."
Ford testified on Thursday that it wasn't her responsibility to decide whether Kavanaugh deserves to get a lifetime appointment to the nation's highest Court. "My responsibility is to tell the truth," she said.
The responsibility of determining whether Kavanaugh is fit for the job falls on the Senate, and Flake's statement on Friday confirmed that at least one senator previously on the fence about his confirmation would vote in his favor. Because the Arizona senator is not seeking reelection in November, two women are running to replace him in the Senate — Democratic Rep. Kyrsten Sinema and Republican Rep. Martha McSally.
If you or someone you know has been sexually assaulted, call the National Sexual Assault Telephone Hotline at 800-656-HOPE (4673) or visit online.rainn.org.