The House Passed The Violence Against Women Act With More Protections For Abuse Victims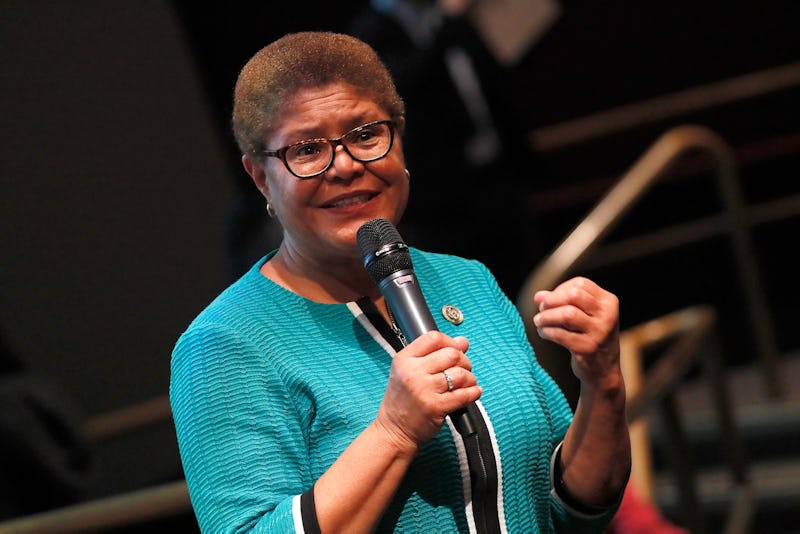 Paul Morigi/Getty Images Entertainment/Getty Images
Despite opposition from many Republicans, the House of Representatives voted to extend the Violence Against Women Act (VAWA) on Thursday, with some new protections for transgender people, survivors of domestic violence, and stalking victims. The National Rifle Association opposed the bill and put pressure on the GOP to vote against it, NPR reported, but it nonetheless passed the House 263 to 158.
According to NPR, 33 Republicans joined all but one of the House Democrats to vote in favor of renewing VAWA. In addition to extending VAWA's original provisions, the new legislation would prevent people convicted of domestic abuse or stalking charges — including dating partners — from purchasing a gun.
The new bill would also expand existing VAWA protections to include transgender survivors of violence. For example, Democrats introduced a new provision to VAWA that would give transgender women the ability to access shelters and serve in prisons based on how they identify.
According to NBC News, VAWA had expired in February, and the new bill to renew it was sponsored by Democratic Rep. Karen Bass — the chairwoman of the Congressional Black Caucus — and Republican Rep. Brian Fitzpatrick.
Before the House voted in favor of the bill on Thursday, Bass told her colleagues on the House floor that the VAWA renewal bill was "a direct response to the epic violence against women that plagued our country at that time."
"While we have made significant progress, we still have much to do," Bass said, per NBC News. "Movements like MeToo, across this country, demand Congress' attention to better deal with the gaping holes left unfilled in current law around the issues of domestic violence, dating violence, sexual assault/harassment, and stalking."
That's not all the VAWA renewal would do, either. New Mexico Rep. Deb Haaland introduced two amendments to the act's reauthorization to expand protections for Native American and indigenous women, in order to "combat the missing and murdered indigenous women crisis." According to a statement on Haaland's website, "the Urban Indian Health Institute identified 506 cases of missing and murdered indigenous women across 71 urban cities," and Haaland's amendments aim to expand protections and resources for Native American women.
According to NPR, the Senate has not yet voted to pass its own VAWA renewal, though Democratic Sen. Dianne Feinstein and Republican Sen. Joni Ernst are working on it. It is unclear whether the gun restrictions that cleared the House — where Democrats hold a majority — will also be able to pass in the GOP-controlled Senate, NPR reported.
Earlier this year, Senate Majority Leader Mitch McConnell said that Republicans were interested in passing a "clean" reauthorization of VAWA, Vox reported, noting that "a modest extension of this law is consistent with how this matter has been handled in the past." But Democrats in both the House and the Senate have been adamant about including restrictions to gun access in the VAWA renewal, with House Majority Leader Steny Hoyer saying earlier this week that "the presence of a gun in a domestic violence situation increases the risk — hear me — increases the risk of homicide by 500 percent."
VAWA first became law in 1994 and Congress has renewed it approximately every five years since then — until the recent government shutdown caused it to lapse, per NPR. With every renewal, Vox reported, congressional officials have attempted to strengthen the protections laid down in the act, despite opposition.