The Violence Against Women Act Will Expire Soon — And Congress Needs To Act Now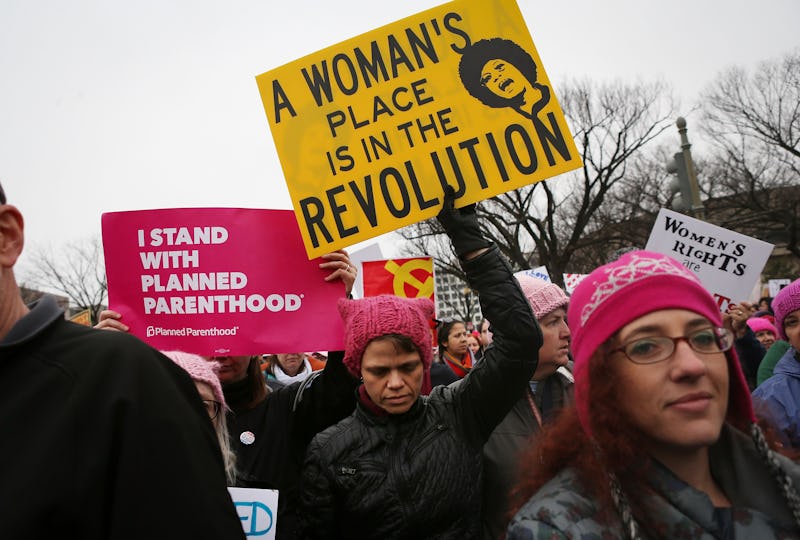 Mario Tama/Getty Images News/Getty Images
A landmark bill designed to combat violent crimes against women is about to expire at the end of the year, and Congress is running out of time to reauthorize it. The Violence Against Women Act will expire on Dec. 7 unless Republican leaders arrange for a bipartisan vote to renew it, prompting lawmakers from both major parties to criticize the delay.
The Chicago Tribune reported that VAWA was slated to expire on Sept. 30, which would have given the House of Representatives just four more days to vote on it before the start of the new fiscal year on Oct. 1. However, a stopgap spending bill released on Thursday will extend the law through Dec. 7, according to Roll Call, assuming that Donald Trump signs the bill into law prior to the end of the current fiscal year as projected. The text of this spending bill indicates that "any program, authority, or provision, including any pilot program, authorized under the Violence Against Women Reauthorization Act of 2013 shall continue in effect through the date specified."
Even with the extension, the GOP-controlled Congress has less than three months to reauthorize VAWA. However, Mic reported that House Republicans are wary of letting the law expire — especially as the midterm elections approach. As a result, 46 House Republicans sent a letter to House Speaker Paul Ryan and Majority Leader Kevin McCarthy on Sept. 7, calling for a bipartisan vote on the "expeditious reauthorization" of VAWA.
"Since being signed into law in 1994, VAWA has helped to protect and support millions of Americans who have faced domestic violence, dating violence, sexual assault and stalking," the letter stated. "This is not a partisan issue. VAWA has been continually reauthorized on a bipartisan basis in Congress. We must act now to maintain and strengthen this critical law."
According to The Huffington Post, VAWA was the first piece of federal legislation that recognized and addressed domestic violence as a serious crime. and programs under VAWA provide support to people of all genders who are survivors of domestic violence, sexual assault, and other related crimes. VAWA was drafted with the help of former Vice President Joe Biden, who at the time was a senator from Delaware and the chairman of the Senate Judiciary Committee, and signed into law by former President Bill Clinton. Since then, VAWA has been reauthorized three times.
In a statement issued on Monday, New York Rep. John Katko — a Republican who spearheaded the letter to Ryan and McCarthy — reiterated his support for VAWA, and called on GOP leadership to renew it as quickly as possible.
"I have been, and will continue to be, a strong supporter of funding initiatives to assist victims of sexual assault and domestic violence," Katko said in his statement. "The reauthorization of VAWA should not be a partisan issue – it should be a bipartisan priority."
Although VAWA is approaching its expiration date, a spokeswoman for Ryan is optimistic that the law "will not lapse." AshLee Strong, Ryan's spokeswoman, told the Los Angeles Times that the House and Senate are currently engaged in negotiations and will hopefully find a solution.
There are currently two pending measures to reauthorize VAWA. One of these was introduced back in July by Texas Rep. Sheila Jackson Lee, but its entirely Democratic sponsorship makes it unlikely to pass in the GOP-majority Congress. The other measure was introduced earlier this week by Rep. Elise Stefanik — a Republican from New York — and would renew current VAWA legislation for six months, thereby giving Congress an additional extension on its negotiation.