FEMA Uses Waffle House To Gauge How Bad Storms Are — Yes, Really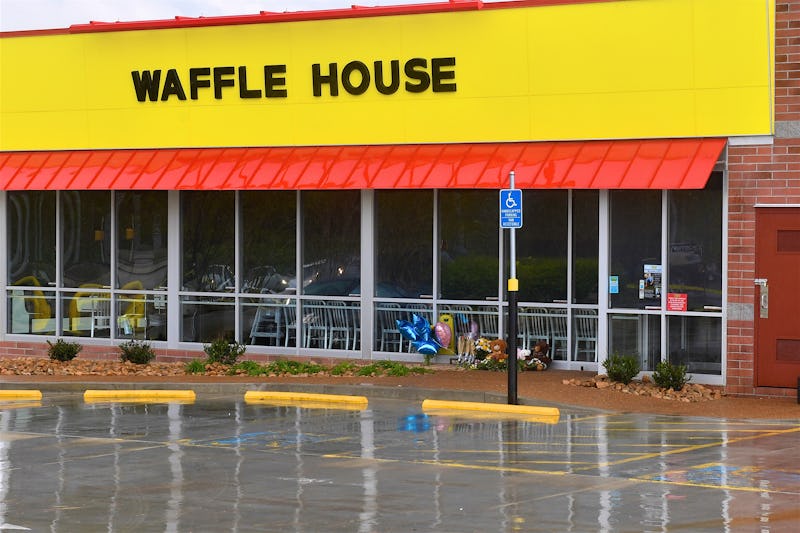 Jason Davis/Getty Images News/Getty Images
The world is a wild place. If you don't believe that, let me introduce the Waffle House Storm Center into evidence. Yes, the restaurant Waffle House — a popular Southern breakfast chain akin to IHOP — has activated its "storm center" to monitor Hurricane Florence. The Federal Emergency Management Agency (FEMA) will monitor the Waffle House Index throughout Hurricane Florence, a practice the government agency follows when disasters occur to gage how bad a storm could get. Really. This is because the restaurant is known for staying open through almost anything — from a storm to a holiday.
According to a FEMA blog post, former FEMA administrator W. Craig Fugate decided that Waffle House was worth of its own Index that could be monitored to find out how individual communities were doing in the midst of a threatening storm. According to The Washington Post, some people living in the South will base their decision to evacuate their city based on whether the Waffle House is still open. However, The Post would like you to know that waiting to leave until Waffle House closes is not the recommended practice for storm planning. You can't make this stuff up, and that's just a lot of pressure to put on a place that sells waffles.
FEMA's Dan Stoneking wrote a 2011 blog on the government agency's website that talked about the intricacies of the Waffle House system. He referenced EHS Today, a magazine for the environment that wrote about how big companies such as Waffle House and Home Depot prepare meticulously for disasters. EHS Today explains that the Waffle House Index runs on a color-coded system. If the index is green, the Waffle House is open and serving from its full menu, whether customers want the pecan waffle or the fiesta omelet. If it's yellow, that means the menu is limited to specific items. If the index is red, it means you can start panicking because the Waffle House location has been forced to close its doors.
And while this may sound like a silly system, Stoneking explained that the index can be a real indicator of the impact a storm will have on a community's economy.
"The Waffle House test doesn't just tell us how quickly a business might rebound — it also tells us how the larger community is faring," Stoneking wrote. "The sooner restaurants, grocery and corner stores, or banks can reopen, the sooner local economies will start generating revenue again — signaling a stronger recovery for that community."
On Tuesday, as various officials and businesses began to prepare for Hurricane Florence — from FEMA to your local weather channel — the Waffle House tweeted: "The @WaffleHouse Storm Center is activated and monitoring ‪#Florence. Plan ahead and be safe."
Meanwhile, Hurricane Florence has slowed from a Category 4 to a 2 (which doesn't mean it will be less destructive), and mandatory evacuations have been ordered for parts of North Carolina, South Carolina, and Virginia, CNN reported. Those evacuations apply to Waffle House employees, too. On Wednesday, Nia Watson, a local news reporter for WMBF, tweeted that the Myrtle Beach Waffle House had closed for the storm.
As the restaurant's storm center zeroes in on which restaurants may have to close, Waffle House corporate has some fighting word for Florence that they offered on Wednesday via tweet: "Hey Flo… Kiss my grits!"