The Harry Potter World Christmas Light Show Is FINALLY Here & OMG You Need To See This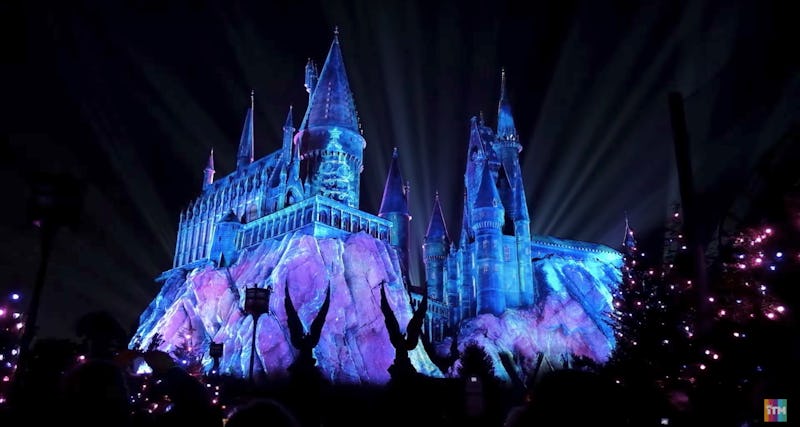 Inside The Magic/YouTube
Find a Portkey, pack your Ron Weasley sweater, and grab a friend or two, because you're going to want to travel to Orlando, Florida immediately after learning about this: on Saturday, the Wizarding of World of Harry Potter is debuting a Christmas lights show at Hogwarts Castle in Hogsmeade Village for the first time in the park's seven-year history.
"The Magic Of Christmas At Hogwarts Castle" debuts on Nov. 18, and it will run at 20-minute intervals beginning at dusk throughout the holiday season, with final showings scheduled for Jan. 7, 2018. The light show illuminates the Hogwarts School of Witchcraft and Wizarding in Hogsmeade village with an array of enchanting, vibrant animations and luminous colors. The show is set to a score recorded by the London Symphony Orchestra, and it culminates in a fireworks display that will have you yelling "Lumos" to the skies in the hopes that it makes the whole thing start over again. (It will... in 20 minutes.)
I saw a sneak peek of the show before opening day, and I refuse to confirm that I was moved to tears but I can confirm that I sent my friend a text that read: "I'm so overwhelmed... in the best way possible."
Watch the show below, courtesy of Inside the Magic:
Although representatives for Universal Studios claim there are no "easter eggs" in the show, you might want to take a closer look yourself just to make double sure. (You're a Harry Potter fan — I know you can find something.) Even if you don't find any hidden treasures, you will see many of your favorite characters and objects featured — including the Hogwarts ghosts, the Ford Anglia, and Fred and George, who play a prank that changes the facade of the entire castle.
This isn't the only Christmas-themed activity at Hogwarts this year. Over the course of the next month and a half, the snow-capped village of Hogsmeade will host the a cappella Frog Choir, comprised of Hogwarts students and their giant, croaking frog. (It's better than it sounds.) I recommend you grab a cup of warm Butterbeer and a pastry, and head over to the village to hear them sing before you watch the light show.
Over in Diagon Alley — a separate portion of Universal Studios accessible via Hogwarts Express — fans of Harry Potter can enjoy a Christmas singing show, courtesy of "Singing Sorceress" Celestina Warbeck and the Banshees, who croon Harry Potter-themed Christmas music (or Christmas-themed Harry Potter music, depending on your point of view), including "Nothing Like A Holiday Spell," "Accio Christmas" and "My Baby Gave Me A Hippogriff For Christmas."
Watch a preview below, courtesy of The DIS:
There will be tons of options for holiday shopping this year, as well, so you can knock out all your gifts while you're there. Universal Orlando is releasing all-new custom-made ornaments, and a variety of Hogwarts snow-globes, Harry Potter stockings, and Hogwarts crest and mascot ornaments will be available. And, of course, you can buy a Molly Weasley-knit sweater for yourself, because everyone knows it's the ultimate Ugly Christmas Sweater.
All the magic kicks off on Nov. 18, so head over to Universal Studios for more details and ticket information.