The Women Who Confronted Jeff Flake In An Elevator Spoke Up About Why They Did It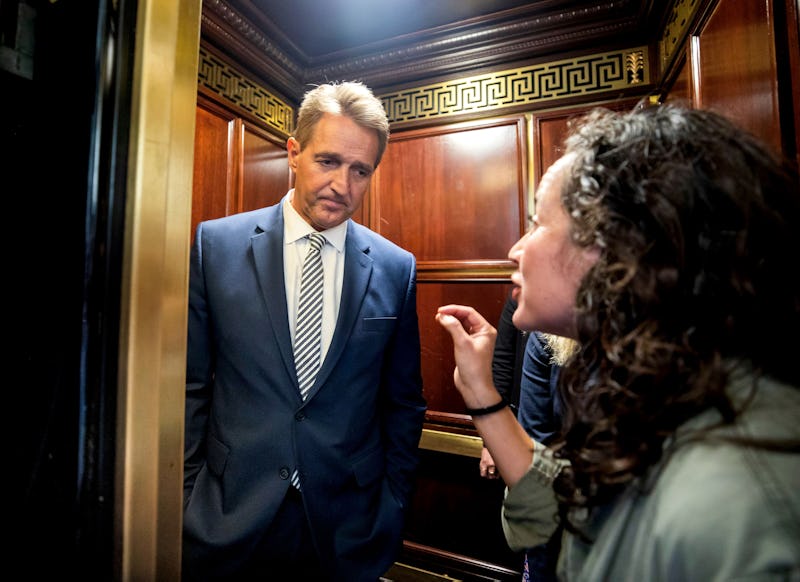 JIM LO SCALZO/EPA-EFE/Shutterstock
In a viral moment that could potentially change the course of U.S. history, two women confronted Sen. Jeff Flake in an elevator on Friday and challenged him on his recently-announced support for Supreme Court nominee Brett Kavanaugh, who's been accused of sexual assault. The exchange is nothing short of riveting, and in several interviews, the women who confronted Flake explained why they did so, and what the experience was like.
The Arizona Senator had just announced that he would be voting for Kavanaugh, who categorically denies having sexually assaulted anybody, when he was approached by Ana Maria Archila and Maria Gallagher. The two women met each other Friday morning, CNN reports, and discovered that they were both sexual assault survivors. They had been gathered with a larger group of protesters outside Flake's office.
"I thought that he was someone who was willing to take a stand, that was on the side of justice, and I thought of him as someone who was able to recognize the humanity across political lines," Archila told CNN of Flake. "What he's doing today is saying, 'My party matters more than the stories that I'm hearing.'"
Archila and Gallagher soon spotted Flake walking down the hall. They followed him and, as he was entering an elevator, blocked the door so it couldn't close.
"It was all kind of a blur," Gallagher told the Daily Beast. "We all ran after him. We held open the elevator and I just started telling him why it was important and what had happened to me and why he should not let Brett Kavanaugh on the Supreme Court."
Both women confronted Flake in the elevator. The exchange lasted around five minutes.
"What you are doing is allowing someone who actually violated a woman to sit on the Supreme Court. This is not tolerable. You have children in your family. Think about them. I have two children," Archila, co-executive director of the Center for Popular Democracy, said to Flake in the elevator. "Do you think that [Kavanaugh] is able to hold the pain of this country and repair it? That is the work of justice. The way that justice works is that you recognize hurt, you take responsibility for it, and then you begin to repair it."
"I was sexually assaulted and nobody believed me," Gallagher, a recent college graduate, told Flake in the elevator. "I didn't tell anyone, and you're telling all women that they don't matter."
Archila told the New York Times that it was the congressional testimony of Dr. Christine Blasey Ford, one of several women to accuse Kavanaugh of sexual assault, a day earlier that inspired her to go public about her own assault.
"When the #MeToo movement broke out, I thought about saying it — but I wrote things and deleted it and eventually decided I can't say, 'Me too,'" Archila told the Times. "But when Dr. Blasey did it, I forced myself to think about it again."
Gallagher told the Daily Beast that she hadn't told anybody about her assault before Friday, and that her mother called her in shock to discuss it after seeing video of her confrontation with Flake on television.
"It's not something that I ever want to or like to share with people," Gallagher told CNN. "But I thought it was important that he knows, and that promoting Brett Kavanaugh is telling victims of sexual assault that no one wants to hear you."
Hours after being confronted by Archila and Gallagher, Flake surprised Democrats and Republicans alike by demanding that the Senate delay the vote on Kavanaugh in order to make way for an FBI investigation into the allegations against him. Republican leadership agreed to do so, and it's now unclear when the full Senate will vote on Kavanaugh's nomination.
"I feel relieved that @JeffFlake seems to have heard my and @AnaMariaArchil2's voices in the Senate elevator today," Gallagher tweeted later in the day. "We absolutely need an FBI investigation and for him and all Senators to vote NO. #StopKavanaugh"