The New Wrangler x Peter Max Collection Is A '70s, Psychedelic Dream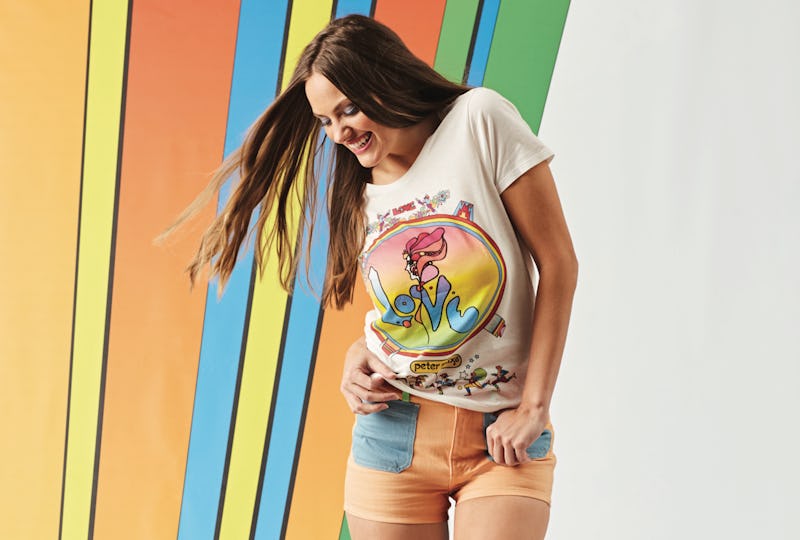 Courtesy of Wrangler
In honor of Wrangler's 70th anniversary, the classic American company is unveiling a brand new collection, and it's bolder (and more colorful) than ever before. Wrangler's 70th anniversary collection is a collaboration with celebrated artist Peter Max, who has been dubbed "master of the psychedelic print."
So when exactly will you be able to shop this new Wrangler x Peter Max collection? Luckily beginning in September, the pieces will be available at wrangler.com. But this isn't the first time the fashion world has seen a collaboration between Wrangler and Max. The first Peter Max-inspired Wrangler collection debuted in the early 1970s — one of the main sources of inspiration for the 2017 collection.
Even though this new Wrangler x Peter Max collection certainly has psychedelic vibes to it, thanks to its bold hues and patterns, there's definitely a modern feel to each piece. The new line is filled with modern fits and unisex packaging (which is actually a direct replica of the 1970s original items).
Designed with pieces for both men and women, the anniversary collection features jeans, shorts, western shirts, jackets, and graphic T-shirts.
Get ready to fulfill all of your '70s-inspired wardrobe goals when the new line launches online on Sept. 5.
1. Off White Cord Jeans
Pieced Corduroy Retro Straight Fit, $200, Wrangler
The corduroy fabric gives these modern white jeans a vintage touch.
2. Astroplane Tee
Short Sleeve Tee, $60, Wrangler
Totally feeling the psychedelic vibes with this cute tee.
3. Western Jacket
Western Indigo Mix Jacket, $220, Wrangler
Everyone needs a staple jean jacket in their wardrobe.
4. Peach Colorblock Shorts
Pieced Colored Denim Pin Up Shorts, $140, Wrangler
Just when you thought the color-blocking was over, these jean shorts give the trend a fresh look.
5. Rinse Wash Jeans
Rinse Wash Jeans, $220, Wrangler
These high-waisted jeans have a great dark wash.