Fans Have Theories About Taylor Swift's "…Ready For It?' Video & It's Not Even Out Yet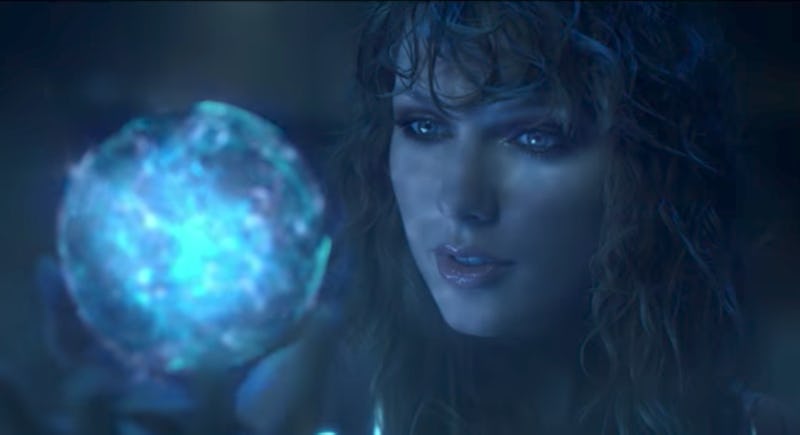 Taylor Swift/Youtube
There might still be three weeks until Taylor Swift's new album, Reputation, drops, but now, we're just days away from her next music video. In fact, fan theories about Swift's "...Ready For It?" video are already taking over Twitter, and even from the short clip she shared on Monday, there are so many ways this video could possibly be interpreted. And according to what we've seen of it so far, it seems it's going to be so much more than just a visual representation of the song itself.
The trailer is a short one, but so many clips have been packed into just 15 seconds — with so many tiny details that could lead to connections to what we know about Reputation so far and the next chapter of Swift's career in general. Even though the video is obviously futuristic, there are certain parts of the preview that seem to call back to her past (especially where it pertains to her feud with Kanye West) and fans have wasted no time pointing all of this good stuff out. In fact, it's kind of mind blowing how many levels this video has the potential to have.
Here's the promo, in all its dark, explosive glory:
And even though the full video won't be out until Thursday night, these theories are making a lot of great, interesting points.
The "...Ready For It?" Video Is A Followup To "Look What You Made Me Do"
In one clip, Swift is standing on something that looks like a stage that says "burn all the witches" in spray paint. But could that stage actually be the plane from "Look What You Made Me Do"? Since the plane is featured at the end of that video, it stands to reason that the two videos might connect.
Swift Is Actually Fighting Her Own Clone
Since the video seems to be very futuristic, it seems like Swift may have cloned herself and they're fighting? Or maybe she's actually fighting "the old Taylor." Who, as you may already know, can't come to the phone right now because she's dead.
There Are Possibly Parallels To "Out Of The Woods"
Visually, there are a lot of strong parallels to Swift's video to "Out of the Woods," and it wouldn't surprising if this theory was true, considering that the zombie version of Swift in the "Look What You Made Me Do" video was wearing the same dress as in the "Out of the Woods" video. Of course, this could just be a coincidence, but we won't know for sure until we see the full video.
She Could Be Calling Out Kanye West Again
This could be a big one. In certain scenes of the promo, Swift seems to be nude — but what if that's not really her naked body? Some fans think that it's just Swift's head on what's supposed to look like the same wax figure that West used to portray Swift in his "Famous" video, and this could be her way of acknowledging this through her own music.
She Might Be Referencing Calvin Harris' "This Is What You Came For"
When Swift revealed that she'd actually written Calvin Harris and Rihanna's hit, "This Is What You Came For," she received all kinds of backlash for deciding to take credit later on, after she and Harris broke up. Could this video be referencing the lyric, "lightning strikes every time you move" from the song? Wouldn't be surprising.
"Reputation" Might Be A Visual Album
Remember that time Beyoncé blew us all away with Lemonade, including a music video for every single song? Some fans are theorizing that Swift is going the same route, and if so, it could be a really cool way to dive deeper into her music this time around — especially considering how awesome the video for "Look What You Made Me Do" was and how epic it seems like "...Ready For It?" will be.
Even if none of these theories are true, there's no doubt that the upcoming video will be worth the wait. Is it Thursday yet?