Somebody On 'The Bachelor' Has A Boyfriend & These Are The Prime Suspects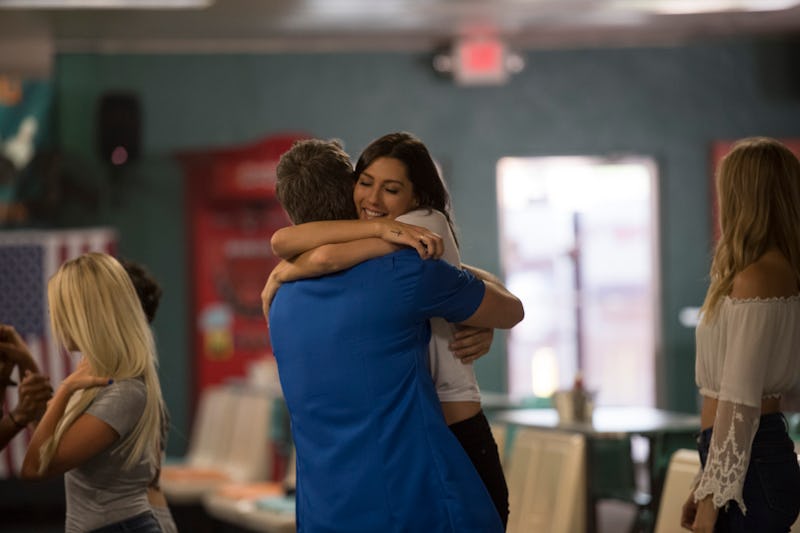 Paul Hebert/ABC
This season of The Bachelor has already had its share of surprises. But fans are still waiting for one shocking moment that's teased in the trailer: a Bachelor contestant's ex-boyfriend will show up on Arie's season, but it's still not clear who that ex belongs to. But fans have plenty of theories about which hopeful is going to be blindsided by the past.
At the 2:51 mark of the season preview, a man's voice can be heard, proclaiming that he has come back to get his girl. That's all Bachelor Nation has to go on so far, but his accent may just be a clue. The man in the clip is not fully shown but it sounds like he has a southern accent, which has some fans connecting him to Tia. The camera points to the ground as his body but not his face is in frame. He argues with someone who appears to be a producer. The mystery man says:
"No, I don't want to be on this show. I want my girl. I'm here to get her back. I'm here to tell her that I want to marry her."
Besides that, I can't find any hard evidence that he's Tia's ex. The man could have come to plead his case to any one of the season's remaining hopefuls.
So far, only a couple of the women have talked about specific exes on the show. Becca K brought up her longest past relationship on her one-on-one date with Arie. She said:
"After putting up with a lot of stuff in past relationships, I know what I want and I know what I don't want. My most serious relationship, we were on and off for about seven years. And I'm just ready to move on in my life and find that person again... Especially initially, he got me through the hardest time I had ever lived through at that point when my dad passed away."
Since Becca is only 27, this seven-year relationship was probably recent, in additional to being meaningful. It certainly sounds as though the couple went through a lot together, so maybe it's her ex-boyfriend who can't seem to let go. It's possible that the mystery man shows up in the name of Becca K, though again nothing is confirmed.
Whoever comes to interrupt Arie's love story doesn't appear to have ruined the experience for the race car driving Bachelor. Arie hasn't confirmed an engagement yet, but he does seem to be happy after the show. Arie spoke to Entertainment Tonight about the journey's end, saying:
"I really had strong feelings for more than one person. I'm very happy but it wasn't without hard times... You look for a person that can fit into your life and vice versa. It's easy to get wrapped up in the environment to be in love, going on these amazing dates. But you really have to look past the show into your regular life ... I'm definitely happy."
It's unclear if the "hard times" Arie speaks of refers only to falling in love with more than one woman, or if it's also a reference to the mysterious competition that arrives. Either way, it seems that in the end he found happiness, which may imply that whoever shows up doesn't stay for long.
Arie was the runner-up on Emily Maynard's season of The Bachelorette, and nobody wants him to lose out to another guy on his own season. But there is still a lot more of Arie's season to focus on first, since the ex's arrival may not be for awhile. For now, let's give our attention to the familiar Bachelor drama and save mystery man drama for a later date.