These 'Bachelor' Stars Who Are Podcasters Now Give Fans The Inside Scoop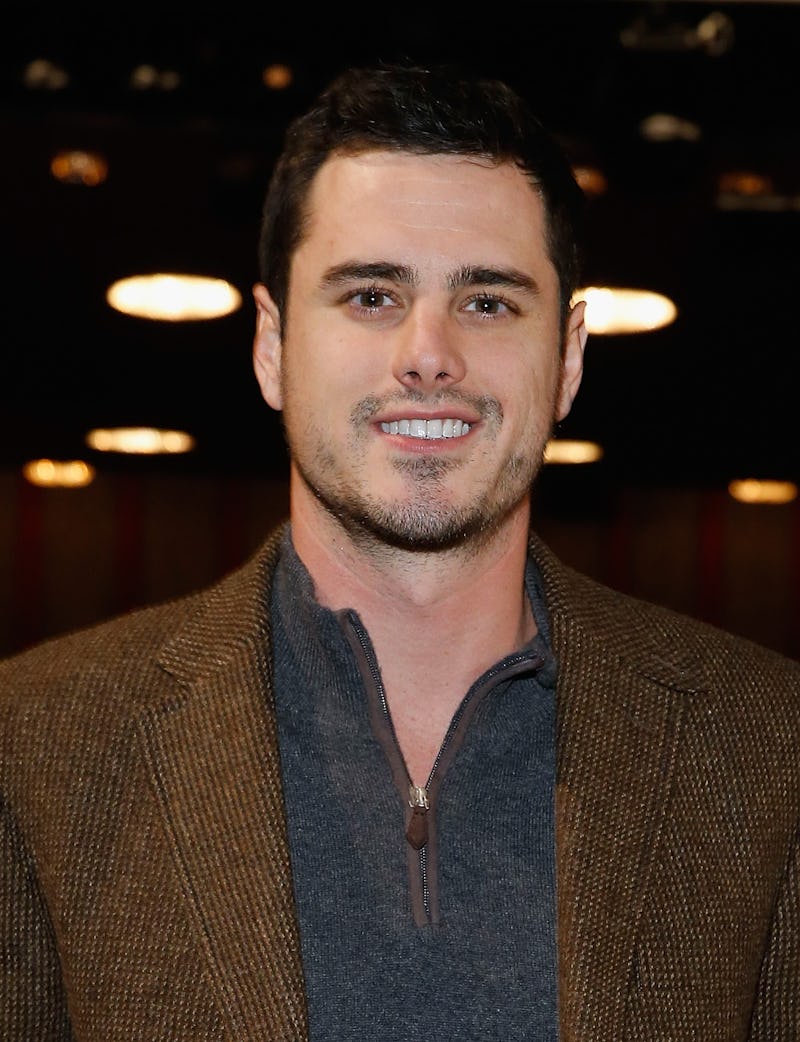 John Lamparski/Getty Images Entertainment/Getty Images
Every contestant on The Bachelor hopes to go home engaged, but those who don't find love might end up with a new career path. These Bachelor stars who are now podcasters give fans the inside scoop, as their shows feature recaps with personal insight, interviews, and pop culture commentary. It's not uncommon for former stars to return to professions at home, whether they're marketers, natal nurses, or aspiring dolphin trainers, but a few Bach alums have found a new niche in podcasting. These stars have used the popularity of the reality series to create their own platform, and it makes sense that many of the former contestants and suitors would turn to this medium. With their expertise on the franchise, these stars have created some of the best Bachelor-centric shows out there.
The popularity of podcasts has grown exponentially in the last decade. While it was once considered a hobby, podcasting is now a major industry. There are shows in every genre and about almost any topic imaginable, and given the fan fervor of Bach nation, it's not surprising that plenty of great recap shows already exist. It was inevitable that former stars, who have been on the production side of the show, would want to take part. These contestants-turned-podcasters all have a different approach to their shows, but most follow traditional podcast formats by discussing recent episodes, interviewing other alumni from the show, or discussing the times and trials millennial life. Here's what former Bachelor stars are talking about on their podcasts:
"Help, I Suck At Dating" With Dean Unglert
When Dean appeared on Rachel Lindsay's season of The Bachelorette, he was a fan favorite. The 26-year old star was applauded for his unexpected maturity, and his emotional hometown date made him easy to root for. His unfortunate stringing along of Kristina Schulman and Danielle L. on Bachelor in Paradise, however, hurt his image. It also inspired him to create a podcast for some self-reflection. On "Help, I Suck At Dating" Dean plans to confront exes and experts to try and figure out why he's so bad at romance.
"And so it's come to this... Much to my own chagrin, I've decided to start a podcast. After coming to the realization that I suck at dating, I'll consult experts and exes to hopefully become better at relationships and be a better human," Dean wrote on Instagram. "Who knows, you might just learn a thing or two as well! Listen to "Help, I Suck at Dating" on the @iheartradio app or wherever you subscribe to podcasts [LINK IN BIO] #whydoidothistomyself 🤷🏽‍♂️"
"Mouthing Off" With Olivia Caridi
Olivia Caridi is perhaps best known as the villain from Ben Higgin's Bachelor season and for all those memes about her mouth, but this former star is owning her reputation and turning it into a popular podcast. On "Mouthing Off", Olivia explores all sort of popular culture moments. She describes herself as an "avid TV watcher", and in addition to Bach coverage her episodes feature discussions on Real Housewives, Vanderpump Rules, and more.
Olivia's background as a newscaster makes her a strong podcaster, and her show is funny and entertaining. One highlight includes a villain to villain chat with Chad from JoJo's season where she forces him to talk about his time on the show, and more specifically, excessive deli meat consumption. "Mouthing Off" invites a new guest on every episode, so it's also a great place to catch updates from other franchise alumni.
"The Ben And Ashley I Almost Famous Podcast" With Ben Higgins and Ashley Iaconetti
Ben Higgins, who was the Bachelor on Season 20 and Ashley Iaconetti, who appeared on both The Bachelor and Bachelor in Paradise, have the ultimate insider scoop on the show. These two former stars do some serious gossiping on their iHeart Radio podcast, and their close connection to the series means they can bring in exciting guests. Fans of the show appreciate their comprehensive recaps, takes, and interviews.
The "I Almost Famous" podcast focuses mainly on all things Bachelor and Bachelorette, as well as some candid conversations about relationships. Recent episodes included an interview with Nick Viall about being newly-single, a breakdown of the BiP finale, and an appearance by Carly Wadell to talk about motherhood.
"I Don't Get It" With Ashley Iaconetti
Ashley Iaconetti has another podcast with her sister Lauren and reality television producer Naz Perez. This show is less focused on The Bachelor and tackles millennial issues of love and life. The show is meant to discuss embarrassing topics in an open and honest way, including relationships, sex, virginity, dating apps, moments in popular culture, and everything in between.
The show regularly hosts other alums, and recent episodes included a discussion about romantic comedies, a talk about cheating with Dean Unglert, and a chat about parenthood with Jade and Tanner Tolbert.
"Off the Vine" With Kaitlyn Bristowe
Kaitlyn Bristowe starred in Season 11 of The Bachelorette, where she wasmost well known for fun-loving attitude and also smashing Nick Viall's heart into teeny pieces. She has a freeform approach to podcasting, and her candid interviews make for great listening. She describes her show as a space for men and women to feel empowered to be themselves and discuss taboo topics, get some advice, or just have an unfiltered chat.
Recent episodes of "Off the Vine" have featured interviews with Matt Bellassai, Heidi Montag, and Carly Waddell and Evan Bass.
If these podcasts aren't enough to satisfy your Bachelor nation fix, former stars often appear on other popular shows. Podcasts like Here to Make Friends and Will You Accept This Rose often bring on guests from the series. However, nothing quite compares to getting the inside scoop from the people who appeared on their show. If you're looking to keep up with the latest Bachelor news, look no further than these podcasts from former stars.