Vetements X Levi's Bare Butt Jeans Are The Latest Pants To Cause A Stir Online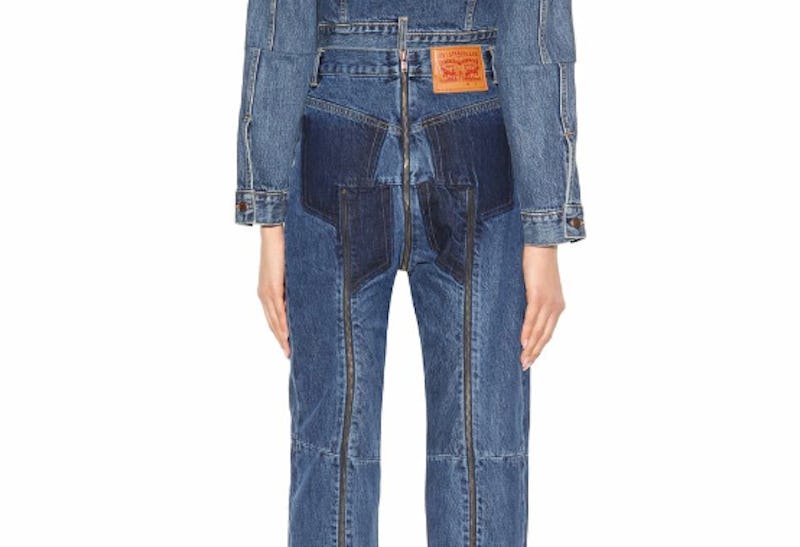 Courtesy mytheresa.com
Denim is highly trendy ATM, so it's no wonder there are tons of quirky designs coming out. Every brand is trying to get in on the action, and some are progressing the trend into new and modern directions, while others may be taking jeans to places you'd never want them to go. The Vetements X Levi's Bare Butt Jeans are the latest pants to get mixed reviews online, and I can see why — they sure are different.
High-fashion label Vetements posted photos of denim styles they've created with the classic brand Levi's, and the pairs showcase zippers used as design details rather than purely for function. For instance, there are zippers running down the pant legs. Cool. But then, there's also a zipper right down the center seam on the back of the jeans. So, when it's unzipped, you're showing off your bare butt cheeks. Perhaps not as cool, but I see what they were going for.
People online have a lot to say about these pants, but this pair, in particular, is definitely not as railed against as the Clear Panel Mom Jeans from Topshop. The reviews seem to actually be pretty mixed. You either love this idea or you hate it. So, will you be rocking this interesting fashion item? Take a look at them for yourself, and you'll know where you fall in the great denim debate instantly.
Peek-a-boo!
These pants aren't the only pair to do this. Shorts from the range have this zipper feature, too.
Some folks online think Vetements is trolling the denim trend.
Denim or diapers? You decide.
Some thing this style begs the question, "But, why?"
Meanwhile, some folks are totally loving what Vetements X Levi's have created.
Others just aren't feeling it.
Love it or hate it, prepare to see pieces like this make their way to fast fashion retailers.
High-Rise Distressed Jeans, $1,870, mytheresa.com
These bottoms are currently sold out at Nordstrom, but you can still find them online from mytheresa.com and online at KM20, if you're interested.
Vetements X Levi's High-Rise Distressed Jeans, $1,707, KM20
The pants also come in a black version, but in case you hadn't noticed, these will cost you almost $2,000 to own.
Is these jeans worth it? You tell me. I guess it all depends on how trendy you care to be.