Listen To These Covers Of The 'MTM Show' Theme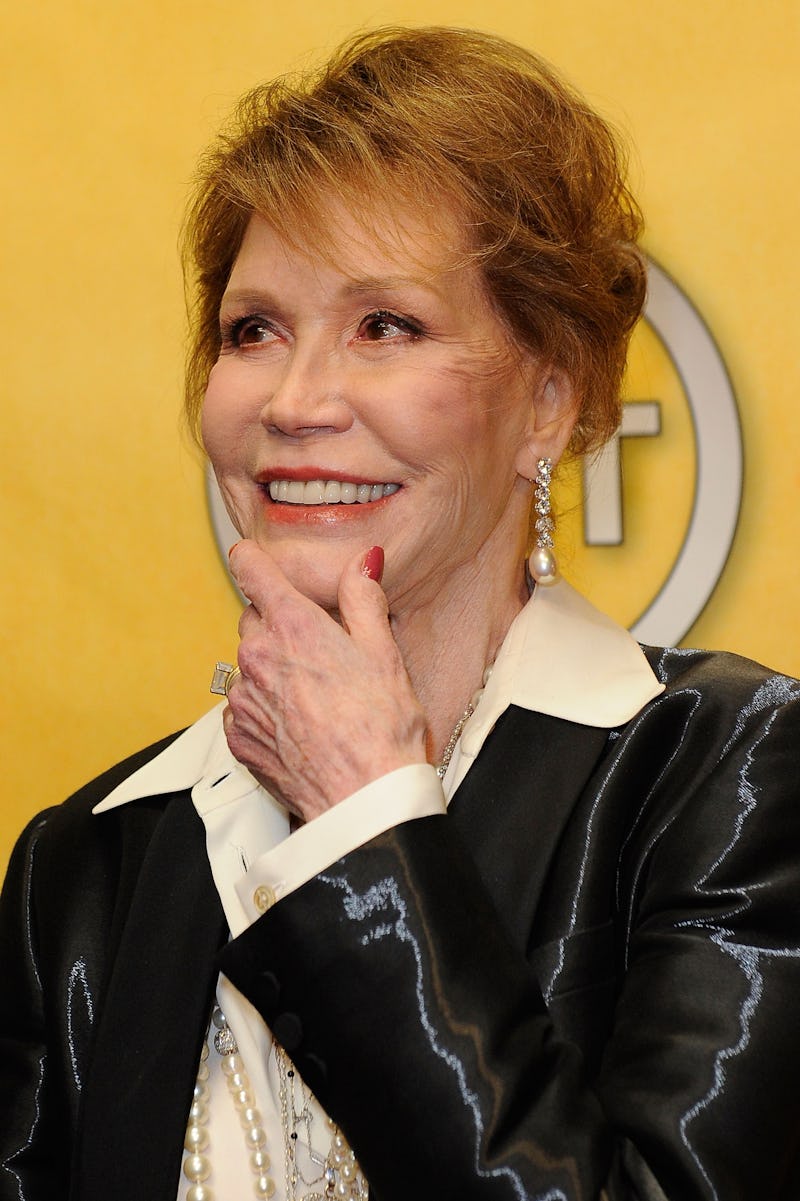 Kevork Djansezian/Getty Images Entertainment/Getty Images
In sad news for comedy fans everywhere, Mary Tyler Moore passed away on Wednesday. The actor and comedian had a long career, but her best-known role was as the star in The Mary Tyler Moore show. On the series, which aired in the '70s, Moore played Mary Richards, an unmarried woman who becomes the producer at a news channel. It was the first show to star a never-married career woman, and her character broke ground for feminism in many ways, not the least of which were her then-controversial capri pants.
In addition to its feminist and comedic legacy, The Mary Tyler Moore Show is remembered for its instantly recognizable and feel-good theme song. In the show's opening sequence, Moore drives and walks around Minneapolis as Sonny Curtis sings "Love Is All Around," which salutes Moore as the woman "who can turn the world on with her smile."
The theme is so good that it's been parodied, referenced, and covered countless times in the decades since the show aired. Lots of musical artists have covered it over the years, and some of these covers have surfaced in the wake of Moore's death. To honor the enduring legacy of Moore, here are some of the best covers of "Love Is All Around."
But before diving into the full list, watch the original above.
1. Joan Jett & The Blackhearts
Joan Jett is a very different type of feminist icon than MTM, which is what makes this cover so great.
2. Husker Du
The hard rock cover is somehow perfectly suited to the cheery theme.
3. Sammy Davis Jr.
A pretty fantastic disco cover from Sammy Davis Jr.
4. Sonny Curtis
Years after he recorded the original, Curtis released a country version of the theme.
5. Piano Cover
The classic YouTube piano cover really does justice to the original.
6. The Remix
Though not technically a cover, this excellent dance remix had to be included.
7. Family Guy
It just shows how influential Moore was that Peter Griffin won a talent show with his cover of "Love Is All Around."
It's clear that The Mary Tyler Moore Show and MTM herself have had a lasting impact on pop culture. I'm sure that her show and its theme will continue to be the source of parody, admiration, and inspiration for years to come.