These Gendry 'Game Of Thrones' Fan Theories Will Still Manage To Surprise You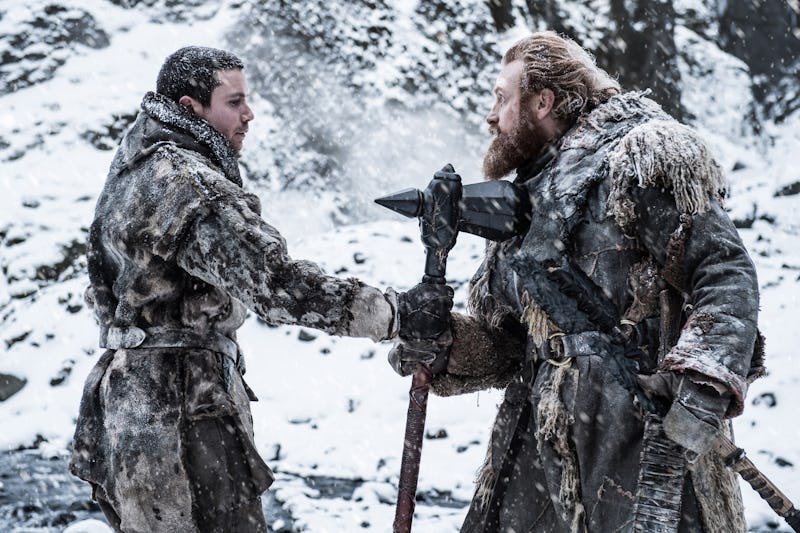 Helen Sloan/courtesy of HBO
Given how much the internet obsesses over him, there are more than a few Gendry-related Game of Thrones fan theories that may take you buy surprise. It's true that, for the most part, the best of the theories developed by the bright sparks on Reddit have already been regurgitated in the media. These, however, might be the exception to the rule.
It's hard to blame the fans for focusing so hard on a character who enjoys relatively limited screen time. It was pretty mysterious that we haven't had a detailed explanation of where Gendry has been for the past few years, and it seems increasingly likely that he's returned to play a vital role in future events. Why else introduce Genry at the very moment when Jon Snow has not only figured out that he needs dragonglass to fight the White Walkers but has a good source of the stuff, having got Dany's permission to mine it from her land?
After all, we know that Genry was trained by Tobho Mott, who, according to Vanity Fair, is one of the few armorers to still be trained in the lost art of forging Valyrian steel. (We know this since we see him re-forge Ned Stark's Valyrian steel blade.) So, it seems likely that he's back to forge some great Valyrian steel weapons for Jon Snow or to create dragonglass weapons. But could there be a totally different explanation for the return of Gendry? Absolutely.