3 Global Gag Rule Petitions To Fight Against Trump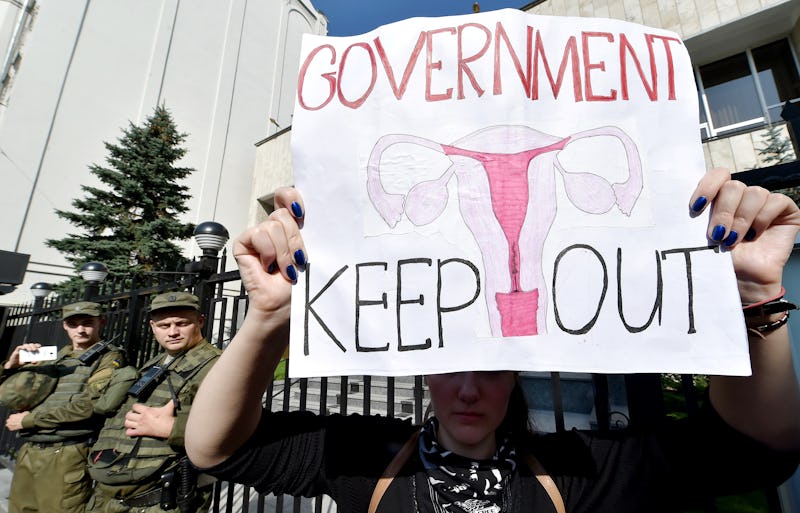 SERGEI SUPINSKY/AFP/Getty Images
President Donald Trump made his position on abortion clear his first Monday on the job. During the campaign trail he talked mostly about Roe v. Wade. In the third debate he said that he would appoint justices who would overturn the Supreme Court decision that ensures abortion rights in the United States. "That'll happen automatically, in my opinion, because I am putting pro-­life justices on the court," he said at the time. Now, Trump is also against abortion rights around the world. These petitions opposing the global gag rule are the first step to opposing the Trump anti-abortion doctrine and this executive order.
Surrounded by men, Trump passed an executive order first implemented under Ronald Reagan back in 1984 that prevents health care providers the world over from using any money — not just U.S. aid donations — to provide abortions or to even talk about them in the form of referrals or information pamphlets. Literally no mention at all, even if the patient asks.
In the past, this has had adverse affects on providing contraception in the developing world, according to a Guttmacher Institute report, and Stanford University researchers found that abortions in Africa went up the last time it was reinstated under George W. Bush. Barack Obama reversed that.
So right there from the start there are plenty of reasons to oppose this. There's already been a response on Capitol Hill. New Hampshire Sen. Jeanne Shaheen already spearheaded an effort to codify a repeal that would prevent the Executive Branch from deciding this policy unilaterally in 2015, and she's promised to submit a bill in this Congress that would do just that. "President Trump's reinstatement of the Global Gag Rule ignores decades of research, instead favoring ideological politics over women and families," Shaheen said in a statement Monday.
But if this is to succeed legislatively, Congress will need to hear from you. Sign these petitions, as the first step. Then call your senators and representatives. Let them know that you support women's health around the world.