"Golden Showers" Memes And Tweets To... Enjoy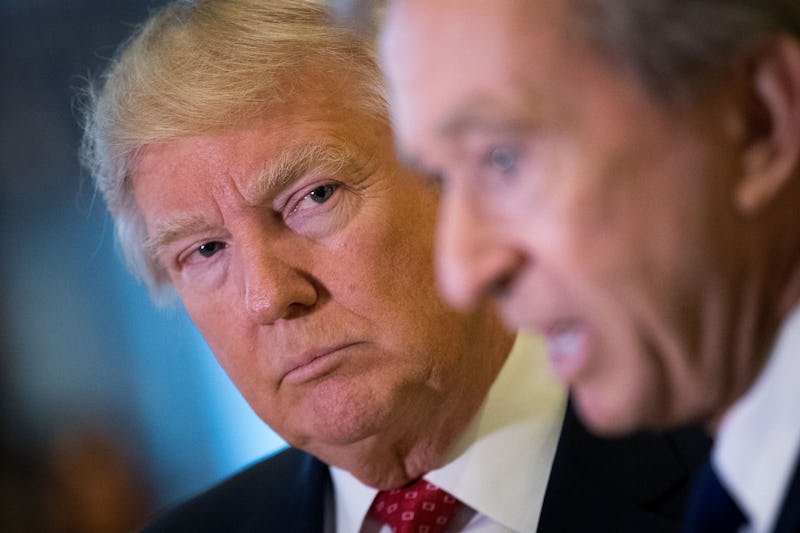 Drew Angerer/Getty Images News/Getty Images
In completely crazy (and totally unverified) news, a report is going around alleging that the president-elect is being blackmailed by Russia, with one part claiming that Trump ordered "golden showers" from "a number of prostitutes." The documents, published by BuzzFeed, also claim that under President Vladimir Putin, Russia has cultivated a relationship with Trump, and that Trump accepted intelligence about Democratic rivals from the Kremlin. Trump has denied the allegations, tweeting: "FAKE NEWS - A TOTAL POLITICAL WITCH HUNT!" Update: On Wednesday morning, Russia denounced the unverified report involving supposedly compromising allegations against Donald Trump as an "absolute fabrication."
ABC News reports that the FBI is investigating the claims. The full, utterly unverified report was published by BuzzFeed Tuesday. According to BuzzFeed, the memo was put together by a former British intelligence agent. The whole thing is insane, but here's the most... crass allegation:
According to source D, where s/he had been present, Trump's (perverted) conduct in Moscow included hiring the presidential suite of the Ritz-Carlton hotel, where he knew President and Mrs. OBAMA (whom he hated) had stayed on one of their official trips to Russia, and defiling the bed where they had slept by employing a number of prostitutes to perform a "golden showers" (urination) show in front of him.
Obviously, this is a very serious accusation and deserves to be treated with the utmost care. However, that doesn't always happen on the internet, and on Tuesday, users took to Twitter to make a very serious situation into a lighthearted one with the hashtag #GoldenShowers.
Someone Came Up With A New Idiom
One can only hope.
To Some, It All Made Sense
There's a more likely explanation (spray tans), but nahhhh.
Trump's Gilded Tower Takes On A New Meaning
He really likes gold stuff, huh?
We'll Never Look At His ALS Bucket Challenge The Same Way
Hard not to unsee.
Things Got A Little Juvenile
Can't resist a good urine joke, especially in this context.
There Are Some Great Memes...
And There's No Shortage Of Pee Jokes...
What a day. What a life.