Lady Gaga's Hopeful Health Updates Thank These Two Major Supporters During Her Recovery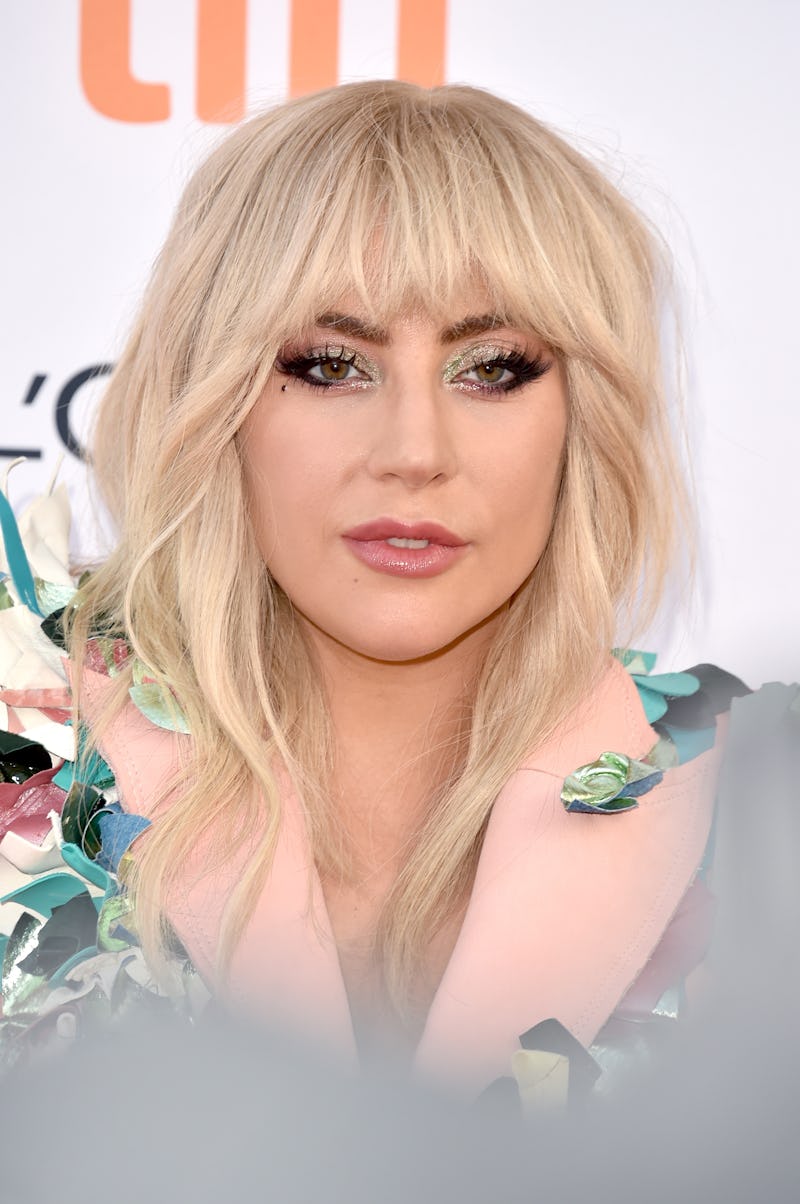 Alberto E. Rodriguez/Getty Images Entertainment/Getty Images
On Sept. 18, Lady Gaga made the difficult decision to postpone the European leg of her Joanne tour. The singer has discussed her chronic pain in the past, and cited health difficulties for the delay. In an update on Saturday, Sept. 30, Lady Gaga thanked her fans and Beyoncé for their support during her recovery. According to a series of social media updates, the star is on the way toward recovery, and has found a lot of comfort in the outpouring of love from friends and fans during this difficult time. In response to an article about her role in creating fandom culture, the singer thanked her "Little Monsters" and promised that she was getting stronger and would perform again soon. She also took to Instagram to show appreciation for her good friend Beyoncé, who sent the star a bouquet of flowers, a thoughtful note, and Ivy Park sweatshirt to comfort her during her recovery.
Lady Gaga announced her decision to postpone European tour dates until the next year in an emotional Instagram post. She said she had physical and mental health issues in the weeks prior, and she also postponed a date in Montreal earlier this year. In September, she had to cancel an appearance at the Rock in Rio festival in Brazil due to hospitalization. She eventually pushed the European leg of the tour, citing the need to be with doctors and focus on regaining her strength. While some people online suggested that the star might be faking the illness, but the star quickly dispelled these rumors by opening up about her physical and mental struggles on social media. It's clear that she is trying to get back to performing as soon as possible, and support from friends and fam may help give her the strength to do so.
On Instagram in early September, the Joanne singer posted a picture of herself holding Rosary beads and the press release announcing the postponed tour dates. She included a personal message in the caption, writing:
"I have always been honest about my physical and mental health struggles. Searching for years to get to the bottom of them. It is complicated and difficult to explain, and we are trying to figure it out. As I get stronger and when I feel ready, I will tell my story in more depth, and plan to take this on strongly so I can not only raise awareness, but expand research for others who suffer as I do, so I can help make a difference."
The Netflix documentary about Gaga's life, Five Foot Two, revealed the star's struggle with Fibromyalgia. The chronic illness is characterized by muscle pains and extreme fatigue, which can result in changes in mood and memory. The star still has muscle spasms from the hip injury she sustained in 2013, and like many people who have chronic pain, has had to find her own path to living with the condition. In her post, she made it clear that while the condition was keeping her from tour, she would find a way to overcome it.
She wrote on Instagram:
"I use the word 'suffer' not for pity, or attention, and have been disappointed to see people online suggest that I'm being dramatic, making this up, or playing the victim to get out of touring. If you knew me, you would know this couldn't be further from the truth. I'm a fighter. I use the word suffer not only because trauma and chronic pain have changed my life, but because they are keeping me from living a normal life. They are also keeping me from what I love the most in the world: performing for my fans. I am looking forward to touring again soon, but I have to be with my doctors right now so I can be strong and perform for you all for the next 60 years or more. I love you so much."
Now, weeks later, the singer revealed that she is on the path to recovery on Twitter. The singer shared an article about her role as a pioneer fandom culture, and took the opportunity to thank the "Little Monsters". This has been the name for her fanbase since The Fame Monster was released in 2009. The Born This Way singer wrote "What a killer article. Gettin' stronger everyday for my #LittleMonsters can't wait to get back on stage & be w u at JoanneWorldTour #PawsUp".
Fans aren't the only people showing up for Gaga, and Beyoncé also reached out to the singer to show her support. Queen B sent her friend a comfy Ivy Park sweatshirt, and flowers and a sweet note. The singer posted a couple pics of her gifts to Instagram, and thanked her friend for her continued support.
The caption read: "Not having a good pain day. Thank you honey [honey emoji] B for sending me this comfy sweatshirt. Keeps me warm outside in a hammock so I can be w the trees, and the sky, and the sun and take deep breaths. Feel so lucky to have so much love [heart emoji]." The sweatshirt, which comes from Bey's new activewear clothing line, clearly gave the singer comfort during a difficult day of her recovery. The thoughtful present went a long way, and shows how important the support of her peers has been in the face of these health struggles.
Beyoncé also sent flowers for her friend, including a note wishing her good health.
In the caption, Gaga not only thanked the star for the gift, but also for inspiring her career. She wrote: "Thank you so much honey B. Miss you. [heart and rose emoji] this was so kind. If I hadn't seen your videos on TV at grandmas house after I got dropped from def jam records, I would have given up. You inspire us all. The dream you embody kept me going." Even today, Bey gives her inspiration to keep going.
Lady Gaga has always used her platform as a place of strength for fans. When it comes to chronic illness, she is likely to continue to be an advocate by opening up about her experience. It's important for stars to promote physical and mental wellbeing, and the singer is doing so by taking care of her own. With the support of fans and friends, she will hopefully continue to recover and be able to return to performing soon.