This Is How People Across The Country Let Everyone Know They #BelieveSurvivors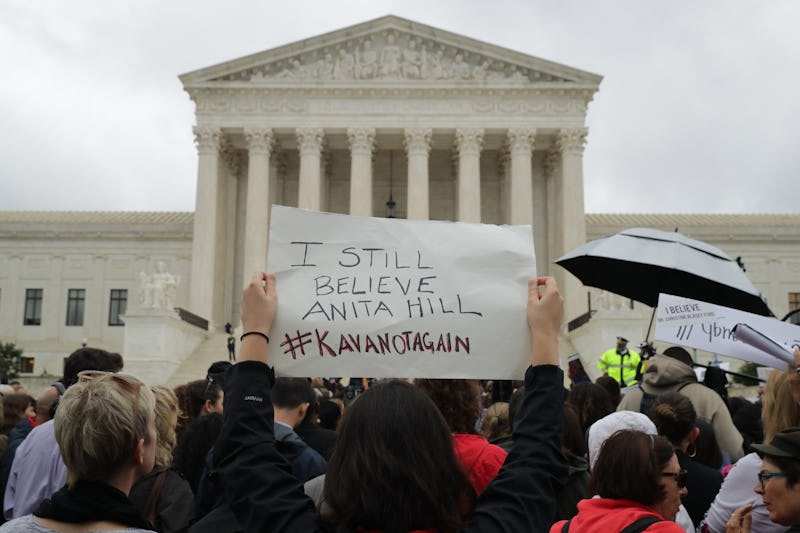 Chip Somodevilla/Getty Images News/Getty Images
While Supreme Court nominee Brett Kavanaugh was divisive from the beginning because of his conservative political leanings, the allegations of sexual misconduct against him (which he has denied) have turned his confirmation process into a very tense moment. On Monday, nationwide protests against his confirmation erupted. Tweets about the national walkout to protest Kavanaugh show you how heated this moment really is.
On the first day of Kavanaugh's confirmation hearings in the Senate, protestors showed up dressed up in costumes from the Handmaid's Tale in order to take a stand against what they saw as Kavanaugh's opposition to Roe v. Wade, as Huffington Post reported. His hearings, then, saw fiery exchanges about women's rights with female senators like Dianne Feinstein and Kamala Harris. After the hearings ended, a report came out revealing that Christine Blasey Ford claimed that Kavanaugh had attempted to rape her when the two of them were both teenagers. And on Sunday, the New Yorker published allegations from a second woman, Deborah Ramirez, who alleged that Kavanaugh had exposed himself to her at a party during their freshman year at Yale. Kavanaugh has denied both of these claims.
Now, the discussion of these allegations and Kavanaugh's potential confirmation has engulfed the news cycle — and it could do the same to the streets of America. Here are some tweets from the protests.