Obama Waves Goodbye To The Country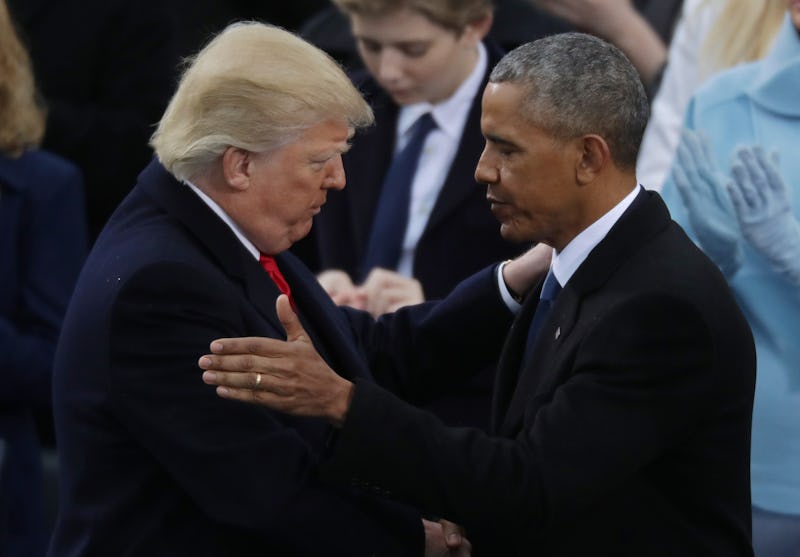 Chip Somodevilla/Getty Images News/Getty Images
President Trump. Those are not two words I thought I'd see juxtaposed in my lifetime. Yet Trump's Electoral College victory did translate into a presidency, and on Friday afternoon, he was sworn in as the 45th male president. Adding to the dismay felt by the 65 million Americans who voted for Secretary Hillary Clinton over Trump is the inevitable departure of President Barack Obama, who leaves office as one of the most popular presidents in modern history.
Among his most famous accomplishments was the Affordable Care Act (ACA), which was frequently maligned by Republicans but which, on the eve of its potential repeal, is now more popular than ever. ACA ensured that 20 million Americans got health insurance — accordingly, it has been credited with saving lives.
President Obama and his family also served as a model of class and grace in the face of startling disrespect. Conspiracy theories — stoked, incidentally, by the new president — tried to convince Americans that the first black president was born in Africa. In spite of this, the Obamas were consistently respectful and mature, even at times when are-you-kidding-me rudeness would have been quite understandable.
The transition to President Trump is a sad one for the many Americans who disapprove of him — 54 percent, according to a recent Washington Post/ABC News poll. Images of President Barack Obama boarding helicopter Marine One as he prepares to leave the capital are even sadder.
Boarding The Helicopter
As tradition dictates, President Obama left the capital almost immediately after Trump was sworn in.
Trump Saw Obama Out
Here, Donald and Melania Trump are walking the Obamas to their helicopter. It looks about as tense as you'd expect.
Flying Out In Marine One
Marine One, a specially-outfitted helicopter designed to carry the president, accompanies the president on overseas trips. It will undoubtedly carry Donald Trump in the near future.
The Man In Action
Obama waves to cameras as Trump and Melania get ready to bolt.
One More Speech
After his initial helicopter ride, President Obama gave a quick talk at Joint Base Andrews before flying out of the capital for a vacation.
Rolling Out The Red Carpet
The popular former president and his wife were escorted from the city in style.
Mic Drop
After the helicopter ride, President and Mrs. Obama boarded an airplane, where they will head to California for a well-deserved vacation.
While President Obama was far from perfect, he and his family modeled the sort of class and grace that Americans should look for in their elected officials. As he and Michelle leave the White House, it is obvious to everyone that something very serious has changed.