These Photos Show People Across The U.S. Tuning In To Hear Christine Ford Tell Her Story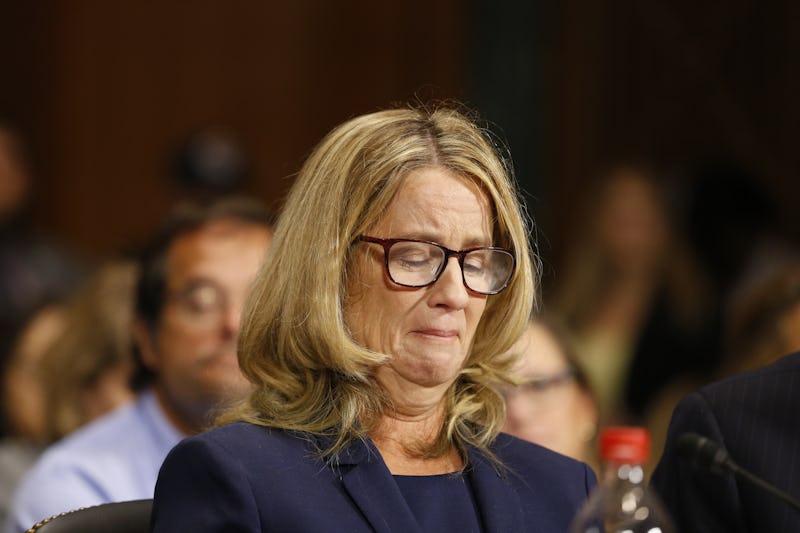 Pool/Getty Images News/Getty Images
Millions tuned in to the hearings on Capitol Hill Thursday, where California professor Christine Blasey Ford testified about her allegation of sexual assault against SCOTUS nominee Brett Kavanaugh. (Kavanaugh has denied the allegation.) Around the country, Americans watched as Ford testified about her allegation under oath.
In her opening statement, Ford said, "I am here today not because I want to be. I am terrified. I am here because I believe it is my civic duty to tell you what happened to me while Brett Kavanaugh and I were in high school."
The professor went on to say, "I summarized them in my letter to Ranking Member [Dianne] Feinstein, and again in my letter to Chairman [Chuck] Grassley. I understand and appreciate the importance of your hearing from me directly about what happened to me and the impact it has had on my life and on my family."
As The Washington Post reported on Thursday, people had been seen watching the public hearing in various parts of the country. In some cases, they cried. A 78-year-old woman named Myrtle Facey told The Post of Ford, "She looks scared, and she looks nervous. But I think she's telling the truth. She may have waited a long time to talk about it, but this is something that will never leave you, no matter what happens. You always remember it."
"You may not think of it every day," Facey said, "but it will always be with you, just like learning the ABCs. You never forget."