Read These Quotes From The Trump-Russia Documents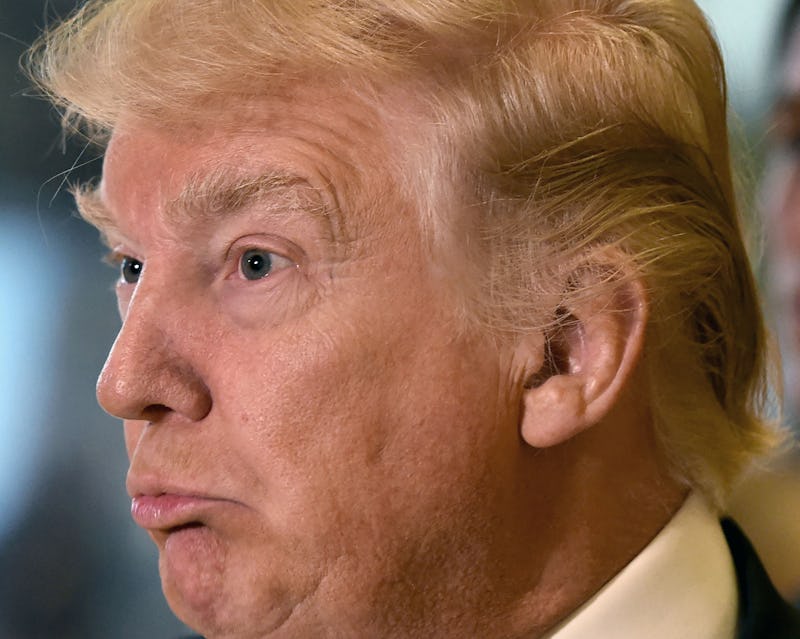 TIMOTHY A. CLARY/AFP/Getty Images
The 2016 election has given us plenty of firsts — some good, many bad. It marked the first time a woman led a major party ticket. That's a good one. It also will mark the close of two terms from the first black president. That one is bittersweet. But if the unverified "golden shower" documents about Donald Trump published on Tuesday by BuzzFeed are even partially rooted in fact, his inauguration could mark a controversial first. Trump denies all the claims in the documents, tweeting Tuesday: "FAKE NEWS - A TOTAL POLITICAL WITCH HUNT!" Update: On Wednesday morning, Russia denounced the unverified report involving supposedly compromising allegations against Donald Trump as an "absolute fabrication."
The allegations against Trump are not verified, which is important to keep in mind. Compiled by someone identifying as a former British intelligence officer, the series of memos published by BuzzFeed and first investigated by CNN, contain a range of accusations that are as dangerous as they are outré. Apparently, this report has been passed around political, intelligence, and journalistic circles for several weeks, but no other outlet was willing to publish them without affirmation that the claims were accurate.
Sen. John McCain reportedly sent a copy to F.B.I. director James Comey, and even President Obama is said to have seen it. And with this small sampling of the most disturbing and dangerous quotes, it's little wonder why the report has been such a huge headline. (It doesn't hurt that this is probably also the first time "golden showers" have become a political story.)
1. The Political Intelligence Allegation That Trump Accepted Intel From Russia
On the first summary page of the leaked dossier, there's this potential bombshell:
Trump and his inner circle have accepted a regular flow of intelligence from the Kremlin, including on his Democratic and other political rivals.
Again, these allegations have not been confirmed, but are being investigated by the FBI. However, if true, Trump may have accepted help from Russia, even as he has ignored his own daily intel briefings as president-elect.
2. Russia Has Allegedly Compiled Enough Blackmail To Compromise A President Trump
According to the report, the FSB (an acronym for Russia's counterintelligence agency) has successfully spied on Trump. Most notably (at least, to Twitter), Trump allegedly paid prostitutes for "golden showers" as an act of supposed revenge against President Obama. Read on.
According to Source D ... [Trump's] conduct in Moscow included hiring the presidential suite of the Ritz Carlton Hotel, where he knew President and Mrs. Obama (whom he hated) had stayed ... and defiling the bed where they had slept by hiring a number of prostitutes to perform a 'golden showers' (urination) in front of him.
3. Trump Has Allegedly Been 'Cultivated' By Putin For Five Years
That Vladimir Putin has successfully interfered with other countries' elections has been well-documented. The leaked report at BuzzFeed also alleges that Russia has been keen on disrupting Western democracies, and seemed to see Donald Trump as a key way to do so.
Russian authorities had been cultivating and supporting US Republican presidential candidate Donald Trump for at least five years.
4. The Allegation That Trump's Campaign Team Gave Information To Russia
The report also alleges that there was an agreed-upon "exchange of information," between Russia and Trump's team. Former Trump campaign manager Paul Manafort is named specifically as the intermediary who passed information to the Kremlin, primarily about Russian oligarchs now residing in the U.S.
… an ethnic Russian close associate of Republican US presidential candidate Donald Trump, admitted that there was a well-developed conspiracy of co-operation between them and the Russian leadership … This was managed on the Trump side … by Paul Manafort.
5. Trump's Business Dealings In China Are Allegedly More Scandalous Than Most Seem To Realize
Despite the negative publicity of Russia's supposed interference with the 2016 election, Trump's team was reportedly "relaxed" about it, because it deflected attention from his more troubling business engagements in China.
… the Republican candidate and his team were relatively relaxed about this because it deflected media and the Democrats' attention away from Trump's business dealings in China… these were substantial and involved the payment of bribes and large kickbacks…
6. Russia Allegedly Engaged With Trump's National Security Advisor, Retired Gen. Michael Flynn
Named in the report as one of Russia's alleged "sympathetic" targets for influence was Trump's pick as National Security Advisor, Gen. Flynn. He was reportedly flown to Russia on the Kremlin's dime (er, ruble), and the results seemed to be deemed a success by the Russians.
Its ["the Russian operation"] goals had been three-fold - asking sympathetic US actors how Moscow could help them ... This had involved the Kremlin supporting various US political figures, including funding indirectly their recent visits to Moscow...
7. The Allegation That Putin Put His Hope In Trump Because Of The Republican Candidate's 'Divisive' Potential
Putin reportedly wanted Trump to win because he saw the Republican's brashness and unorthodox policies as a way to disrupt Western hegemony. Such an outcome would put Russia in a more favorable position, globally, which the report suggests was Putin's rationale for helping Trump all along.
Trump supported by Kremlin because seen as divisive, anti-Establishment candidate who would shake up current international status quo in Russia's favor.
These are just seven choice examples of the extraordinary and scandalous nature of the allegations published by BuzzFeed. Though they are unverified, these reports represent some of the worst fears many already have about Trump's troubling relationship with Russia.