Sorry, But These 'Real Housewives' Cities Have Got To Go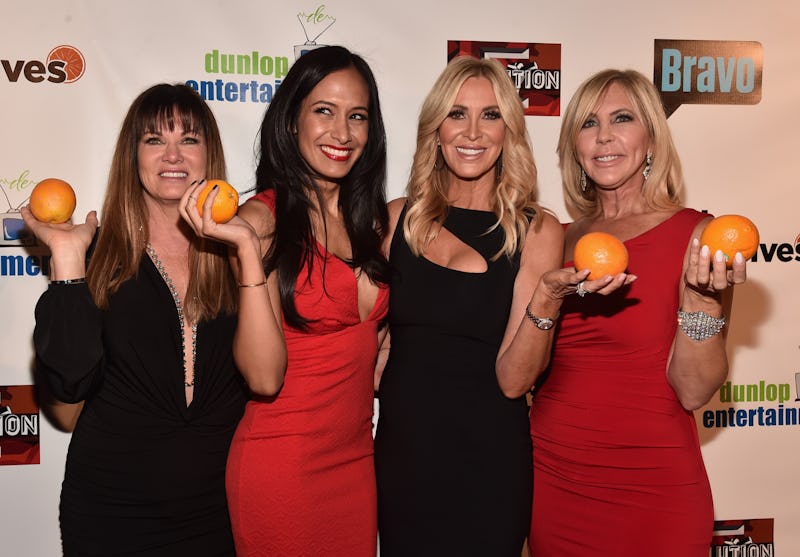 Alberto E. Rodriguez/Getty Images Entertainment/Getty Images
As one of the most popular reality franchises to ever grace television, Real Housewives has become a mainstay among plenty of households And although fans have come to know and love the characters of the beloved series, there are some Real Housewives cities that need to come to an end — sooner rather than later.
A cancellation is actually not a foreign concept for the beloved Housewives franchise, D.C. and Miami both met their fates after having lackluster showings during their respective stints on Bravo. The South Florida based series fizzled out after enjoying three seasons on air, while the nation's capital show found itself scrapped after just one showing due in part to cast members Michaele and Tareq Salahi's White House-crashing incident, as well as its inability to capture the essence of Bravo's reality feel.
Prior to D.C.'s cancellation, executive producer Andy Cohen told the Washington Post,
"We knew this was going to be different from the others… it's less noisy. It's serious, it's politics. The level of discourse on this show is different. For people who expect to see table flipping or wig pulling, that was never going to happen on this show."
Much like D.C. and Miami, there are just some cities that don't quite have that long-lasting "it" factor when it comes to holding the interest of viewers. Of the remaining seven cities that continue to make waves in the realm of Real Housewives reality, there are actually a few that could probably disappear without much of a whimper from fans. With the exception of a strong liking for some of the cast members, these three shows should honestly just call it quits.
Real Housewives of Dallas
RHOD just seems to be a hard installment for fans to get into. A 2016 story from the Dallas Observer speculated that the show was, at one point, in danger of cancellation after analyzing its first season's ratings. Despite the chatter, however, Real Housewives of Dallas returned in August and is currently airing its second season. It's worth noting that there was almost a 14-month lag between the time Season 1 ended in June 2016 and Season 2 began, which is almost unheard of when it comes to spacing in between seasons of any RH franchise.
Interestingly enough, the Dallas Observer once revealed that the cast members of RHOD did not know that they were filming a Housewives series during its inaugural season, but rather a show about women that work within the Dallas charity scene. As the years have gone by, Real Housewives of Atlanta has long remained the series' highest-rated installment, according to Daily News. Meanwhile, RHOC, RHONY, RHONJ, RHOBH, and the "D.C adjacent" Real Housewives of Potomac, which premiered the same year as RHOD, all seem to have a bigger following than the Dallas franchise.
Real Housewives of Potomac
Although the series had a breakout Season 1 premiere, viewers seemed to have quickly become bored with the women of Real Housewives of Potomac. Between their snooty gatherings and bourgeois attitudes, it's sometimes hard to connect with this bevy of affluent and posh socialites from the high-class Washington D.C. suburb.
However, with all of that being said, RHOP does offer fans an inside glimpse into the underrepresented lifestyles of the upper-class African-American community. Featuring an all-black cast, similar to sister show RHOA, the women of Potomac (which just so happens to be one of the richest neighborhoods in the country) often battle it out over which one of them is the most educated, has the best etiquette, and who holds the ultimate title of "Grand Dame."
Real Housewives of Orange County
Even though Real Housewives of Orange County has been in production for 12 seasons, it has long felt like one of the more lackluster installments of the franchise. Perhaps it's the recycling of friendships and drama that makes it feel so doldrum, or maybe it's the lack of interesting, new talent that continues to stifle its progress. Either way, it's safe to say that RHOC could easily end without any huge impact on the franchise. Sure, we have the O.C. to thank for kicking off the Real Housewives phenomenon. However, it seems that this chapter has definitely run its course when it comes to excitement.
Real Housewives is, no doubt, reality drama at its finest. And thanks to its continuing popularity, it appears to be going nowhere anytime soon. As Bravo rolls out franchises and seasons of the ubiquitous program, there will hopefully be more attention given to the development of the series' storylines to help keep audiences interested.