These Are The Senators Who Voted To Move Brett Kavanaugh's Confirmation Forward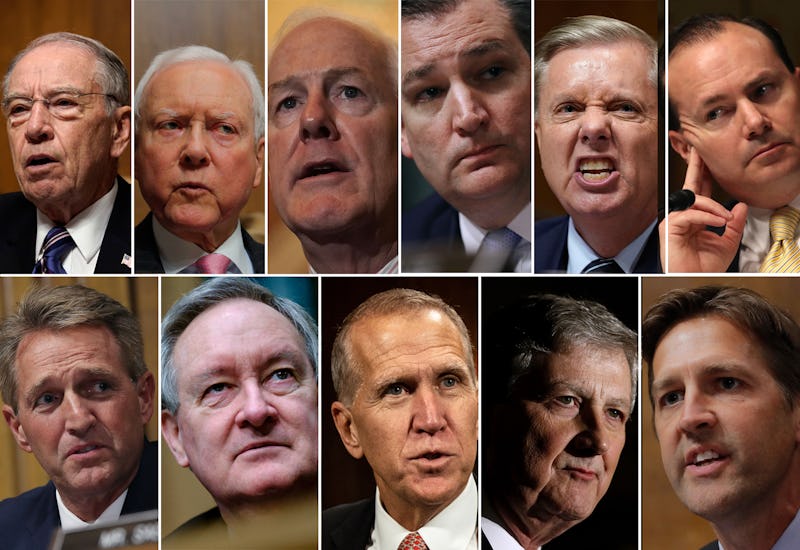 Pool, Alex Wong, Win McNamee, Mark Wilson, Pete Marovich, Jonathan Bachman/Getty Images News/Getty Images
There are 11 Republicans and 10 Democrats on the Senate Judiciary Committee. The day after hearing testimonies about an alleged sexual assault from Judge Brett Kavanaugh and Dr. Christine Blasey Ford, the committee held a vote to decide whether or not to move Kavanaugh's nomination forward to the full Senate. All of the committee's Republican senators voted to recommend Kavanaugh be confirmed to the Supreme Court — however, after a stipulation was introduced by Sen. Jeff Flake, there could be an FBI investigation before the full Senate votes on it.
During the Thursday hearing where Kavanaugh was questioned about Ford's allegation, which he repeatedly denied, some of the Republican senators took the time to ask questions, whether about calls for an FBI investigation or about the allegations themselves. But some senators also used the opportunity to make speeches about how they felt Kavanaugh had been treated, their opinions on how the Democratic senators had handled the allegation, or to bemoan the entire process in general.
All 10 Democratic senators voted "no" on recommending Kavanaugh to the Senate — and there was a lot of confusion in the vote about whether they were voting on Kavanaugh or on a motion to delay the vote for an FBI investigation, as Flake had mentioned — but they were ultimately outnumbered by the 11 Republicans. These are the committee senators who decided they want the full Senate to confirm Kavanaugh — and what they said to or about him during the hearing.
Chuck Grassley
"I lament the way this hearing has come about," Sen. Chuck Grassley, the chairman of the committee, said in his opening statement. He placed blame on Sen. Dianne Feinsten, who did not give the committee the information Ford had given her, at Ford's request, and also blamed Democrats for being partisan when investigating the allegation once they knew about it.
"There's simply no reason to deny Judge Kavanaugh a seat on the Supreme Court on the basis of evidence presented to us," Grassley said.
Orrin Hatch
Sen. Orrin Hatch said of Kavanaugh, "This man is not a monster, nor is he what has been represented here in these hearings."
"This is a national disgrace, the way you're being treated," Hatch told him.
John Cornyn
Sen. John Cornyn told Kavanaugh not to give up, and added, "The American — the American people — the American people are listening to this, and they will make their decision and I think you'll come out on the right side of that decision."
Ted Cruz
Sen. Ted Cruz said he believed Kavanaugh, Ford, and their families had been treated poorly by the Senate and the media. He then argued that Democrats engaged in a "profoundly unfair process."
"That is not a fair process and we should look to the facts, not anonymous innuendo and slander," he said.
Lindsey Graham
In the hearing the day before, Sen. Lindsey Graham made his vote very clear, ending a heated speech to Kavanaugh with the statement, "I hope you're on the Supreme Court. That's exactly where you should be. And I hope that the American people will see through this charade. And I wish you well. You well. And I intend to vote for you, and I hope everybody who's fair-minded will."
In that speech, Graham angrily spoke about what he believed was a partisan process, saying:
If you wanted an FBI investigation, you could have come to us. What you [Democrats] want to do is destroy this guy's life, hold this seat open and hope you win in 2020. You've said that. Not me. ... This is the most unethical sham since I've been in politics and if you really wanted to know the truth, you sure as hell wouldn't have done what you've done to this guy.
Mike Lee
Sen. Mike Lee spoke about how Democrats were asking Kavanaugh to publicly call for an FBI investigation and asked Kavanaugh a rhetorical question:
It's also correct that you yourself do not control the FBI or when it conducts an investigation, you are a nominee, you're not tasked with the job of deciding who, when, whether, or how conduct an investigation?
He ended by saying the allegations were handled poorly, and said, "I consider that most unfortunate, and for that, on behalf of this committee, I extend to you my most profound sympathies and my most profound sympathies to Dr. Ford and her family as well."
Ben Sasse
Sen. Ben Sasse said he thinks "Dr. Ford is a victim, and I think she's been through hell and I'm very sympathetic to her." But he lamented to Kavanaugh that "this was sprung on you," after his initial hearings had ended.
Earlier, Sasse had spoken out against the whole process entirely, calling it an "overblown, politicized circus" and saying that the way the Senate hears Supreme Court confirmation hearings "[hasn't] worked for 31 years in America."
Mike Crapo
Sen. Mike Crapo spoke about the FBI investigation calls, saying, "We have conducted the investigation. The very kinds of things that my colleagues on the other side are asking that we tell the FBI to do, this committee has the authority to do it and this committee does it and this committee has done it."
"The reality is that this committee immediately and thoroughly investigated every witness that has been identified to us," he said. "And we have statements under penalty of felony from them."
John Kennedy
"I'm sorry, judge, for what you and your family have been through," Sen. John Kennedy said to start his time during the hearing. "And I'm sorry for what Dr. Ford and her family have been through. It could have been avoided."
He then asked Kavanaugh if he believes in God and asked him to answer the question of whether the allegations — from Ford and two other women — were true or not "in front of God and country." When Kavanaugh swore to God that they were false, Kennedy ended his questions.
Thom Tillis
Sen. Thom Tillis apologized to Kavanaugh for what he was going through. "I've gone through a campaign and had a lot of smears, but it pales in comparison to what you've had to deal with."
He added, "Judge Kavanaugh, I also have to say I believe you're a part of — you're — you're the first major target of a new strategy that's developed here. And I think you're right. I think it's just basically attack, attack, attack. It's not advise and consent; it's search and destroy."
Tillis ended his statement by noting, "I look forward to supporting your confirmation."
Jeff Flake
The committee had been split on partisan lines for the most part, with Flake being a potential undecided vote. During the hearing, Flake said:
When Dr. Ford came forward with her account, I immediately said that she should be heard and asked the chairman to delay the vote that we had scheduled. And the chairman did, and I appreciate that. She came, at great difficulty for her, and offered compelling testimony.
You have come and done the same. I am sorry for what's happened to you and your family, as I'm sorry for what has happened to hers. This is not a good process but it's all we've got.
He added that he would "urge my colleagues to recognize that, in the end, we are 21 very imperfect senators trying to do our best to provide advice and consent. And in the end, there is likely to be as much doubt as certainty going out of this room today."
Before the Friday vote to move Kavanaugh's confirmation forward, Flake announced in a statement that he would be supporting the recommendation of Kavanaugh because "our system of justice affords a presumption of innocence to the accused, absent corroborating evidence."
But during the vote to move forward, Flake announced a stipulation that he would not move forward in the full Senate vote unless there was a one-week delay in order for an FBI investigation to take place. It's unclear what will happen next.