Americans Share The ACLU's Vision Of The Country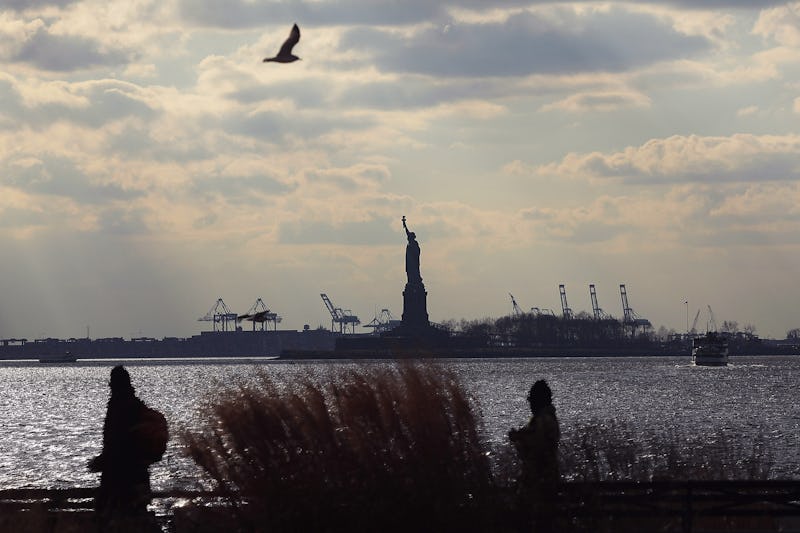 Spencer Platt/Getty Images News/Getty Images
If you're feeling that the news coming in over the last week and a half is uniformly bad, you're not alone. However, it turns out that the protests against Trump's refugee ban weren't just that, and this ACLU update proves exactly how wrong Donald Trump's vision of America is. The American Civil Liberties Union, one of the nation's biggest organizations dedicated to civil rights, raked in $24.1 million just over the weekend after the refugee ban was announced. This total, about six times the amount that they usually receive in donations over an entire year, was both entirely unexpected and entirely welcome.
This surge in support came as the ACLU was suing the White House over the refugee ban, a suit that they soon won. This led to a partial stay on Trump's immigration order, which was a huge victory for the ACLU and all of their many supporters at airports and elsewhere across the country. Apparently, though, at lot of people realized right after Trump signed the order that these sorts of legal challenges don't come for free — and so the donations started rolling in. 356,306 donations, to be exact, many of them from first-time ACLU donors.
Some of the weekend's success came from celebrities and entrepreneurs, many of whom pledged to match donations up to a certain amount. With Sia, Judd Apatow, and Rosie O'Donnell matching up to $100,000, and Kal Penn pushing his fans up to $500,000, it's no wonder that the numbers accumulated so quickly.
Anthony Romero, the Executive Director of the ACLU, said that it was clearly "a different type of moment," and that it was empowering to see that the courts were there in support of democracy. People have apparently realized, though, that the courts won't work without a bit of pushing, and that's where the ACLU comes in. They've doubled their membership since the election, and people are signing up for the email list in droves.
One concrete thing that supporters can celebrate is that with all of this extra money, the ACLU will now be able to hire more people. (See, Trump has been a great jobs president so far!) This, in turn, will allow them to take on additional legal challenges — which will hopefully lead to more victories over hateful policies like this refugee ban. In a perfect world, the ACLU wouldn't be necessary, because civil rights would be guaranteed across the board. But in this world, and particularly this new regime, they definitely have work to do in order to put their vision of America into reality. Unluckily for Donald Trump and his cohort, it seems that a whole lot of America shares the ACLU's dream for the country.