This Recipe For A Single Chocolate Chip Scone Is All You Need This Fall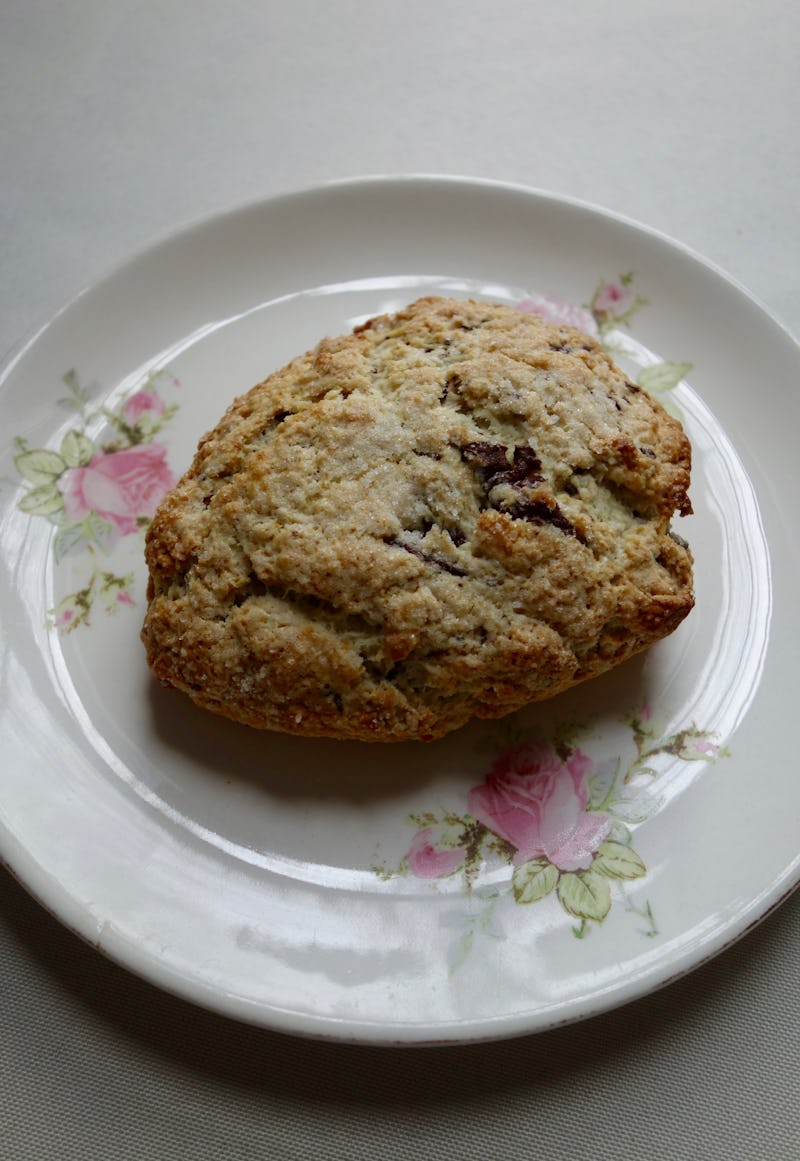 Brittany Bennett
Scones are amongst the most versatile of pastries. You can customize them to be sweet or savory, and they can be devoured first thing in the morning alongside steaming tea or later on in the afternoon... also alongside steaming tea. I wouldn't even put it past a scone to pass as a perfectly acceptable and filling part of a balanced dinner. Because of all the ways in which you can dig into a scone, it might ~serve~ you to know how to make a chocolate chip scone recipe for one person. Think of it as the chocolate chip cookies' cousin. But you can appropriately enjoy it breakfast. However, if your sweet tooth doesn't strike until later in the day, whipping this up for dessert is also fitting.
Whether you're tossing together scones for a party of eight or solely for yourself, they don't take much effort to whip up — you are quite literally ~tossing~ things together. There's no need for equipment besides a mixing bowl and the power of your two hands. In this recipe, the ingredients required to conjure this treat are most likely always in stock as they're pantry staples, so whenever a craving strikes — which can be at anytime during the day, because this recipe produces a single scone — you can be satiated quickly. You don't need to make a big batch for a nonexistent party just to get that bite you're craving. With this recipe, you are licensed to go solo.
Enjoy the chocolate chip scone ~for one~ as breakfast, as dessert served with a mug of milk, or for lunch. It takes all of 25 minutes — baking time included — to bask in the golden glow of a glistening scone perched upon your plate. Seriously guys, you can be enjoying a fluffy, chocolately delight in no more time than it takes for a delivery pizza to arrive. So fire up those ovens and get ready to literally treat yourself.
1/4 cup plus 2 tbsp unbleached all-purpose flour
1 tbsp sugar, plus more for sprinkling
1/2 tsp baking powder
1/4 tsp baking soda
1/4 tsp lemon zest
1/8 tsp salt
1 tbsp unsalted butter, cut into cubes
2 tbsp semi-sweet chocolate, coarsely chopped
2 tbsp plus 1 3/4 tsp buttermilk
1/4 tsp vanilla extract
Pre-heat the oven to 400º Fahrenheit.
1. In a small mixing bowl, combine the flour, sugar, baking powder, baking soda, lemon zest and salt.
2. Toss the butter into the flour. Smash the cubes of butter flat in your palm. Digging your hands into the bowl, work the butter across your fingers until it's broken down into small pieces — typically the size of peas.
3. Using a wooden spoon or your hands, stir in the chopped chocolate, buttermilk and vanilla extract until the flour is hydrated and comes together in a semi-sticky clump.
4. Turn the dough out onto a clean work surface and mold it into the shape of a scone. It should be about 1" thick and triangular, but if you'd prefer another shape, by all means, you are creatively licensed to do so!
5. Using a pastry brush or your clean fingers, brush the top of the scone with buttermilk and sprinkle with sugar.
6. Place the scone on a parchment paper lined baking sheet and bake on the center rack of your oven for 18-20 minutes until the scone is golden brown.
7. Allow the scone to cool slightly before enjoying warm for breakfast, a snack, dessert or even dinner — you're an adult, you can have a scone whenever you want!
How gorgeous is that?
Check out more Single Serving recipe ideas here for when your speed is less "entertaining my crew" and more "watching Netflix alone on my couch."